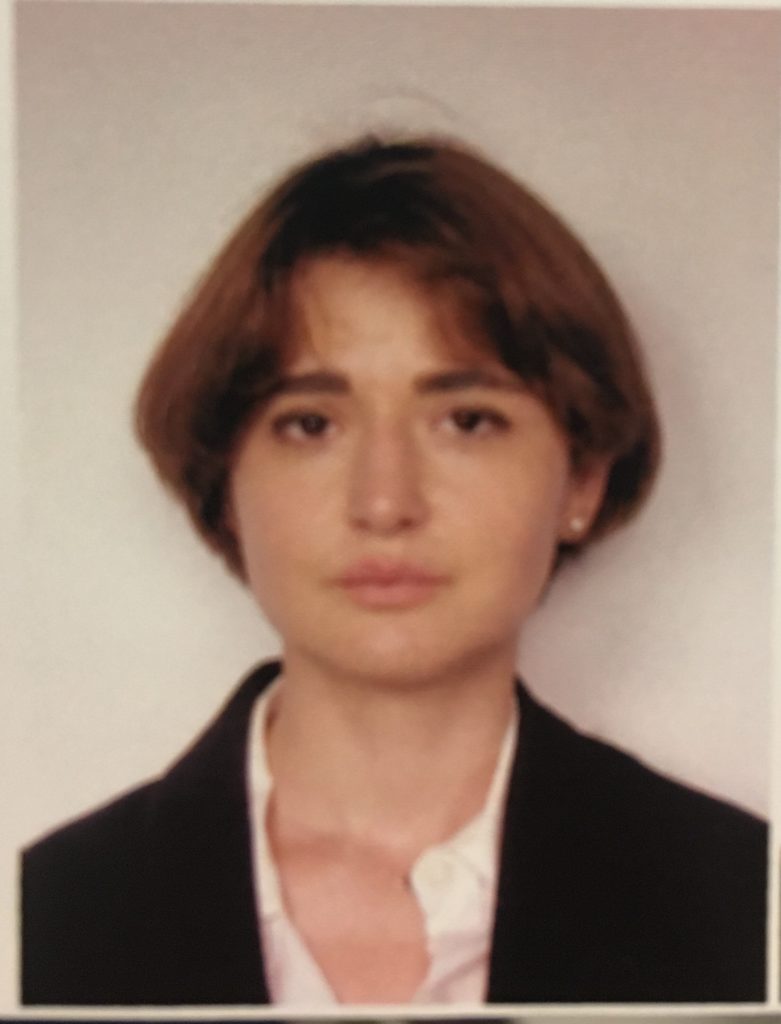 Mariam Kekenadze, Tbilisi, Georgia
Term of the Fellowship: 31.5. – 21.8.2021
Hosting department: Department of Neuromuscular Diseases, National Hospital Of Neurology and Neurosurgery, Queen Square, London, UK
Supervisor: Prof. Henry Houlden
I visited University College London, National Hospital of Neurology and Neurosurgery, Queen Square, London, under the supervision of Prof. Henry Houlden. My visit lasted from May to August, 2021.
I had an idea before visiting NHNN and Institute of neurology of how significant this visit might be for me and it came true. During my time spent at Queen Square, I was introduced to fellow researchers and clinicians. Everyone was extremely welcoming and helpful in different ways. It is safe to say, this international atmosphere and friendly attitude made it easier to focus on gaining new knowledge and skills.
Every Wednesday we had ward rounds at the neuromuscular department of the National Hospital of Neurology and Neurosurgery, during which we would discuss complicated cases of patients with neuromuscular diseases; professors shared a wide range of clinical knowledge in different aspects of neurology, which I found very interesting; we would discuss aspects of disease beginning with pathophysiology and ending with future drug opportunities. We would spend almost one hour next to the patient's bed and leave after all questions had been answered.
Every Friday I would accompany Prof.Houlden to the outpatient clinic, where we together saw a plethora of neurodegenerative diseases: HSP,CANVAS, CMT, SCA and etc. After thorough neurological examination and anamnesis I was fortunate enough to observe how Prof. Houlden dealt with patients with complex diseases. During this time I learned how to diagnose, manage, give necessary information and emotionally support people with neurodegenerative disease. One phrase which one of the patients with early Parkinson's disease said doesn't die in my mind: "This is happiest period of my life, even though I am in the worst physical shape ever," emphasising the magnitude of support from medical personnel, family and society – and making me realise what we have to achieve in Georgia in the future.
On Thursdays, I attended Gowers Rounds – a hundred year tradition of Queen Square. Unfortunately, because of the Covid Pandemic it was held online, but I felt lucky to attend it. During Gowers some of the leading professors chaired magnificent case presentations and discussed diagnoses, investigations and treatment options with fellows. This rounds has an immense impact on young neurologists, not only being a great tool to learn, but also it inspires one to excel in knowledge, look at neurology virtuously, and most importantly it will make you fall in love with neurology once again.
On other days I attended the Institute of Neurology, Neurogenetics Lab, where I learned and performed various genetic testing, DNA extraction, RT-PCR, Sanger sequencing, southern blotting, Northern blotting etc. and filtering techniques of whole exome sequencing.
Overall, my visit to Queen Square was what I had expected it to be. It is definitely the heart of neurology and offers immense knowledge and opportunities to anyone who steps inside it. I want to thank the European Academy of Neurology for this chance, Prof. Houlden for sharing his knowledge and all the fellows of Houlden Lab for being extremely helpful, friendly and supportive.
Cagri Ulukan, Istanbul, Turkey
Term of the Fellowship: 1.3.2021 – 31.5.2021
Hosting department: Antwerp University Hospital (UZA), Edegem, Belgium
Supervisor: Prof. Dr. Patrick Cras
I am delighted to report on my clinical fellowship at the Department of Neurology, University of Antwerp (UZA), Belgium, under the supervision of Prof. Patrick Cras.
In the first two weeks of my fellowship, I had the opportunity to observe the outpatient consultations of all sub-specialties, from epilepsy to neuromuscular disorders. During this period, I witnessed both how the department operates and how different branches of the department work independently. Aside from the outpatient consultations, the staff meeting held every Tuesday provided me with information concerning inpatients. This meeting was an excellent opportunity to learn while discussing differential diagnoses and alternative treatment strategies for each case with all the academic staff. The department's journal club meets on Fridays, which involves presentations and related cases on many pre-set subjects ranging from hereditary myopathies to early-onset Alzheimer's disease.
The rest of my fellowship was focused on neurodegenerative diseases, and I mostly attended movement disorders and memory consultations. I was able to assist Prof. Cras during consultations of outpatients while gaining essential information about clinical management, physician-patient interaction and treatment choices. The stark difference from my experience in outpatient consultations in Turkey was how much time is allocated to each patient and how much of this time is devoted to the general well-being of the patient. In addition to clinical knowledge, it helped me to rethink how social interventions are as important as medical treatments in chronic diseases like Parkinson's Disease. I also had the chance to observe the usage of new methods such as neurotransmitter imaging in a clinical context for differential diagnosis.
Under the direction of Prof. Cras and Dr. Sieben, I also got the opportunity to further investigate pathological aspects of neurodegerative diseases at Bonn-Bunge Institute. On my first day at the laboratory, I learned about immunoblot testing (14-3-3 protein) and real-time quaking-induced conversion (RT-QuIC) technique which is a new test for the diagnosis of sporadic Creutzfeldt-Jakob Disease and not yet available in Turkey. I had the privilege of assisting dissections on more than 15 specimens including Alzheimer's Disease, Parkinson's Disease, Creutzfeldt-Jacob Disease, and other rare prion diseases such as Gerstmann-Straussler-Schenker. From dissection to staining I had the chance to participate in every step of preparation of the specimen. I was able to create a thorough report on most of the specimens presented at the end of my rotation after Dr. Cras and Dr. Sieben's lectures and guidance. In addition to gaining first-hand experience with patients during consultations in one of the leading neurodegenerative clinics in Europe I also had the opportunity to observe and participate in the basic science side of the field in an internationally renowned reference centre and one of the largest brain banks in Europe.
Participating in and observing another country's healthcare system also allowed me to compare issues such as resident rights, patient confidentiality, and euthanasia regulations with those in my country. Because Belgium is one of the few countries that practice euthanasia, I had the opportunity to talk with Prof. Cras about how the decision-making mechanism handles each case, as well as legal and ethical implications.
The COVID-19 pandemic was a major source of hardship throughout my fellowship. Before starting my rotations at the hospital, I had to quarantine and take two PCR tests during my first week in Belgium. Due to epidemic restrictions, certain meetings have to be held entirely online.
I have to thank Prof. Cras for accepting me and actively supervising my stay. I am also grateful to Prof. Cras for taking the time to introduce me to neuropathology, Dr. Sieben for including me in her work and presenting me to the department of pathology, Dr. Dijkstra for including me in her clinical practice and Ing. De Vil for sharing his knowledge on prion diseases and patiently answering my questions. A thank you also goes to the rest of the department of neurology of the Antwerp University Hospital, who welcomed me from the very first day and helped me to overcome the language barrier.
For all these reasons my fellowship at the Antwerp University Hospital was a great and incredibly stimulating experience, and I am deeply grateful to the EAN for giving me this opportunity.