by Isabella Colonna
The first EAN Science School has just concluded in the picturesque city of Salzburg, Austria, with 47 Participants from 21 countries making the most of a three-day programme of lectures and workshops on 26-29 March 2022.
The Science School gave us the opportunity to deepen our knowledge about ongoing translational research in neurology, which is very important for the understanding of pathological mechanisms underlying neurological disorders and for the development of future therapeutic options.
This course was structured in plenary sessions for all participants in the morning and workshops in smaller groups in the afternoon. The workshops aimed to foster discussions between participants and the faculty and to give a more detailed insight about specific aspects presented during the plenary sessions.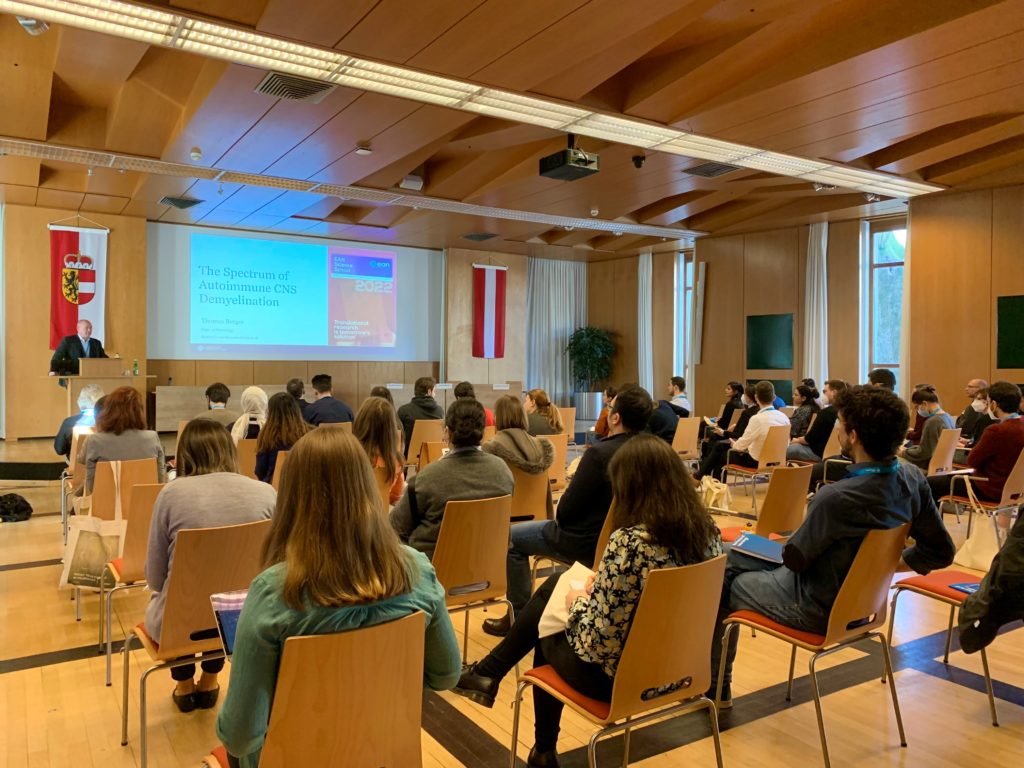 The first day focused on autoimmune neurological disorders. The plenary session was opened by the lecture of Prof. H. Lehmann (Koeln, Germany) about 'Autoimmunity in peripheral nerve disease', followed by Prof. T. Berger (Vienna, Austria) who talked about 'The spectrum of autoimmune CNS demyelination', and Prof. M. Titulaer (Rotterdam, Netherlands) who focused on 'Autoimmune encephalitis'.
In the evening all participants and speakers joined a guided tour around the city of Salzburg, hometown not only of Amadeus Mozart, but also of Christian Doppler, very important for us neurologists. Afterwards, the evening ended with a traditional Austrian dinner in one of the oldest and most typical restaurants of the city.
On day 2, Prof. G.Stoll from Wurzburg (Germany) talked about 'Penumbral tissue loss and ischemia/reperfusion injury in acute ischemic stroke', Prof. R. Raedt (Gent, Belgium) gave a lecture about 'Drug resistant epilepsy: pathophysiology and treatments', and Prof. E. Moro (Grenoble, France) discussed 'The impact of deep brain stimulation on neuronal circuits in movement disorders'. At the end of the three lectures, Dr. R. Wurm held a talk about the opportunities and the benefits that young neurologists have as RRFS member of EAN.
The last day started with Prof. E. Cattaneo (Milan, Italy) who gave a lecture entitled 'Huntington's Disease: from molecular pathogenesis to treatment'. Afterwards, advances in translational research for Alpha-Synucleinopathies and Spinal Muscular Atrophy were presented by Prof. N. Stefanova (Innsbruck, Austria) and Prof. E. Tizzano (Barcelona, Spain), respectively.
After these three days of lectures and workshops we received our certificates of attendance and enjoyed the last evening all together at the goodbye party.
The high quality of the lectures given by such excellent speakers permitted us to increase our knowledge about the state of the art of translational research in neurology. We strongly believe that translating science from "bench to bedside" is very important for both clinicians and researchers in order to cope with the complexity of current challenges in neurology. In this school we also had the opportunity to discuss and share experiences with many colleagues from European and non-European countries; we think that sharing visions and ideas is fundamental for our professional and personal growth, and for the achievement of new important results in neurology. We are very thankful to EAN for this wonderful experience and we hope that many other young neurologists and residents may join the Science School in the future.