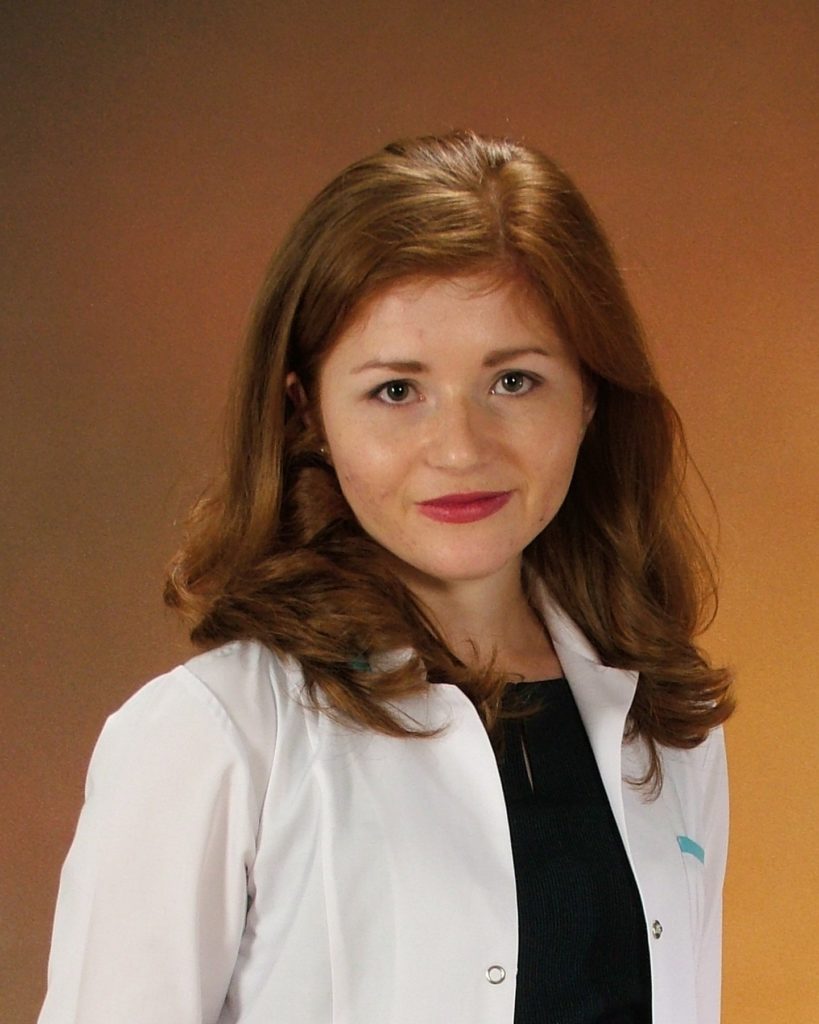 Irina Odajiu, Bucharest, Romania
Term of the Fellowship: 4.10. – 26.11.2021
Hosting department: Department of Neurology, Christian Doppler Medical Center, Paracelsus Medical University, Salzburg, Austria
Supervisor: Priv. Doz. Giorgi Kuchukhidze, PhD
I want to express my gratitude for this exceptional opportunity to perform eight weeks of clinical fellowship at the Christian-Doppler-Klinik, Universitätsklinik für Neurologie, in Salzburg, Austria. It is one of the best epilepsy centres in Europe that specialises in treating complex cases and performing original research projects, especially in the field of status epilepticus – the latest criteria for the diagnosis and management being established in this centre. The centre's excellence is mainly based on an outstanding international team of doctors and researchers and cutting-edge technology.
During the aforementioned period, I had the opportunity to work with an incredible team of doctors from the epilepsy monitoring unit and video-EEG, from whom I learned a lot of practical clinical skills as well as communication techniques required for epilepsy patients. Being such a renowned epilepsy centre, I observed a great variety of epilepsy cases, including some paediatric cases. In the video-EEG, a medium of 20-30 video-EEGs were daily performed, out of which many were from the intensive unit. Thus it helped me learn to interpret difficult EEGs and manage patients with status epilepticus in the EEG lab. Each day started with a morning discussion of all patients admitted to the Neurology Department, with the presentation of their MRI or CT scans, which helped improve my image interpretation. That was followed by a visit of the epilepsy patients admitted to the video monitoring unit, where we discussed the diagnosis and treatment. In the video monitoring unit, I learned how to address each patient individually, how to taper the medication and use the provocation techniques in order to induce a seizure, and afterward how to introduce new medications. Additionally, I learned how to make a differential diagnosis with epilepsy and which tests to perform in order to establish an alternative diagnosis. I also had the chance to see a patient on stereo-EEG, how such patients are monitored, tested, and provoked in order to induce a seizure and identify the seizure focus. Unfortunately, due to the increasing Covid-19 cases, other patients for stereo-EEG had to be postponed.
Twice a week, I also had the chance to accompany a member of the epilepsy team in the epilepsy clinic, where I learned how to communicate with such patients and how to address specific questions for patients with a first seizure or suspected epilepsy diagnosis. Moreover, I had the chance for the first time to see how magnetoencephalography is performed, but unfortunately, there was no possibility of observing the interpretation process.
Another perk of the education programme of the Neurology Department were weekly internal conferences – each Tuesday and Thursday when a great variety of topics were presented mainly through residents. Moreover, on Wednesdays, there were organised seizure conferences, where complex cases of epilepsy were presented, usually cases undergoing epilepsy surgery. At these sessions, I had the opportunity to observe which paraclinical diagnostic modalities (such as SPECT, MEG, fMRI, SISCOM) were used and integrated in order to establish the seizure focus. Once I was also lucky to attend the international seizure conference, where an international board discussed different cases from Europe.
The possibility of communication with such an international team of doctors and researchers, observing how different original projects are developed in this centere, how questions are addressed, and solutions for each question were found, helped me a lot in my educational process. It helped me not only to acquire knowledge and skills in the field of epilepsy but also to acquire communication skills (because of the language environment – it helped me improve my German and English) and team cooperation abilities.
In conclusion, I can add that I have achieved the goals set at the beginning of the clinical fellowship and that it contributed significantly to my professional formation as a young neurologist.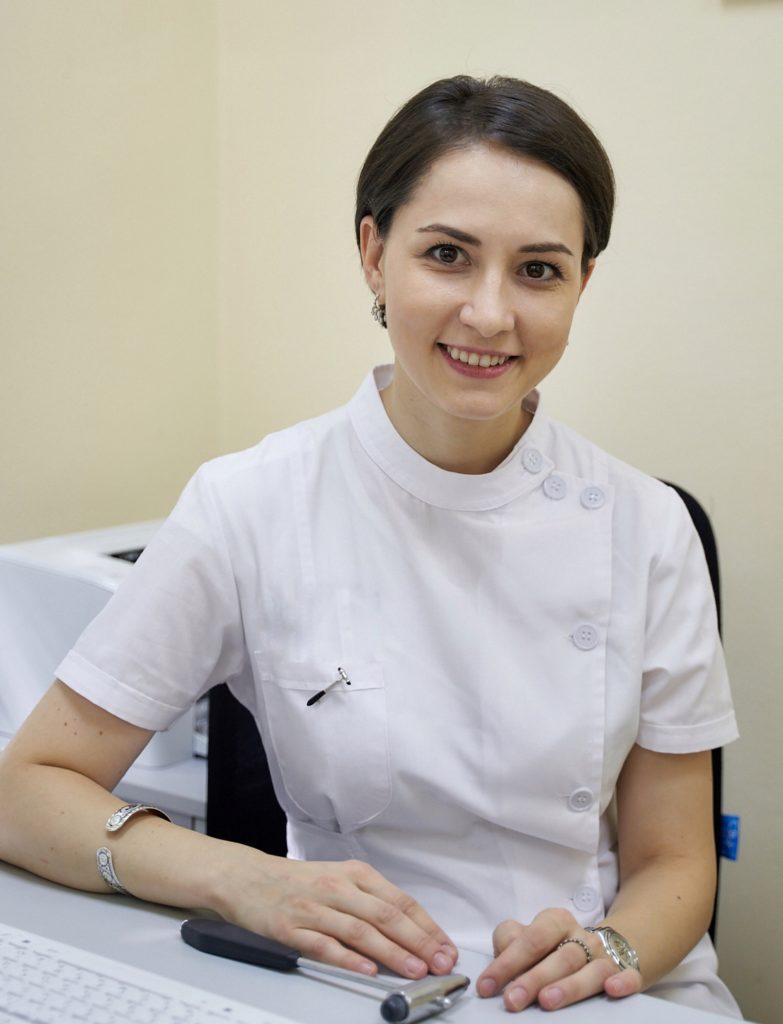 Zukhra Gadzhieva, Makhachkala, Russia
Term of the Fellowship:  29.7.-8.9.2021
Hosting department: Department of Neurology, St George's Hospital, London, United Kingdom
Supervisor: Dr. Anthony Pereira
From July to September 2021, I underwent a clinical fellowship in the neurology department of St. George's Hospital in London under the supervision of Dr. Anthony Pereira.
I would like to start my report by thanking the European Academy of Neurology, the management of St George's Hospital, London, and my supervisor Dr Anthony Pereira, who made my clinical fellowship possible. It allowed me to learn from the experiences of specialists in another country, to look at my specialty and the whole organisation of medical care from a different angle and to learn a lot of valuable lessons.
Below I will share my experiences of how the clinical fellowship and work in the departments were organised.
Before the trip I was offered by my supervisor to prepare a list of lines which I would like to embrace during the time in hospital in order to organise my work more efficiently. Thus, I was able to take part in the work of the Hyper-Acute Stroke Unit (HASU), General Neurology Department (Kent Ward), Outpatient Clinic, and Accident and Emergency Department and also to experience the work of the Thrombolysis and Thrombectomy Service.
In HASU, the working day begins with the doctors' meeting of two consultants (neurologists or geriatrists), a clinical pharmacologist, a clinical researcher, nurses and staff participating in early rehabilitation, physical and speech therapists as well as registrars, students and trainees. At such meetings they discuss all the patients of the department, analyse neuroimaging data (CT and MRI). After the meeting, specialists divide into two groups that have simultaneous ward rounds, examine all the patients and have a discussion again to define diagnostic plan, treatment approaches, discharging and referrals.
Such discussions help to get a complete picture of the patients' disease: to compare the neurological deficit identified during the examination with the area of damage on CT or MRI, to get knowledge of approaches to diagnosis and secondary stroke prevention, including those based on in-hospital clinical trials.
In the General Neurology and Traumatic brain injury Department (Kent Ward) there are quite a lot of patients with epilepsy, myasthenia, movement disorders, demyelinating disease. I was able to improve my knowledge in these spheres because of clinical discussions, especially in the fields of epileptology under the guidance of Dr. Marco Mula and movement disorders under the supervision of Dr. Mark Edwards; a special thanks to them.
Attending the Outpatient Clinic was a great opportunity to learn sub-specialisations – angioneurology, epileptology, movement disorders (including functional), headache and botulinum toxin therapy. All the specialists with whom I had the honour to attend the clinic, were very pleasant and shared gladly their knowledge and skills.
Since St. George's Hospital serves as an educational base for students and registrars, a great deal of importance is placed on the educational programme. In addition to on-the-job training in the department, it included various workshops, lectures, and clinical case presentations, which were conducted online due to the Covid19 restrictions. I was given access to all such events, which was really very useful in terms of theoretical knowledge.
Dr. Anthony Pereira also regularly conducted excellent case discussions of the most interesting and difficult clinical cases with his mentees, giving them the opportunity to test themselves and expand their knowledge.
What I consider as interesting and helpful in the way of work organisation and doctors studying is that all of them have a rotation to different departments according the schedule and this allow them to grow in different areas, not only in their specialty. The hospital also has a relatively large support staff – from clinical researchers and pharmacologists to speech and physical therapists – which makes it possible to work more efficiently and with greater benefit for both patients and scientists. I would also like to point out the specialists' adherence to evidence-based medicine and the search for research-based information, the emphasis on clinical trials when prescribing therapy.
I also want to mention the special friendliness of all the medical staff at the hospital and especially the consultants and registrars, who were always eager to help and share their knowledge.
It has been a few months since I completed my fellowship, but I can say that this experience is already paying off in my daily clinical practice, not only in my neurological knowledge but also in my communication skills with patients.
Many thanks to my supervisor Dr. Anthony Pereira, all HASU consultants, clinical residents, especially Vafa Alakbarzade and other staff at St. George's Hospital for their warm welcome.