It is with great pleasure that we announce the Mentees who have enrolled in the second round of our EAN Mentorship Programme to be matched with a Mentor to support them over the course of one year.
As you would expect from a mentorship programme, the aim is to help early-career neurologists to unlock their potential by pairing them up with neurology veterans who can provide guidance and advice. Such programmes can be hugely rewarding for mentors too, giving them a chance to develop their mentorship skills and make a valuable contribution to supporting the next generation of neurology professionals.
Congratulations to our Mentees:
Lilit Avetisyan, Yerevan, Armenia
Elena Bondareva, Vienna, Austria
Ezgi Cakir, Duzce, Turkey
Altay-Sercan Chelmambet, Bucharest, Romania
Monika Figura, Warsaw, Poland
Eugenia Filippakopoulou, Athens, Greece
Fábio Gomes, Coimbra, Portugal
Henri Hokkanen, Helsinki, Finland
Evgeniya Melnik, Moscow, Russia
Ricardo Morcos, Barcelona, Spain
Catarina Neves Damas, Setubal, Portugal
Kateriine Orav, Tallinn, Estonia
Francesco Pasini, Monza, Italy
Sandra Perillo, Naples, Italy
Bianca Oana Pîrlog, Cluj-Napoca, Romania
Sofia Rodrigues, Lisbon, Portugal
Marina Romozzi, Rome, Italy
Yury Seliverstov, Moscow, Russia
Stefan Sennfält, Stockholm, Sweden
Payam Tabaee Damavandi, Monza, Italy
Aleksandra Volkova, Moscow, Russia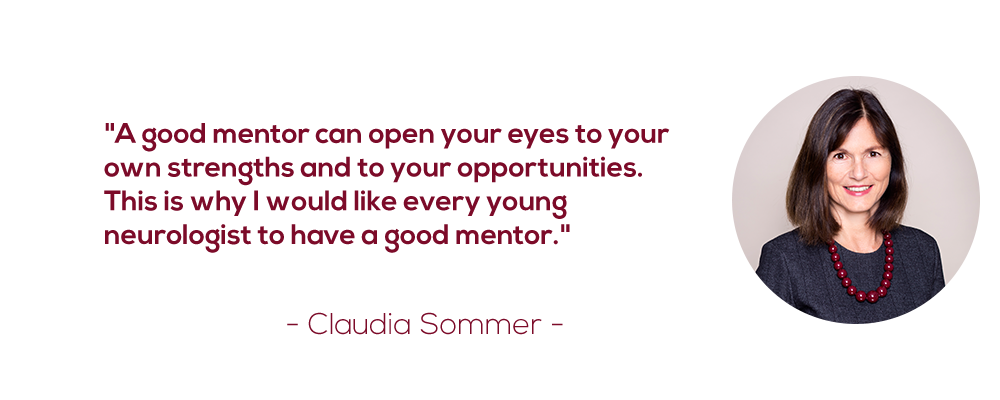 We would like to encourage all interested neurologists* to enrol in this new programme, which is no doubt beneficial to more junior doctors, who have the chance to interact with an experienced professional in the field of neurology and ask for advice on specific projects or personal development (*future mentees need to be RRFS/full members from EAN member countries).
This is also a chance for future mentors to strengthen their leadership and mentoring skills and make a valuable contribution to supporting the next generation of neurologists. By spending a few hours per month together as a team with the mutual goal of development, these pairs may even prepare the basis for a lifelong connection.
During the Europe 2022 Congress, a mentorship workshop will be held for all matched pairs, as well as those who are interested and want to learn more about mentorship and what it is all about. Do not miss this opportunity:
Workshop on Developmental Mentorship by Alexis Hutson on
Sunday, 26 June, 8:00-9:00h in Room Helsinki
As an introduction, you can also browse the webcast from last year and learn about the different areas of this programme.
If you are interested in taking part on either side of this programme, we encourage you to visit the Mentorship Programme page for all the information you need.
To find out how to apply as a mentee, click here.
If you are interested in becoming part of our pool of mentors, click here.