Neuroimaging Research Experience
By Aysenur Akbulut, Ankara, Turkey
Visiting the Translational Imaging in Neurology Laboratory (ThINk) Group, Department of Biomedical Engineering (DBE), University of Basel, Switzerland
I had the great privilege of working as a research intern for two months in Translational Research in Multiple Sclerosis. I was lucky to be welcomed by a multidisciplinary team of researchers once I arrived at the laboratory. I met researchers from different disciplines such as engineering, physics, mathematics, and medicine to learn many aspects of research in a collaborative and friendly working environment.
During my first week, I started by learning about utilising neuroimaging software in my assigned research project. I met with my mentors and attended regular lab meetings to exchange new ideas and learn about the work of other laboratories in the DBE. My everyday work included imaging software to detect multiple sclerosis lesions on various MR sequences and perform tasks to evaluate them. I did a literature review of our related research questions to bring new ideas. I also had the chance to consult other neuroradiologists when I found an interesting case. Thus, it would often bring up discussions and create a learning opportunity for me. At the end of my internship, I prepared a presentation of my final work for all our lab members. Also, I got invited to participate in the DBE research day as part of the team, where I could listen to oral and poster presentations of the DBE. This allowed me to expand my network among scientists from different fields.
Basel is known as one of the most cultural cities in the world. So, I was part of that musical and art culture during this time. Even during the long working hours on weekdays, I could always find a moment to take a break at a nearby festival or music concert. I am grateful to have this chance to improve myself on an intellectual level too. The laboratory environment fostered these socialising opportunities, such as a summer barbecue for the whole lab.
For this unique experience, I owe a huge thank you to the EAN Student Teaser Fellowship Programme and all of the ThINk members for making me feel at home and, particularly, my supervisor Prof. Dr Cristina Granziera, for her effort to include me in her research team and projects. I now feel more confident about my choice to pursue neurology and feel motivated to work harder to achieve this goal.
---
Report from four weeks in MS Center CEMCAT
By Diego de la Hoz Lopez, Madrid, Spain
Visiting the Multiple Sclerosis Centre of Catalunya (CEMCAT), Vall d'Hebron University Hospital, in Barcelona in July 2022
During the rotation at the "Centre d´Esclerosi Múltiple de Catalunya" (CEMCAT) I have been able to deepen my knowledge about this varied disease. The warm welcome and hard work of Dr Montalban's team is admirable. I highlight the multidisciplinary approach, where psychology, occupational therapy, physiotherapy and art therapy have the same importance as routine medical consultations. All in all, personal growth has far surpassed all the knowledge acquired. Being able to learn from every patient has been an honour that has allowed me to understand the pathology from a more human point of view. Undoubtedly, this is an experience that I am glad to have lived and that I hope to repeat next year.
Thank you EAN! Thank you CEMCAT!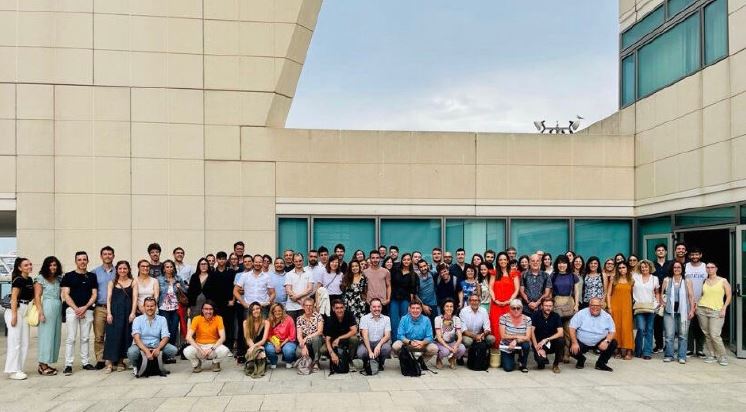 ---
Report from four weeks in Salzburg
By Natalia Fabin, Bologna, Italy
Visiting the University Hospital for neurology, Stroke Unit and Neurorehabilitation, Christian-Doppler-Clinic, Salzburg, Austria in August 2022
I am very happy to write a positive report about the Stroke Unit (Schlaganfallstation) of the Christian-Doppler-Klinik in Salzburg.
The Stroke Unit is located in a large hospital (Christian-Doppler-Klinik) entirely dedicated to neurology in all its forms.
The day starts at 7:30 with a meeting in the 'Creativity room', where the personnel from the unit meets and discusses cases of relevance. There are also other weekly meetings (for example with radiologists) in order to achieve a multidisciplinary management of the patients.
There are 14 beds in total and all patients are carefully monitored by the whole staff. During the bedside visits, it is easy to admire the organisation of the Unit. For instance, there are physiotherapists and logotherapists which start the rehabilitation of acute patients almost immediately – this is crucial in stroke patients.
After lunch, I had the possibility of either staying in the unit or going to the outpatient clinic.
In the unit I could discuss the cases I had seen in the morning with the opportunity of seeing and learning from MRI images and CT scans.
In the outpatient clinic of cerebrovascular disease, there was the possibility of analysing the management of nonacute patients and seeing ultrasound.
The usual working day ends at 16:00.
Although everyone was amazing, my biggest thank you goes to my tutor Dr Slaven Pikija. Not only has he been a wonderful tutor, but he also is an excellent neurologist. He is a person one can always learn from and, importantly, he is very enthusiastic about what he does. He can really transmit his passion and is very good at teaching, with the possibility of plenty of interesting clinical reasoning. He has plenty of original and interesting ideas and he is always open to new ones.
I must say that without him, my fellowship would have not been the same.
I strongly recommend this stroke unit and, more generally, Christian-Doppler-Klinik, where one can do a full immersion in neurology. Also, Christian-Doppler-Klinik is a very international hospital where you can meet fellows from all around the world. However, in order to better understand the management of the patients and perform, for instance, neurological examination, it is important to speak German (I would say at least B1 level).
Salzburg is an amazing city, although quite expensive, located in an optimal position to visit a lot of amazing places. With just a ten-minute drive, you find yourself surrounded by the most beautiful mountain landscapes.
---
Visit the Student Teaser Fellowship website to find out more about this interesting opportunity for medical students. Potential applicants can get information about eligibility, how to apply with useful tips and FAQ, and how to become a student member including additional benefits when joining the EAN.
The next application deadline is 31 March 2023
and the fellowship period is effective from 1 April 2023 to 31 January 31, 2024.
The Student Teaser Fellowship is supervised and reviewed by the EAN Education Committee together with members of the Student Task Force