by Daniel Navin Olschewski, Cologne, Germany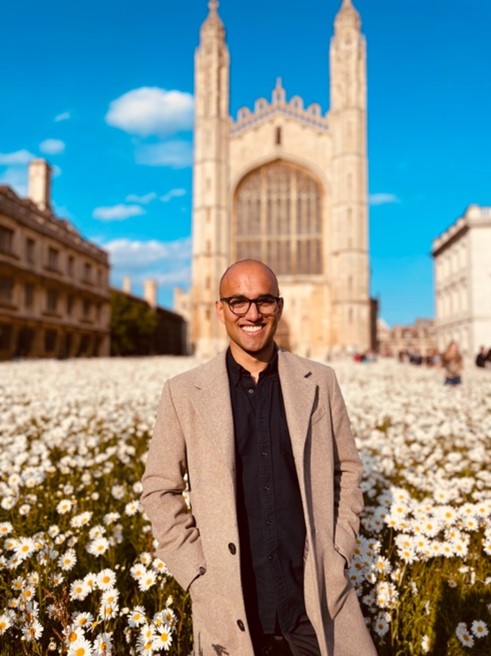 I would like to express my deepest gratitude to the European Academy of Neurology for granting me a Research Experience Fellowship for six months. As a neurology registrar from the University Hospital of Cologne, I was able to join the Lakatos Lab at the University of Cambridge, enabling me to work together with world-class scientists and learn a novel research method called cerebral organoids.
3D human cerebral organoids, so called 'mini-brains', have emerged in recent years as a novel and unique model for brain development and disease (Szebenyi et al., 2021), which can recapitulate the cortical architecture, cell diversity and pathological processes.
…
They are derived from pluripotent stem cells grown into embryoid bodies in vitro and through treatment with specific culture media and growth factors, they are developed towards a specific tissue such as the CNS. However, a problem is that organoids which show consistent forebrain identity for reproducibility often lack mesodermal-derived microglia, which are relevant in ALS pathogenesis.
To overcome this, during my Research Experience Fellowship at the Lakatos Lab of the University of Cambridge I set out to combine forebrain organoids generated from induced pluripotent stem cells (iPSC) with iPSC-derived microglia.
I have learnt cerebral organoid culture methods established in the Lakatos Lab (Szebenyi et al., 2021) and then successfully generated ALS cortical organoids seeded with iPSC- derived microglia (Cowley et al.). This platform provided me a great opportunity to assess the role of microglia in ALS pathogenesis.
At the Lakatos Lab, I joined a dynamic team, where I was able to build on my previous experience in cell culture and learn a novel research tool at a world-leading institution. In addition, I also had the opportunity to attend the clinical and academic seminar programme at the Department of Neurology at the Cambridge University Hospitals. Furthermore, I was able to connect with researchers from around the globe and get a glimpse of the vibrant and diverse Cambridge life, exploring the city, the university and its surroundings.
With the new knowledge I acquired I will be able to establish cerebral organoids at the University Hospital of Cologne as a new model for examining human aspects of neuroinflammation in neurological diseases, a subject of interest to me. I am grateful to the EAN and the Lakatos Lab for this incredible opportunity and am looking forward to maintaining this bridge between this lab and the Department of Neurology at the University of Cologne.