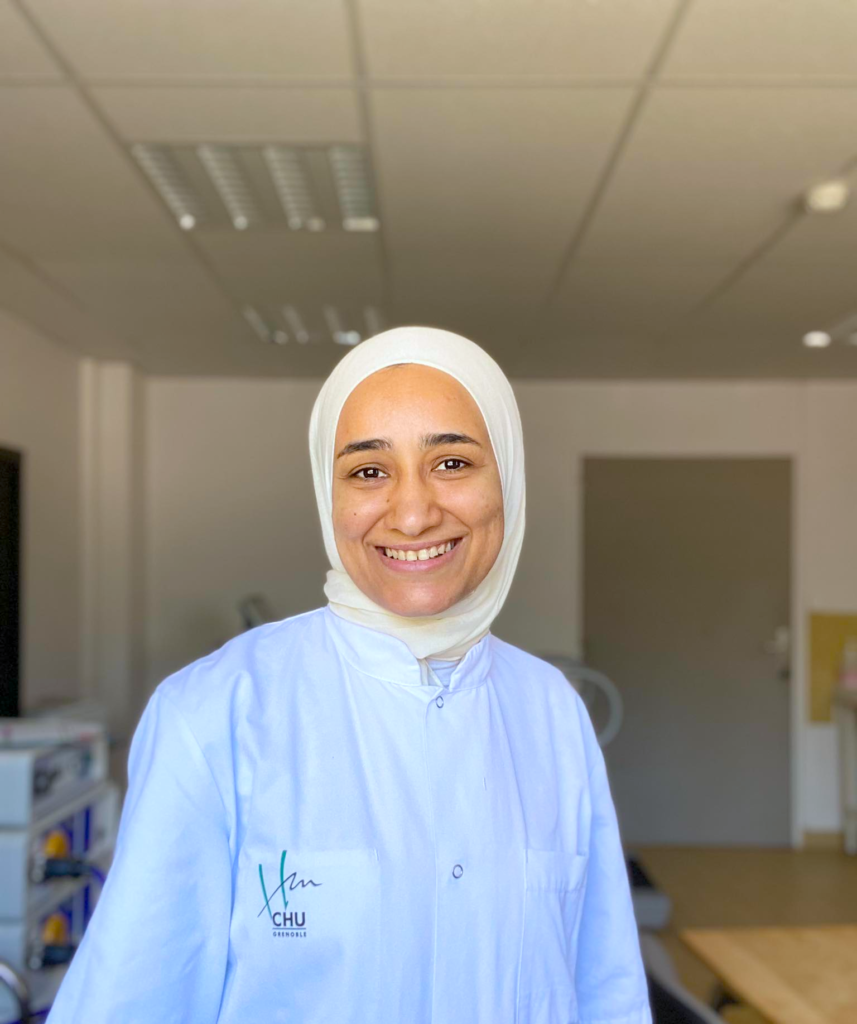 Sarah Mohammed, Giza, Egypt
Term of Fellowship: 15 June – 1 September 2022
Hosting department: Department of Psychiatry, Neurology, Neurological Rehabilitation and Forensic Medicine, Service de Neurologie, CHU Grenoble, France
Supervisor: Prof. Elena Moro
…
I completed my EAN Clinical Fellowship at the department of Psychiatry, Neurology, Neurological Rehabilitation and Forensic Medicine, Service de Neurologie, CHU Grenoble, for a period of ten weeks under the supervision of Prof. Elena Moro.
Grenoble Alpes University Hospital is the reference hospital in the alpine region with a population of two million people. My primary goal was to learn more about the clinical management of movement disorders as I had had little contact with these patients in my practice before.
I was welcomed by Prof. Moro and her team. She showed me the whole department and introduced me to the whole team. Thanks to the warm and friendly reception from Prof. Moro and all her team I always felt fully integrated into the department's daily routine, which allowed me to take advantage of all the available activities.
My weekly activities included the following: firstly, I regularly attended the movement disorders clinic, where I had the opportunity to evaluate patients with all types of movement disorders, which included Parkinson's disease, essential tremor, focal and generalised idiopathic dystonia, idiopathic hemifacial spasm, Tourrette's syndrome and ocular apraxia, to the rarest diseases such as genetic and task-specific dystonias, dystonic tremor, atypical parkinsonian syndromes (progressive supranuclear palsy, corticobasal degeneration, and multiple system atrophy) and to discuss the phenomenology as well as the diagnostic work-up to exclude differential diagnosis and therapeutic options.
Secondly, I attended the Botulinum toxin clinic where I was truly impressed by the number of patients injected weekly: 40-60. I learnt how to treat patients with dystonia, tics, hemifacial spasm and blepharospasm, how we follow up them, and how to do injection under EMG and ultrasonography guidance. I attended the ward round for a few weeks where cases were assessed and discussed, usually patients presenting with a complex combination of movement disorders or atypical presentations of classic conditions.
In addition, I had the opportunity to attend a few academic teaching sessions on Fridays where clinical cases were presented and interactively discussed to reach a final diagnosis.
I also had the chance to witness complex therapies that are not available back home like subcutaneous apomorphine infusion, intrajejunal levodopa infusion and deep brain stimulation (operability assessments, pre- and postoperative management).
Being in a reference centre with a high number of patients, this component of the fellowship was truly rewarding as I was able to face an enormous number of different pathologies, from the most common to the rarest presentations.
This Clinical Fellowship gave me the opportunity to broaden my knowledge in the movement disorders field, particularly to increase my clinical skills in observing and recognising movement disorders, and to learn diagnostic and therapeutic approaches that I could apply to my daily clinical practice. I also had the opportunity to see many patients affected by rare diseases, mainly genetic.
To conclude, I would like to thank Prof. Elena Moro and her team Dr Sina Potel, Dr Valérie Fraix, Dr Anna Castrioto and Dr Sara Meoni, and I would also like to thank the other fellows, Dr Mari Muldmaa and Dr Chad Lee for all their kindness and constant support, and of course the European Academy of Neurology for granting me the opportunity to do this clinical fellowship. I must say it was a completely rewarding experience, which I recommend to all young neurologists.
I am very grateful to the European Academy of Neurology for this valuable opportunity.
---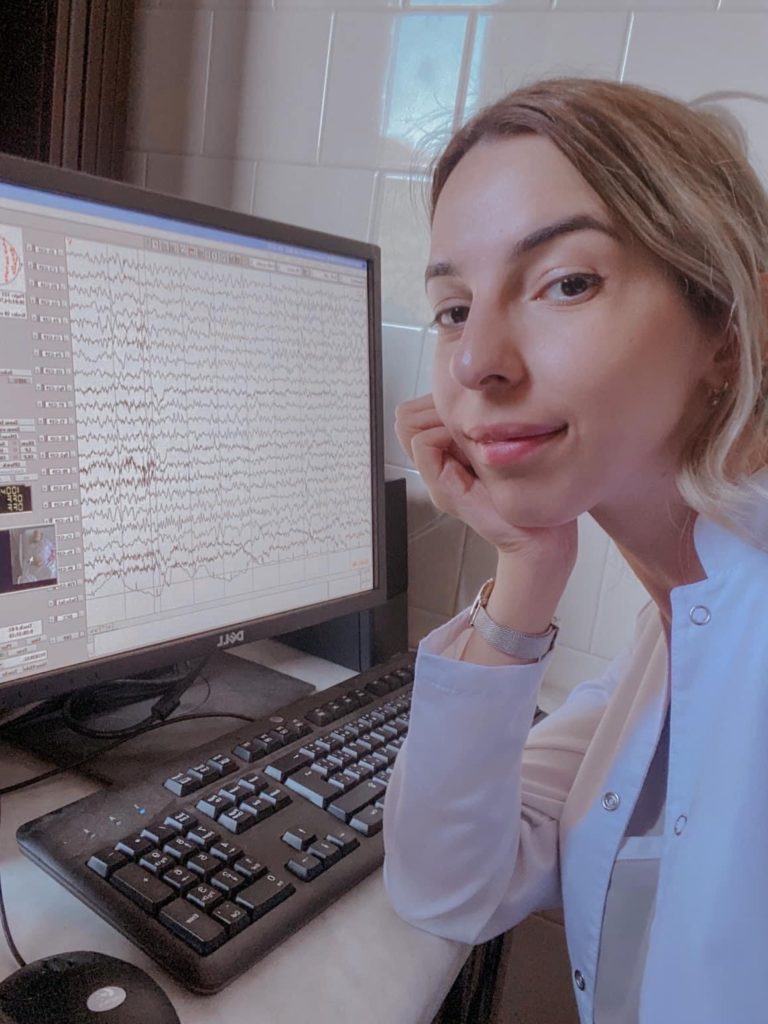 Tinatin Nadiradze, Tbilisi, Georgia
Term of Fellowship: 1 August – 11 September 2022
Hosting department: Motol University Hospital, Prague, Czech Republic
Supervisor: Petr Marusič, MD, PhD
…
During my EAN Clinical Fellowship under the guidance of Prof. Petr Marusič, at Motol University Hospital, I was involved in clinical activities in the Neurology Department. During my six-week EAN Clinical fellowship, I had the opportunity to deepen my clinical knowledge in neurology and in particular in the diagnosis and management of epilepsy. My fellowship's primary areas of interest were neurology, particularly EEG and refractory epilepsy.
I've always been really interested in epilepsy ever since I first learned about the field of neurology. It is the main reason I always wanted to have a chance to take training in a hospital with a specialised department in epilepsy with highly qualified medical staff and great expertise in the field. I now have the wonderful opportunity to advance my experience with various diagnostic tools like EEG, MRI techniques, and different treatment options that are not entirely available in my home country. I had an opportunity to learn how to perform EEG, how to interpret the results appropriately and modern approaches of treatment. I reviewed EEGs under the supervision of an excellent team. Gaining experience will enhance my medical knowledge and assist me in the future with establishing diagnoses, managing patients, and providing prognostic data as EEG is a significant tool in the examination and diagnosis of epilepsy. I truly had wonderful experiences throughout that time.
The knowledge have built from the fellowship will be of utmost importance for my practice in neurology and the team I work with at my clinic. I am incredibly appreciative of the wonderful opportunity provided by Prof. Petr Marusič and the EAN as well as the support I got from my mentor and institution. I want to express my personal gratitude for the effort and extra time of the neurology department team and thank Dr David Krýsl, Dr Adam Kalina, and Dr Peter Faber for helping and guiding me. Therefore, these six weeks were a highly productive and fascinating period in my life. I am appreciative of the EAN for providing me with this great opportunity. I will work extremely hard to use this experience and knowledge in my clinical practice in Georgia.
---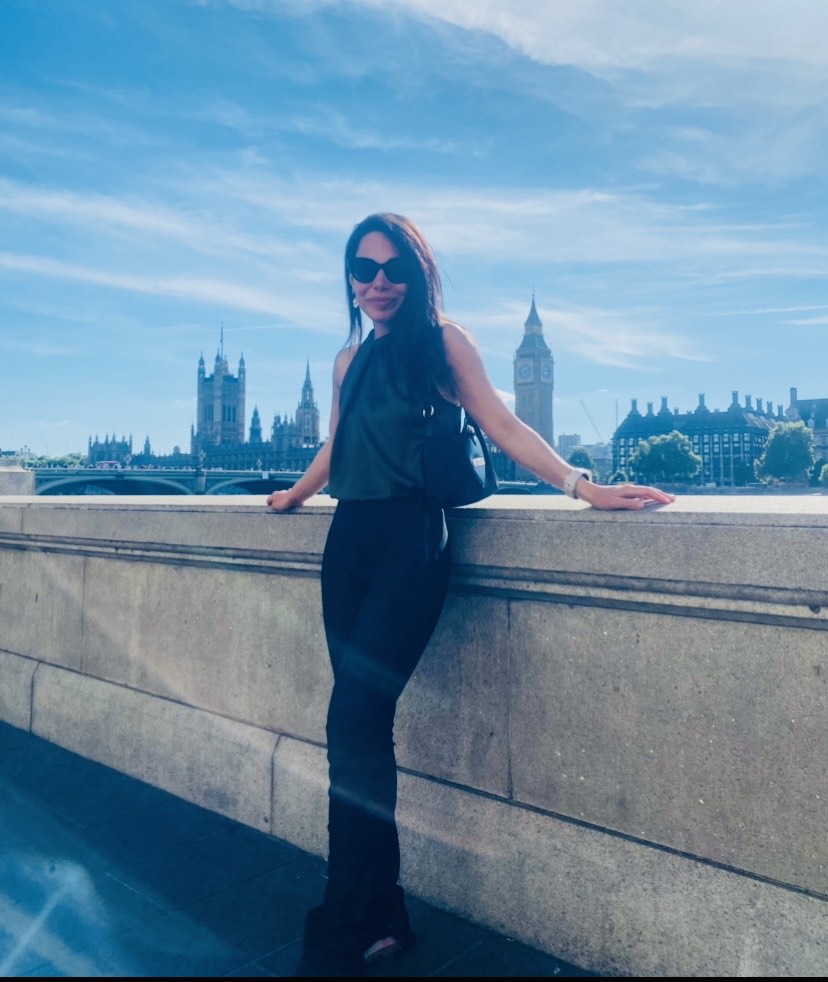 Natalia Hargreaves, Tbilisi, Georgia
Term of Fellowship: 1 June – 15 July 2022
Hosting department: St. George's Hospital, Tooting, London, UK
Supervisor: Dr Jeremy Isaacs
…
My EAN Clinical Fellowship at St. George's Hospital was absolutely interesting, productive and versatile. I was extremely lucky to be able to gain experience across several different clinics and departments. Most of my time I spent within HASU (the hyper acute stroke unit) alongside Dr Pereira and his team. Every morning I attended the morning handovers, radiological overviews and ward rounds, and if there was a thrombolysis call, I would join the stroke team and go to A&E for thrombolysis and thrombectomy assessment. During my time there, I was able to watch a live thrombectomy on screen twice (both of which ended successfully), and thereafter I followed the patients all the way through from A&E until they were discharged. Moreover, I attended the TIA and stroke clinics with Dr Pereira and his team several times a week. The extent of knowledge I obtained about this relatively new and challenging field was lifechanging for me – I had only seen a few thrombolysis procedures beforehand and had never experienced working in HASU because, as yet, it is non-existent in my country.
It was also absolutely invaluable to attend the hot clinics and dementia clinics with Dr Moodley (on Mondays, Wednesdays and Thursdays), where he took me through every step of his extremely thorough examinations and consultations, and allowed me to learn from his vast experience and approaches that I would never be able to simply read from any book.
I twice attended the motor neuron disease clinic with Dr Garcia, and I was lucky to be able to attend the amazing clinics of movement disorders with Prof. Morgante on two occasions. I naturally also attended every available clinic with Dr Isaacs, from whom I not only learnt more about dementia and all kinds of management in the field, but also shared his personal and working experience. I benefitted from witnessing, discussing and listening to all the challenges connected to dementia, including doctor patient interaction, such as breaking bad news to the relatives in cases of young onset Alzheimer's. Furthermore, I attended the neuropsychological dementia assessment (a four-hour process) and went through each and every step of the process. As we do not practice the assessment in Georgia, I found the associated knowledge to be exceptional, and I have since carried all relevant information back to my country.
On top of the daily clinics, I attended weekly discussions of articles presented by the speciality registrars and SHOs. I attended the teaching sessions that were held by Dr Moodley and Dr Pereira, which were performed biweekly (Monday/Wednesday), and I was able to attend two medical conferences held online while at St. George's.
Furthermore, I registered at the St. George University library, so whenever I had time during the day, I would read and study there about specific neurological cases that I was introduced to on that particular day. Several times I stayed on the late shift at the hospital with the speciality registers, following them throughout their work. This took me to different departments of the various clinics and of course to numerous patients waiting in A&E. During this time, I learned a lot about the specific NHS protocols within the trust and was also able to discuss them with certain consultants. Fortunately, everybody I spoke to at St. George's was extremely helpful and attentive.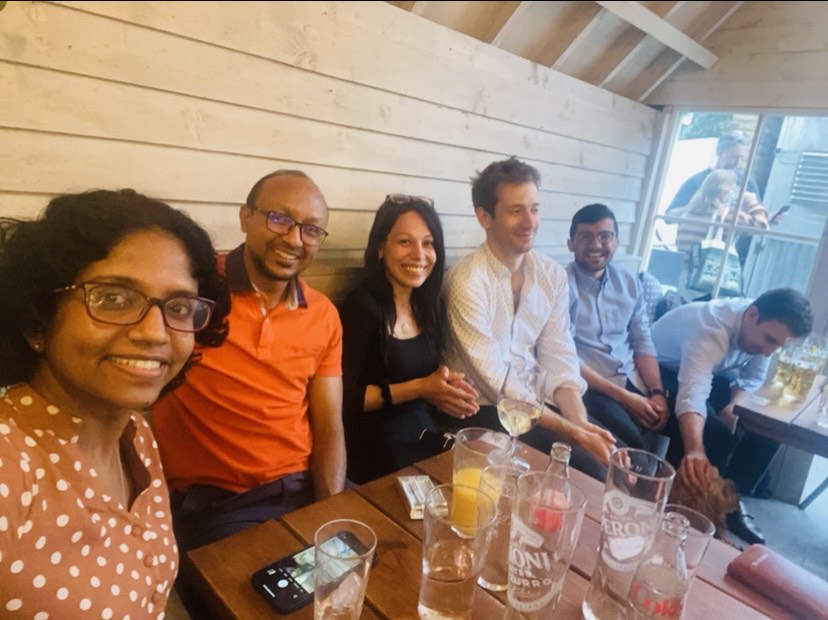 The only challenging part of my stay was at the beginning, when I did not know anyone aside from Dr Isaacs, who was of course very busy. It took me a couple of days to adjust to the clinic and to make the most of what it could offer, though I'm please to say I certainly was able to, after immersing myself in the fellowship.
I am so honoured for this fantastic chance to have completed my clinical fellowship at St. George's Hospital. I am eternally grateful to the EAN team, without whom it would never have been possible.