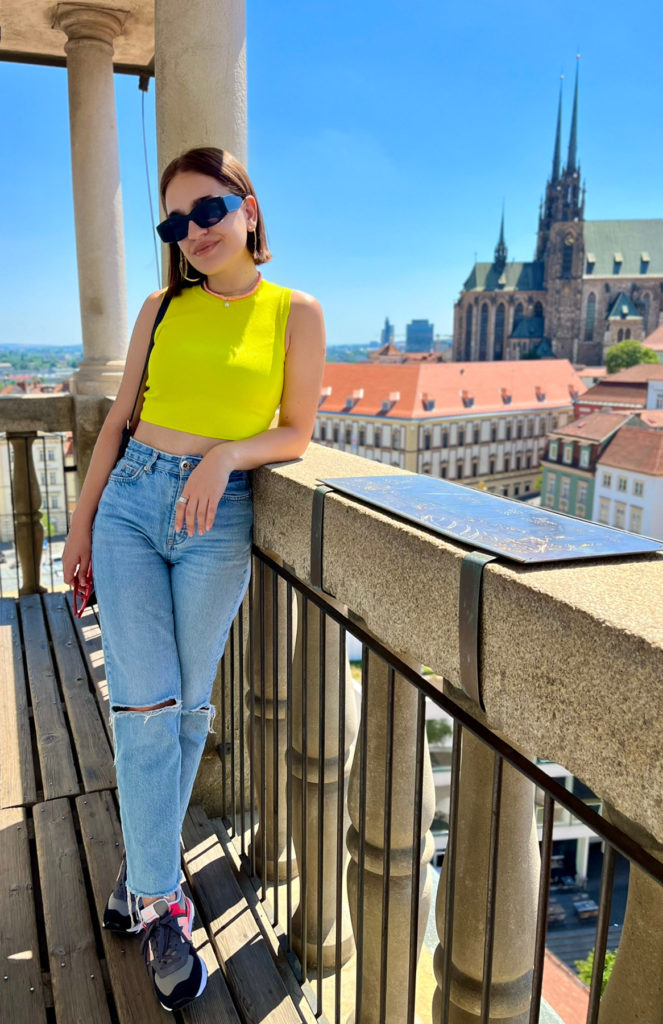 Nare Hambardzumyan, Yerevan, Armenia
Term of Fellowship: 6 June – 1 August 2022
Hosting department: St. Anne's University Hospital, Brno, Czech Republic
Supervisor: MUDr. Milan Brazdil, Ph.D.
…
I arrived at St. Anne's University Hospital for my EAN Clinical Fellowship at the beginning of June. I met Prof. Brazdil who introduced me to the team of the Epilepsy Department and their weekly schedule. I told him I am more into clinical practice than research, so my two months in the hospital were more clinical.
The two months I spent at St. Anne's were truly exciting and a huge investment in my career as a neurologist. I was attending epilepsy surgery sessions curated by the epileptologists of the department, following up the video EEG patients and the patients in both outpatient clinic and neurological ICU. So, I can say it was not only an epilepsy fellowship but general neurology fellowship as well.
The first days in the hospital were a bit shocking. I was trying to learn the differences between the Czech and Armenian healthcare systems, which plays a huge role in the approach to epilepsy patients. The doctors were telling me every detail that could help to understand the Czech system.
Then I started drawing parallels in the pharmacological and surgical treatments and even the follow-up of the patients in Brno and Yerevan because I understood no matter how exciting it could seem there, I was there to learn and implement my knowledge in Armenia, so I was trying to find ways because most of the antiseizure medications and surgical methods are either not registered in Armenia, not available, or financially not affordable because of the lack of health insurance. So, the discussions with doctors sometimes were going deeper than certain epilepsy cases, and becoming debates on social influences on healthcare systems and particularly on epilepsy treatment, which is not cheap.
I was following their weekly programme, attending weekly neuroradiology meetings, big rounds with Prof. Brazdil, and almost weekly discussions with the movement disorders department.
The only problem I faced in Brno was the language. I am fluent in English and Russian, and all the doctors were also fluent in English; some of them also knew Russian. But the patients spoke only Czech so I always needed assistance from a doctor, as most of the time I could not make direct contact with patients. But the good part about my foreign language skills in the Czech Republic was that I was able to communicate with the Ukrainian refugees who were being followed up in St. Anne's. As for them it was easier to communicate about their problems in Russian and sometimes I was the bridge and the one who was taking medical history and keeping contact. Nevertheless, I am so thankful to all the doctors of the department who were translating from Czech to English to keep me included in the works, explaining all the things that were new to me, and providing access to the hospital library and all the resources that could be useful.
I met so many challenges and I am so inspired by what they are doing in St. Anne's. I am now taking new neurophysiology courses with a plan to get my license to be an EEG specialist by the end of the year. And I am hoping to go back to Brno for the EPODES 2022 this winter.
I am so thankful to the EAN for this opportunity, I am a better neurologist than I was before this fellowship and I am more motivated than at any point ever in my life.
---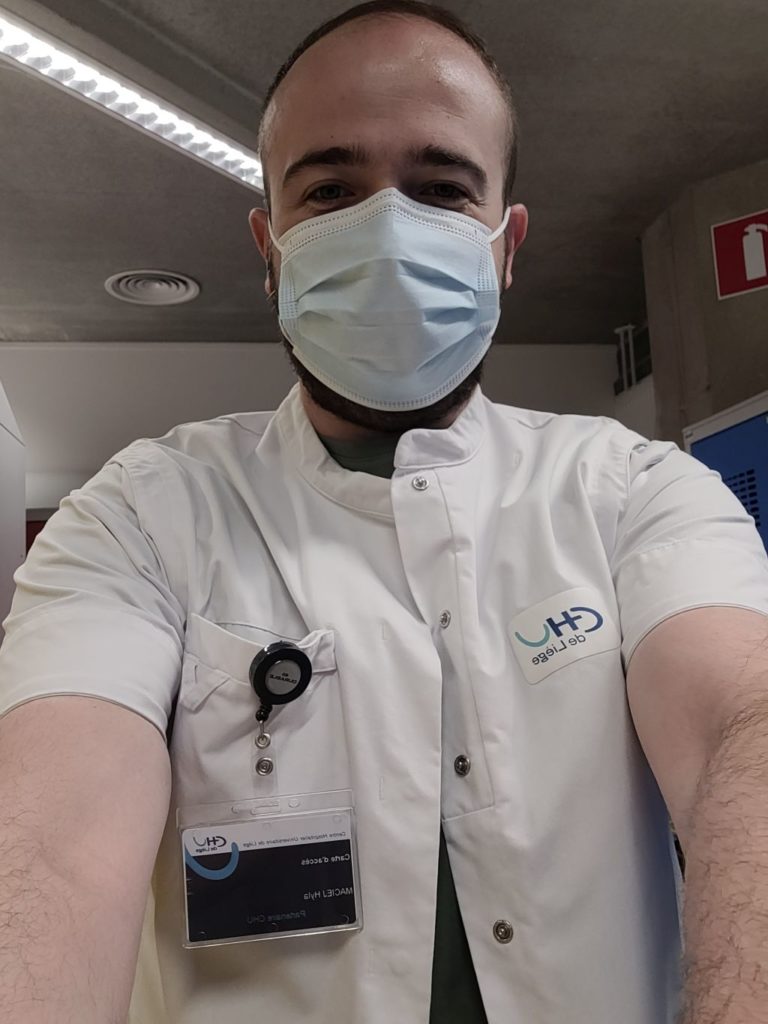 Maciej Hyla, Warsaw, Poland
Term of Fellowship: 9 May – 1 July 2022
Hosting department: Centre Hospitalier Universitaire de Liège, Belgium
Supervisor: Prof. Frédérique Depierreux, MD, PhD
…
I had the pleasure of completing my EAN Clinical Fellowship at the Department of Neurology of CHU Liège, Belgium. The main aim of my fellowship was to deepen my knowledge in the field of movement disorders.
Under the supervision of Prof. Frédérique Depierreux I took part in multiple consultations of patients suffering from different forms of dystonia. I had the chance to learn the thorough clinical examination, the main characteristics and the modern way of treatment of those disorders, including ultrasound-guided and EMG-guided botulinum toxin injections. I participated in many multidisciplinary consultations performed together by neurologists, hand surgeons and otorhinolaryngologists regarding cases of patients with musician's and vocal cords dystonias, treated by injections of botulinum toxin into the vocal cords under laryngoscopy.
Apart from patients with dystonia, I took part in consultations with children suffering from hyperkinetic movements like tic disorders. I learned how to examine young patients, the movement characteristics and patterns, as well as the modern treatment approach.
What is more, I had a great opportunity to accompany Dr Eric Parmentier during consultations of patients with Parkinson's disease, other Parkinsonian syndromes and different types of tremor. This included performing and interpreting a variety of clinical tests, as well as EMG. I took part in multidisciplinary DBS team's consultations and observed electrode implantation, intraoperative electrophysiological examination in the operating theatre, and UPDRS scale examination of an awake patient.
It is worth mentioning that I also assisted in medical appointments concerning other abnormalities, including patients suffering from multiple sclerosis, sleep disorders, neurogenetic disorders or epilepsy.
Thanks to the EAN I had this unique opportunity to improve my professional skills. I have deepened my knowledge in the field of movement disorders in both diagnostic and therapeutic approach and I am certain that I have fully achieved the goals I had set initially for my internship.
Additionally, I would like to express my gratitude towards the team of CHU Liège Neurology Department, especially Prof. Maquet, Prof. Depierreux and Dr. Partmentier for accepting me for this eight-week clinical fellowship, for being very supportive and for sharing their profound knowledge with me.
---
…
Hannah Stamberger, Borgerhout, Belgium
Term of Fellowship: October-December 2022
Hosting department: Academic Centre for Epileptology Kempenhaeghe & Maastricht UMC, Heeze, the Netherlands
Supervisor: Prof. Majoie, Dr. van Kranen-Mastenbroek
It is my pleasure to report on my EAN Clinical Fellowship experience at the Academic Centre for Epileptology (ACE), Kempenhaeghe & Maastricht UMC, in Heeze, the Netherlands.
I spent ten weeks in this tertiary epilepsy clinic where both children and adults are referred to for diagnostic or therapeutic questions concerning their epilepsy. I was welcomed very kindly on my first day by Mrs. Linssen, the secretary of the department who is responsible for the resident and fellowship programme. She did a wonderful job in setting out a detailed 10-week programme for me including different specialised epilepsy clinics (e.g. epilepsy genetics clinic, transition clinic, ketogenic diet clinic), electrophysiology training and epilepsy surgery case discussions. The programme was specifically adapted to my personal fellowship goals and learning objectives. I also had a very welcoming talk with Prof. Majoie, my mentor, on the first day, who discussed the programme with me and made sure I was exposed to every aspect of epilepsy that I mentioned in my fellowship objectives.
The first week was an introduction week where I learned how the epilepsy clinic was organised and I had meetings with a representative from the library, lab, electrophysiology clinic, etc. Everyone made sure I understood how they could be reached and how or when they may be of help to me. I also started following specialised clinics, run by different neurologists, both at the paediatric and adult epilepsy clinic, who were always very keen to answer my questions and share their experience.
From the second week, I got more responsibility and started to see patients myself with scheduled supervision to discuss each patient, which is a very nice way of learning. I also was able to join the (paediatric) neurologist responsible for the patients in residential epilepsy care for a visit of the patients with refractory epilepsy and intellectual disability living on site, which was very informative. Mondays and Fridays were fixed days in my schedule reserved for electrophysiology training. I spent these days analysing mostly 24-hour video-EEG recordings. After I analysed two or three EEGs, one of the neurologists/electrophysiologists would discuss the results with me and give hands-on feedback. As ACE Kempenhaeghe is a tertiary epilepsy centre, it goes without saying that most EEGs were abnormal, and I got to see and analyse many different seizure types and interictal epileptiform activity.
Weeks five to eight of my stay I mostly spent in the ward for hospitalised epilepsy patients. Patients are hospitalised there for a few weeks for different reasons: to start or decrease anti-seizure medications, to monitor (nocturnal) seizures or to discriminate seizures from PNEA. I gained a lot of experience concerning treatment of refractory epilepsy during this rotation.
Finally, I was also partially involved in the epilepsy surgery programme. I got to follow and present a case at the monthly multidisciplinary epilepsy surgery meeting where the neurologist/epileptologists discuss patients with a potential indication for epilepsy surgery with an experienced neuroradiologist, nuclear medicine radiologist, neuropsychologist, and neurosurgeon. I also got to attend to several patients who underwent stereo EEG monitoring.
In conclusion, I had a very interesting and informative stay at the Academic Centre for Epileptology Kempenhaeghe. I got to work in a very pleasant and welcoming team of (paediatric) neurologists, electrophysiologists, dedicated nurses and lab technicians and I would like to express my gratitude to all these people who made the fellowship more than worthwhile. I also want to thank the European Academy of Neurology for giving me the opportunity to do this fellowship.
---