by Mélisande Rouger
Leading neurologists discussed how to promote brain health and overcome the global burden of brain disorders in a dedicated Studio Session on the first day of EAN 2023, the 9th annual meeting of the European Academy of Neurology (EAN) in Budapest, Hungary.
The prevalence of brain diseases, which currently affect one in three persons worldwide, is expected to reach 40% of the population in the near future.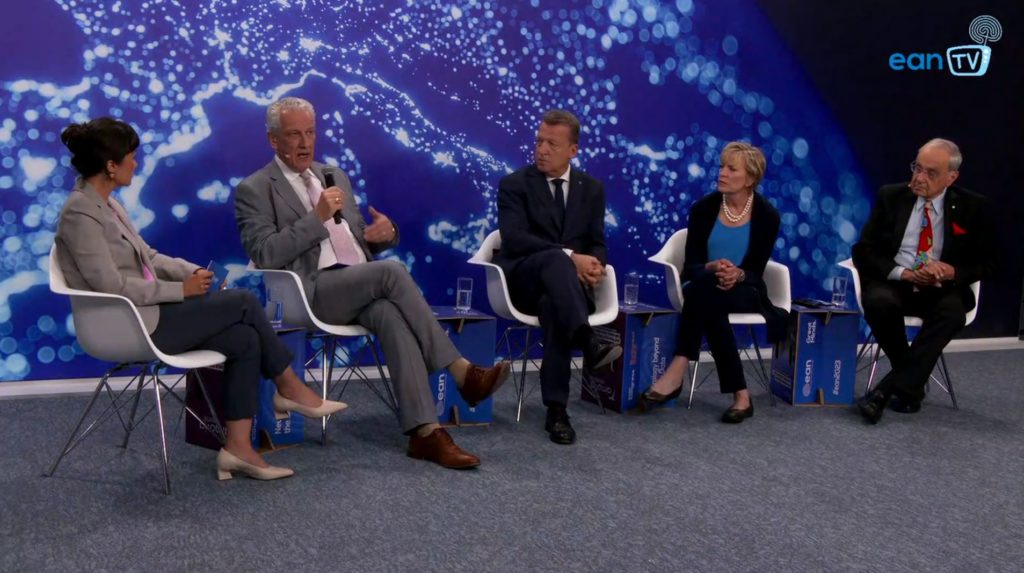 This burden demands a holistic approach that goes far beyond diagnosis and treatment, and neurologists must now get to grips with the concept of brain health, according to EAN President Prof. Paul Boon, who kickstarted the session.
Picture (l-r): EAN TV Moderator Conny Lee, EAN President Paul Boon, EAN Past President Claudio Bassetti, AAN President Carlayne Jackson, former WFN President Vladimir Hachinski.
"As neurologists, we deal with neurological conditions," he said. "Brain health is dealing with people who are not currently diagnosed with brain disease, but may be at risk of developing such a condition. With brain health, we're talking about public health and issues that are far reaching beyond what we do."

Neurology has a vital role to play in enhancing brain health, and must spread knowledge of prevention and determining factors for brain health, such as a healthy diet, and physical and mental exercise.
Stepping out of the shadow

Neurologists need to create more awareness among the general public about the importance of brain diseases or they will never get out of the shadow of non-communicable disease, Boon insisted.

"In Europe, neurological disorders are being recognised by politicians and policy makers, but under the umbrella of non-communicable disease," he said. "In itself that's not a problem, but this lumping together adds to the fact that we're under-represented, under-appreciated and mostly underfunded."

Neurologists have to deal with an increasing number of patients, with more treatments and possibilities to care for patients than ever before.

"I remember the time when neurology was like a contemplative subspecialty performed by doctors whose main interest was thinking of diagnosis, because, in many cases, they were not able to substantially or significantly treat. That has completely changed in just over a generation," he said.
Missed the session?
Watch it on the EAN Vimeo channel – click here!

While in the past neurologists had plenty of time to think, today, time is brain, he added. "Neurology residents have to do everything quickly. There is also an incredible wealth of knowledge that we have to deal with."

Treatments have been developed that make a difference to patients' lives, like anti-amyloid drugs in dementia, and innovative therapies for both highly prevalent neurological disorders, such as Parkinson's disease and multiple sclerosis, and rare neurological conditions.
A common approach

The burden is very high and demands urgent action from all stakeholders, explained Prof. Claudio Bassetti, EAN Past President and Vice President of the European Brain Council.

"It's time we work together across different disciplines of neuroscience to try to maximise the ways to diagnose, rehabilitate and also prevent diseases," he said.
The EAN has produced the 'One brain, one life, one approach' white paper, detailing its approach for brain health in Europe, including strategic pillars such as awareness, education, intersectoral approach, and research.

"We are in a network where different health providers need to work together across the countries, and also the continent," he said.

Europe, as defined by the WHO, has 47 countries, i.e. 47 healthcare systems, with different levels of maturity on the topic of brain health.
"Each country should develop its own plan because challenges may not be the same from one place to the other. The EAN provides support to every local initiative," Bassetti concluded.
Views from America
Prof. Carlayne Jackson, President of the American Academy of Neurology (AAN), echoed the idea that neurologists need to champion the cause of brain health, explaining how her organisation works to advance advocacy and awareness in the United States.

The ANN recently established a committee to accelerate scientific discovery, incorporate preventive health in medical practice, and engage and educate patients and caregivers about neurological diseases.

The organisation also held a conference in Washington DC in 2022, with over 100 stakeholders from non-profit organisations and government agencies to open a dialogue about a common vision. The event will be repeated in September.

"We focus our efforts in the United States, where the burden of neurological disease is 1.5 trillion USD," she said. "But we're also looking forward to joining forces with the EAN and WFN."

Vladimir Hachinski, professor of Neurology and Epidemiology at Western University Ontario in Canada and former President of the World Federation of Neurology, highlighted the importance of encompassing mental and social health into a common definition for brain health.

"The US General Surgeon recently said that isolation and solitude increase chances of early mortality by 30%, while they augment the risk of developing stroke by 32% and dementia by 50%," he said. "We seldom think of these factors."

Probably the biggest challenge in promoting brain health is reaching people that are far from the healthcare system, according to Prof. Hachinski, whose institution recently launched a project in that sense with major hospitals and Ontario's Chief Officer of Health.

"People have to be reached in smaller units, at the community level," he concluded. "We need to make brain health the top priority."