by Mélisande Rouger
The European Academy of Neurology (EAN) is a young society ready for the future, according to its president Prof. Paul Boon, who delivered his welcome address in the Opening Session on the first day of EAN 2023, the 9th Annual Congress of the EAN in Budapest, Hungary.
"We are a growing community, with more than 45,000 members from than 47 countries," he told a packed audience in the Main Auditorium of Hungexpo, which hosts the meeting this year.
Missed the Opening Session?
Registered participants can watch it on demand via our Virtual Congress Platform – click here!
Membership has steeply grown over the past years, and the fastest growing population are residents and PhD students, he added. "We are so incredibly happy about that. The future is with us. I want to give a very warm welcome to all young neurologists and residents. TheEAN is essentially a very young society of neurologists, that's wonderful."
With nearly 8,000 delegates both onsite and online, EAN 2023 has an all-time high of submitted (2,318) and accepted abstracts (1,912), in spite of a higher rejection rate, reflecting higher quality standards.
The EAN also has a successful journal and a lot of online resources. "The scientific core of our society is more than 3,000 members of scientific panels. This is the creme de la creme of European neurology. In addition, the EAN is involved in 22 ongoing research projects and guidelines," he said.

Prof. Boon then paid tribute to President-Elect Prof. Elena Moro and his predecessor Prof. Claudio Bassetti, as well as all the members of the EAN Board. He also acknowledged Prof. Ulf Kallweit, Chair of the EAN Programme Committee, who was not able to attend the meeting and received a roaring applause from the delegates.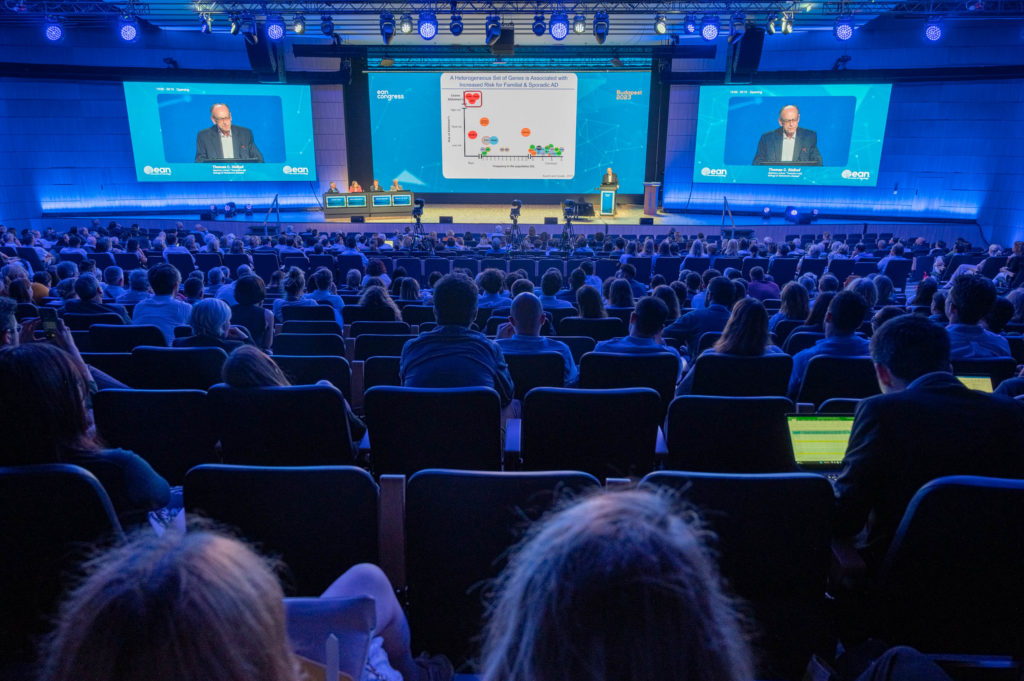 "The EAN mission is to reduce the burden of neurological diseases, to help first and foremost patients," Prof. Boon added. "The ambition is to be the home of European neurology and the congress's blue theme is a reminder that delegates should feel they are under one roof."
…
Four building bricks of the society are science, education, advocacy and membership, which is very important, he insisted. "The stronger we are, the more we can be heard."

The EAN also works in a wide network together with many other societies. With the Intersectoral Global Action Plan (IGAP) for Epilepsy and Neurological Disorders, the WHO has recognised that brain conditions are a global health priority. "This is an extremely important development and we want to speed up that process," he said.
To deal with the increasing burden of neurological diseases, brain health has become a major focus of the EAN's activity. "Most of the people with neurological diseases may not have access to diagnosis," he explained. "Prevention of ND is about brain health and we have published our strategy on how to improve it in a white paper called One Brain, One Life, One Approach. Everyone should read it."

The EAN also recently launched the Brain Health Mission to bring together all stakeholders beyond medical associations and companies, and also organises the Brain Health Summit, now twice annually.

"We keep a network and have launched a call for associations to join us," he said. "This is important because at least one in three people have neurological diseases. New data not yet published indicate that this number may be higher; actually 40%, and to make things worse, it's increasing.'

Neurological diseases are the single most important contributor to DALYs and early mortality. "The cost of all cancers added to the cost of all cardiovascular diseases together is inferior to the cost of neurological diseases. It's a tremendous burden to society."

The EAN is also working on a common European agenda covering all subspecialties and on issues related to diversity, inclusivity and equity, as well as sustainability. 
Nina Vashchenko, Chair of the RRFS, then gave a short presentation about her group, which is currently the largest part of the EAN, with over 1,842 residents and research members.
…
Last, but not least, Prof. Bassetti introduced the Nobel Laureate Prof. Thomas C. Südhof, the Avram Goldstein Professor Investigator at Howard Hughes Medical Institute; Professor of Molecular & Cellular Physiology and Neurosurgery; and Professor (by courtesy) of Neurology & Neurological Sciences and Psychiatry & Behavioral Science at Stanford University School of Medicine, USA.

He delivered an impressive talk entitled 'Towards a cell biology of Alzheimer's disease', reviewing the latest advances in the field.