My Clinical and Research January at King's, studying Parkinson's
by Francesco Daddoveri, Pisa, Italy
visiting the King's College Hospital, Parkinson's Foundation Centre of Excellence, London, in January 2023
I have been interested in Neurology since the beginning of my studies at the University of Pisa, in Italy. The complex pathways and perfect balance underlying the functions of our brain have always fascinated me. That's why, when I discovered the opportunity to apply for the EAN's Student Teaser Fellowship, I immediately seized it.
My January in London can be described as a complete immersion in neurology. I was surrounded by doctors, physiologists, and researchers from all over the world who were dedicated to advancing our knowledge through their research activities. My experience began on 2 January, at the start of a year (2023) marked by commotion within the NHS (National Health System) due to strikes involving the English working classes (and the health system as well). Despite this, my experience in London was filled with opportunities, and Prof. Ray K. Chaudhuri and his fabulous team never ceased their work. They involved me in all their activities, and I am immensely grateful to them for their warm welcome, which made me feel like a member of the team from the very beginning.
Every day in London, I discovered new facets of neurology by following research projects, clinical sessions, and teaching sessions conducted by team members. During my four weeks at King's College Hospital, everyone was always ready to share useful tips and recommendations, providing me with the precious opportunity to enhance my knowledge of movement disorders and Parkinson's disease. I had the chance to shadow my mentors involved in the diagnostic and therapeutic management of patients with movement disorders, gaining experience in patient care, including examinations and writing medical notes.
I spent four weeks at one of the 14 Parkinson's Foundation-accredited International Centres of Excellence in Europe. It is also an accredited UK Parkinson's Excellence Network Centre and one of the few centres in the UK capable of providing invasive therapies for advanced Parkinson's disease, such as intrajejunal levodopa infusion, apomorphine infusion, and deep brain stimulation (DBS). Moreover, it leads globally in delivering holistic wellness-oriented non-motor treatment packages for Parkinson's.
I was surrounded by some of the most distinguished specialists in Parkinson's disease, gaining insight into state-of-the-art clinical trials and having the opportunity to join a quarterly Parkinson's expert patient group. Professor Ray's team members also conduct a NICE-approved patient empowerment clinic every three months, and I had the privilege of joining it online in February.
This fellowship has been my first experience abroad, and I will never forget it. If there were any doubts about my future, my time at King's has made it clear what I aspire to become as a doctor. I have been completely captivated by Prof. Chaudhuri's wisdom on this subject, as well as by Alexandra, Valentina, Lucia, Silvia, Mubasher, Pavlos, Dhaval, Miriam, and all the other incredible teammates who show remarkable passion and dedication in their work, from clinical activities to neuro-physiological research and studies. I will always be grateful for the time they dedicated to me. Some of them have become more than just colleagues, and our friendship will last for many years. Perhaps in the future, we will work together again somewhere around the world!
In conclusion, I would like to express my gratitude to the EAN for making this experience possible. Its focus on students and future generations has provided me with this valuable opportunity. Thank you so much for your support and trust in youth! I genuinely hope that there will be many more opportunities like this to further our knowledge in the coming years.
---
Report from five weeks in London
by Kora Montemagno
visiting St George's Hospital, London, UK in July-August 2022
I had already spent a month and a half in Prof. Morgante's clinic and laboratory at St. George's Hospital, in London, when she suggested I could apply for the EAN Student Teaser Fellowship programme in order to complete my training during the following summer. Well, I consider myself lucky to have been accepted, as this gave me the opportunity to spend four more weeks totally immersed in the movement disorders field.
During this time, I was able to attend the dystonia and Botox clinics, observe the application of deep brain stimulation from both clinical and research perspectives, sneak in the general neurology clinic with other equally kind tutors, and work on my research in a surprisingly enriching environment.
The thing about going abroad is how adapting to a different country (from the language to the way of living) and getting to know different mentorship styles and working opportunities can really reshape the way you look at your priorities in career and in life. I can safely affirm that the experience and the people I met along the way have made a significant contribution both to my career choices – as I decided to remain in the medical field after a period full of doubts about my future – and on my personal life.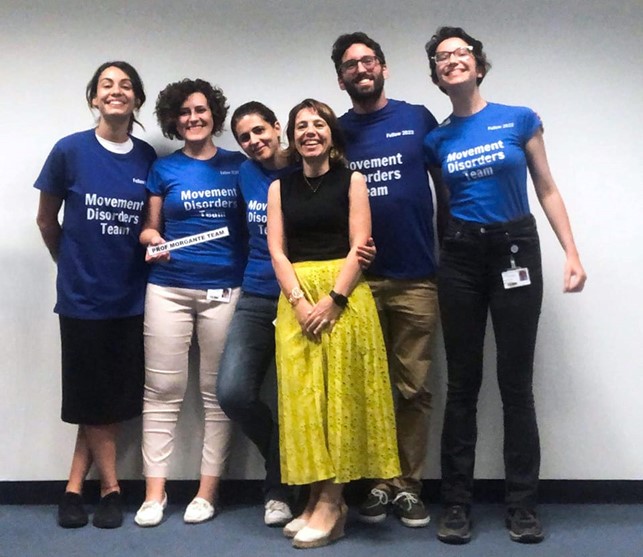 I'd like to thank Francesca and all the fellows for the impact they had on my life, and how they managed to quietly remain present even after the fellowship period.
---
Embracing neurology with a view
by Madalena Wolf
visiting Centre Hospitalier Universitaire Vaudois (CHUV), Department of Neurology in Lausanne, Switzerland in September 2022
A few months after completing my EAN Student Teaser Fellowship, I'm here to let you all in on how grateful I was for being granted this experience.
Since I wasn't sure if my love for neurology was limited to the hospital where I had done an internship in Portugal and knowing that I've considered doing my specialty in Switzerland, this is where I started looking for a place to stay.
I was lucky enough to find Dr Matthieu Perrenoud, who very kindly accepted my application and prepared everything as good as possible for me to learn as much as possible while staying at CHUV.
While in the hospital, I was integrated into the team of neurologists and interns and worked closely with Prof. Patrik Michel, Dr Amélie Heintze and Dr Meyruey Côme-Alexandre with whom I would see and examine the patients and contribute to the management of their clinical situations. Every day we would debrief the patients in the morning with the entire team and at the end of the day with each smaller team, and these were moments where I learned more than what I could have asked for.
Besides all of this, Dr Perrenoud scheduled a meeting and was available to meet more than that to discuss any neurology topics that I would have questions on and that I'd like to learn more about – I had never encountered a learning process as complete as this one and I am truly very grateful for the availability of everyone who helped me during this month. Besides the clinical and learning aspects that I've mentioned, I was very impressed by the value of research in CHUV and how actively everyone is encouraged to get involved in it. On top of this, Lausanne is a beautiful green and peaceful city, with so many youthful events and opportunities and CHUV was on top of a hill that allowed for a privileged morning view of the lake.
Long story short, I could not have asked for a better internship, as complete and inclusive as this one. Thank you, European Academy of Neurology, Dr Matthieu Perrenoud, Prof. Patrik Michel, Dr Amélie Heintze and Dr Meyruey Côme-Alexandre. I hope to see you all soon.
---