When:
February 26, 2024 – February 27, 2024
all-day
2024-02-26T00:00:00+01:00
2024-02-28T00:00:00+01:00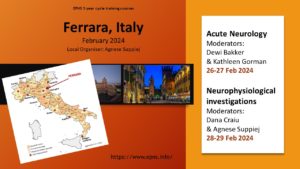 European Paediatric Neurology Society (EPNS) – Training Course on Acute Neurology
26-27 February 2024
EPNS courses are aimed at trainees/residents plus qualified paediatric neurologists who want to refresh their knowledge.
Available to fully paid up EPNS members, the courses will have an interactive character, with registered participants being invited to submit case presentations.
The number of participants is limited to 100, to preserve the interactive nature of the courses. Registration is now open and accepted on a strictly first come, first served basis.
REGISTER: https://www.epnsferrara.eu/registration_form.asp
LEARN MORE: https://www.epns.info/education-and-training/epns-training-course-ferrara-italy-2024/