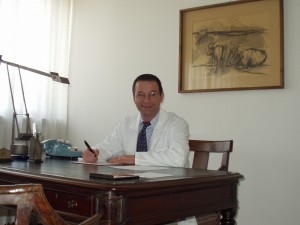 Pietro Cortelli is Professor of Neurology in Bologna, Italy and President of the European Federation of Autonomic Societies
(Gian Luigi Lenzi) Please, explain your role in the Disease-Specific Professional Society (DSPS) as well as in the EFNS. How many years have you occupied this role?
(Pietro Cortelli)

I was involved in founding the European Federation of Autonomic Societies (EFAS) in 1998. At a meeting in London, CJ Mathias, Max Hilz, JM Senard and I decided it was necessary to set up a European society to coordinate the work of national autonomic societies and to promote research and teaching in the ANS field at European level.

I was appointed General Secretary and confirmed until 2004 to then become EFAS President 2008 the office to which I was recently confirmed and will hold until 30th September 2012. As EFAS General Secretary I played an active role in drafting the EFAS Consitution which was based on that of the EFNS as both societies share the goal of promoting Europe-wide culture and science in accordance with national differences.

I have participated in EFNS meetings since the second EFNS congress held in 1996. From 1999 to 2006 I was chairman of the ANS Scientist Panel, a highly positive experience that gave me the opportunity to work with colleagues from different nations. Together we managed to publish two papers that still serve as reference points for the diagnosis and treatment of ANS disorders (1,2).

1: Lahrmann H, Cortelli P, Hilz M, Mathias CJ, Struhal W, Tassinari M. EFNS guidelines on the diagnosis and management of orthostatic hypotension. Eur J Neurol. 2006 ;13:930-6.

2: Lahrmann H, Magnifico F, Haensch CA, Cortelli P. Autonomic nervous system laboratories: a European survey. Eur J Neurol. 2005;12:375-9.
(GLL) In your opinion, in general and teaching terms, what is the cultural role of a Disease-Specific Professional Society with respect to "general" neurology?
(PC) In general clinical and teaching terms, it is impossible to understand the pathophysiology of many neurological diseases without addressing the role of the autonomic nervous system. The ANS is responsible for the control of body automatic functions in an integrative way, working with the endocrine system to maintain a steady state. Patients with diseases of the autonomic nervous system can present a variety of signs and symptoms related to autonomic dysfunction in different organs or systems: cardiovascular, respiratory, sudomotor, ocular, urinary, gastrointestinal, etc. Hence, hypertension, reflex syncope, heart rhythm pathologies, hyperhydrosis, sleep apnoea, neurogenic bladder or erectile dysfunction are most frequently observed in patients with autonomic dysfunction. Thus, the autonomic specialist adopts an integrative approach to patients construed in the broad sense despite the underlying medical specialty. Autonomic specialists include not only neurologists but also cardiologists, pneumologists, gastroenterologists and opthalmologists. This is the major feature distinguishing a clinical autonomic group from a general neurology team: multi-disciplinarity means different inputs, different backgrounds, and different ways of looking at the same issue, but all of them complementary. In addition, multi-disciplinarity does not only comprise medical areas like clinical autonomic physicians but also includes other professionals like physiologists, pharmacologists, biomedical engineers and mathematicians.
(GLL) In your opinion, what is the cultural role of a DSPS Congress and its Teaching Courses with respect to the eFNS Congress and its Teaching Courses?
(PC) The cultural role of the annual EFAS congress and Summer School we have organized since 2010 is to provide a European school that will provide intensive exposure to clinical autonomic medicine. Plainly both are complementary to the role of the EFNS as they cover areas of neurology not usually tackled by the EFNS congress such as autonomic control and autonomic dysfunction affecting the cardiovascular, genitourinary, gastrointestinal or sudomotor systems. For this reason we organized the first EFNS/EFAS joint meeting held in Madrid in 2008. The meeting's main topic ("Disorders of the autonomic nervous system: from pathophysiology to diagnosis and treatment"), Teaching Course ("Autonomic disorders in neurology: diagnosis and management"), Focused Workshop ("Transient loss of consciousness: syncope vs. epilepsy") and Special Session ("Specific diagnostic tests for autonomic dysfunction") met with great success and aroused much public interest. It is my hope that the next EFAS/EFNS joint meeting to be held in Stockholm in 2012 will be as positive as the first one.
(GLL) In your experience, are the neurologists attending the DSPS Congress the same (or not) as those attending the EFNS Congress? If there is a difference, could you specify?
(PC) As I emphasized, our society has a strong multidisciplinary focus and our members include colleagues working in other medical specialties such as cardiology, internal medicine and gastroenterology. But most of our members are neurologists who usually attend the EFNS congress and other general neurology meetings. So to answer your question, the neurologists attending the EFAS congress are a subgroup of EFNS participants.
(GLL) Do you regard it as a drawback or advantageous that important data presented at a DSPS Congress could alos be presented (i.e. twice) at the EFNS Congress a few months later?
(PC) No, not at all since the audience is different and the subject specific. But I do think that the most important results of the EFAS congress would also be much appreciated by EFNS participants. This would also mean a better circulation of data on ANS dysfunctions that otherwise could risk being confined to discussion by a selected group of super-specialists.
(GLL) How do you consider a potential competition for financial support between EFNS and DSPSS?
(PC) As EFAS meetings are multidisciplinary and tackle a broad range of topics they do not usually attract the financial support available to EFNS congresses. For this reason I see no potential competition between EFAS and EFNS in terms of funding.
(GLL) Do you have any opinion or concern regarding the relationships between EFNS identified as a "general neurology" and your DSPS? May a closer collaboration be fruitful for both?
(PC) I think the main society for all neurologists must be a general neurology society like the EFNS. From there each of us develops special interests that usually stem from our daily clinical practice and can be pursued in depth in super-specialist societies dealing with topics complementary to those covered by the EFNS. I am also convinced we must continue to strengthen the close collaboration between EFAS and EFNS in organizing joint meetings every four years and the ANS Summer School. This will ensure mutual cultural and scientific enrichment with a major impact on the treatment of neurological diseases and our daily clinical practice.
(GLL) Thanks a lot for your time!