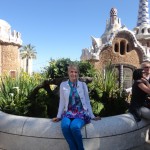 For a period of 6 months, supported by the EFNS educational fellowship, I spent an amazing and enriching period of my life at the Child Neurology Department, Hospital San Joan De Deu, Barcelona, Spain, with Dr. A. Garcia Cazorla's research team.
I am very grateful to Dr. Angeles Garcia for integrating me in several scientific and clinical research groups; for creating a special warm, positive and friendly atmosphere for me; and willingly sharing her huge personal and professional experience in daily routine work. I was inspired by the energy, experience and self- dedication for their work by the research team members.
The title of my research project was "Study of neurotransmission pathways and cannabinoid system as neuro-modulation system in patients with focal cortical dysplasia".
During my Fellowship, most of the time was dedicated to select, collect and analyze the clinical data of operated children with Focal Cortical Dysplasia. Later on according to research criteria we selected some of the patients to perform investigation of the neurotransmission pathways and cannabinoid system. I was involved in daily routine work of the epilepsy and neurometabolic units which performed pre- and post-operative evaluation of children with FCD who were candidates for neurosurgery treatment. We performed analysis of histories and pre- and postsurgical follow-up data in patients with a histological diagnosis of focal cortical dysplasia by using video-EEG, PET and SPECT complex analysis.
There was a trend for the best seizure outcome in patients with early pre-surgical evaluation and early surgery and in whom lesions were identified during pre-operative MRI studies. In the same patients with FCD we performed the extraction of RNA from the fresh frozen post-surgical brain specimen and sent for investigation of the expression of a group of Gabaergic and Glutamatergic biomarkers by using mRNA microarray panels at the genetic laboratory in Portugal under direction of Prof. Sofia Duarte and for study of the cannabinoid system (mainly CB1 receptor) by means of Western blot (200 mg of tissue) in the same brain samples in Madrid under direction of Prof. I. Galve. We could finally report and publish the results after we had all complete data of this study.
Apart from the research work I had the opportunity to join the clinical and scientific work of the neurology unit which gave me a new view of diagnostic and treatment strategy of some neurological disorders in children. The most inspiring and completely new for me was dicovering the world of neurometabolic disorders. Especially the attitude to search always the reason of the clinical phenotype of some diseases, genetic, metabolic bases and neurotransmission involvement and make the correlation between these findings.
Also I am very grateful to Dr.Campistol the head of Child Neurology unit for giving me the opportunity of participation in weekly morning clinical sessions, journal clubs meetings, special educational classes and monthly local educational courses and congresses during which I have learned a lot in the field of Child Neurology, the latest achievements and newest challenging treatments of child neurology disorders.
I address my sincere thanks to Dr. Mar O'Callaghan for giving me the chance to work with her at such high professional level with patients and personal support in everyday work. Many thanks go to Dr. F. Sanmarti who helped a lot with collecting data and working with epilepsy patients.
I also address my special thankful thoughts to Elisenda Cortes who inspired me and helped me a lot in the laboratory work and created a great atmosphere of scientific collaboration. I would like to express also very special thanks to my chef of Department of Child Neurology in Uzbekistan Prof. Shamansurov for his comprehensive support, help and inspiring me to apply for this fellowship.
Also I am very happy that I had a unique chance to get close to Spanish culture, learn the beautiful Spanish language which gave me the opportunity to participate directly in the daily clinical work with patients also to discover Spanish manners and rich history, cultural events and art.
The EFNS educational grant inspired me to pursue a PhD in the area of neurotransmission in epileptic disorders and perform a close collaborative work with my new Spanish colleagues in the field of neuroscience.
I would like to express my thanks to the EFNS for supporting me by giving this great opportunity, which completely changed my mind of scientific and clinical view, promote a huge self-development and opened new perspectives of my life.
Dr. Maria Sigatullina works at the Neurological Department of the Tashkent Institute of Postgraduate Medical Education, Uzbekistan