Anthony Schapira, Editor in Chief, European Journal of Neurology interviews Gian Luigi Lenzi, Editor in Chief, Neuropenews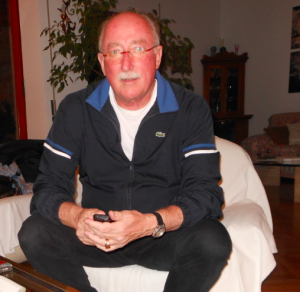 Anthony Schapira (AS): Dear Gian Luigi, what are your reflections on the highlights of your participation in the EFNS?
Gian Luigi Lenzi (GLL): My direct involvement with EFNS began in 1995, and since then it has provided me several moments of highlight! The very first was in 1995, a meeting with Franz Gerstenbrand and Uschi Tschabitscher, in a motel just south of Rome, where together with Cesare Fieschi, we were asked to organise the 2nd EFNS Congress, to be held in Rome. Quite obviously, the second highlight was when we successfully organised the Congress with over 2000 participants in a completely disorganised Congress town such as Rome was at that time, and possibly still is today! However, the moment that I cherish most in my many memories of EFNS Congresses and Meetings has been my introduction into the Congress Programme Committee (CPC) of the Main Clinical Conference. Later I was approved by the EFNS Managment Committee as chairman of the CPC, although not without opposition! At the 13th EFNS Congress in Florence Prof. Giacomo Rizzolatti, a neurologist turned experimental neurophysiologist, was nominated for the Main Congress Talk. His lecture on "Mirror Neurons" remains to me one of the scientific masterpieces I ever assisted.
AS: What was good and what could have been better ?
GLL: I will answer in respect to Neuropenews. We – that means my Co-Editors, Prof. Vodušek, and now Prof. Ferro and Prof. Krarup, are quite pleased with the number of "hits" and the high number of readers outside Europe, in particular from USA. However, we at Neuropenews had initially the expectation of a more easy and widespread dialogue with our readers, in terms of participation, questions and submission of clinical cases. This interaction must be improved, and it could be possible by increasing its appeal, making this interaction worthwhile. Neuropenews is working actively on proposing some new ideas to the EAN Board.
AS: Opportunities for the EAN?
GLL: EAN – to me – means the entirety of European Neurology, from the Atlantic Ocean to the Ural mountains and more. From Cape North to Lampedusa. The opportunities are so many that it is difficult to indicate priorities. However, since neurology is a clinical science, the first goal must be our patients and their care, that has to be optimised through all Europe. And, since a good clinical approach is – to me – based on the comprehension of the physiopathology of the disease and of the brain, as the organ that gives origin to signs and symptoms, neuro-physio-pathology cannot exist without scientific research.
AS: Advice to young neurologists on the future of neurology?
GLL: My advice is to travel, to go abroad, in order to learn different approaches to clinical neurology and to clinical neurophysiology. Personally, I have spent periods in Norway, Germany, UK and in the USA, lasting from a couple of weeks to one year and more. From all these experiences I have brought back not only an important improvement of my specific neurological culture, learning different diagnostic and therapeutic approaches, but also enduring friendships.
AS: What are your own personal plans now?
GLL: I retired from Italian Academic Neurology in November 2013, being over 70, and I think that also in the EAN it is time for the younger generations to take over. I will be happy to provide counsel – if requested – to the new EAN Board, but my personal plans are very much now focused on agriculture, and in particular on wine-making. That was the job of my grandparents and is now continued by one of my daughters, to whom I will be delighted to be of some help for a few more years. I am still taking care of neurological patients, both in my private office in Rome as well as volunteering free consultations in a beautiful old parish of downtown Rome and in the local fraternity in Quercegrossa (Siena, Tuscany), a little country village where I spend half of my weeks and where all the neurologists passing by are cordially invited to stop and have a glass of Chianti Classico in my cellars.