Report from Dr Khristina Derevyanko from Russia visiting the Danish Headache Center, Glostrup Hospital, Denmark under the supervision of Dr Jes Olesen.
I spent 6 produ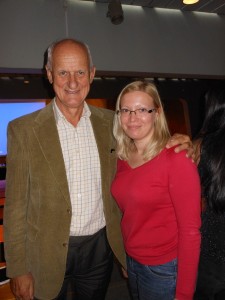 ctive weeks at Glostrup Hospital (Denmark) with the "Department-Department Co-operation programme of EFNS". I'm a neurologist of the Medical University Clinic (Ufa, Russia). My field of interest is the pathogenesis of primary headache and hormone influence on the development of a headache. I was very happy to be in Glostrup University Hospital, as it is one of the biggest Headache Centres that comprises research and experimental departments for patients with headaches.
I would like to thank Professor Jes Olesen for inviting me to the Danish Headache Center. Also, I'm very grateful to the chief of the Danish Headache Center, Professor Rigmor Jensen for her hospitable attitude. I had the great opportunity to watch the work of Professor Messoud Ashina, Dr Aydin Gozalov, Dr Lars Bendsen, Dr Thue Nielsen as well as doctors of other departments. Working with them was enjoyable and enriched the experience. I acquired valuable skills (atraumatic lumbar puncture, occipital blockade). Now I have a better understanding of the primary headache nature.
I also improved my clinical skills in patient investigation that changed my views on the treatment of patients with headaches, the evidence medicine being the principle of the therapy.
I also participated in the annual meeting of Danish neurologists 2014 and the annual meeting of young neurologists and postgraduate students of Glostrup Hospital, Copenhagen University which were extremely helpful for my professional education.
I would like to mention the culture and beauty of Denmark with lots of attractions: Amalienborg Palace, Frederiksborg Palace, the National Gallery of Denmark, Ny Carlsberg Glyptotek, the Viking Ship Museum, and Roskilde Cathedral. I was very much impressed. Travelling always broadens people's minds.
Finally, I'd like to express my gratitude to the EFNS for giving me a chance to take part in this programme.
---
Report from Dr Vera Fominykh from Russia visiting the Neuroalgology and Headache Unit at the "Carlo Besta Neurological Institute", Milan, Italy under the supervision of Dr Giuseppe Lauria Pinter. 
Dear Prof Pavel Kalvach, dear Ms Magda Dohnalová and all members of the EFNS Education Committee,
Thank you very much for the opportunity to participate in EFNS Department-to-Department Co-operation Programme (2014) and spend this month at the "Carlo Besta Neurological Institute" in Milan, Italy.
I am very grateful to Dr Giuseppe Lauria and his group of Neuroalgology and Headache Unit for integrating me in the clinical work in the area of polyneuropathy and motor neuron diseases.
Usually I started my day with the doctor's round with other doctors from this department and then participated in daily clinical activities. During this time they presented me different patients with amyotrophic lateral sclerosis, chronic inflammatory demyelinating polyneuropathy, different types of headache, small fiber neuropathy and others. I really enjoyed to be involved in the differential diagnosis and examination of patients with supposed amyloid polyneuropathy, FOSMN-syndrome, monomelic amyotrophy, sub-acute cerebellar ataxia associated with anti–GAD antibodies, and spastic paraplegia.
In the afternoon I participated in the outpatient service with Dr Giuseppe Lauria and Dr Patrizia Dacci where they mainly observe patients with different types of polyneuropathy and motor neuron diseases. During the examination of these patients I really improved my knowledge in MGUS-associated polyneuropathy, neuropathy in systemic diseases and paraneoplastic disorders, CMT variants and small fiber neuropathy, of course. Dr Lauria described neurological findings to me, patients' results from neurophysiological examination and the current treatment strategy. First of all, Dr Lauria is a great physician so I took pleasure participating in his ambulatory practice and – really –discovered the big world of peripheral nerve disorders!
During my stay at Besta Institute I had the opportunity to see skin, muscular and sural nerve biopsies and re-arranged my knowledge about the usefulness of these techniques in complicated cases. Then, in the last week of my visit, I met Dr Raffaella Lombardi – specialist in skin biopsy – and she cordially described the skin biopsy procedure and analysis to me. So I tried to do a microscopic examination in skin samples and in my opinion it was a really good way to understand small fiber pathology.
It is my special pleasure to adress sincere thanks to Professor Avanzini for his kind consent to accept me in the Epileptology Team at the Besta Institute for an additional week. So I had the opportunity to join the clinical work of the Unit Experimental Neurophysiology and Epileptology chaired by Dr Marco de Curtis. In this week, I was involved in the analysis of video-EEG and MRI of interesting patients with NMDA and Rasmussen encephalitis, and temporal lobe epilepsy. Dr Flavio Villani, Dr Giuseppe Didato and Francesco Deleo answered my many questions and gave me a new view of video-EEG-evaluation.
Additionally, many thanks to Laura Ferradini  – the secretary of Neuroalgology and Headache Unit – who helped me with all documents for obtaining the visa and grant very quickly.
Again, I would like to accord a thanks to the EFNS for this great opportunity that changed my clinical view in the area of polyneuropathy and opened new perspectives for me and my department in Moscow. Also I am very happy that I had a unique chance to get close to the Italian neurology and culture!
Vera Fominykh, MD
Moscow, Russia
---
Report from Dr Pavel Gavriliuc from Moldova visiting the Department of Clinical and Experimental Medicine and Clinical Neurophysiology at the Linköping University Hospital, Sweden under the supervision of Dr Greta Gustafsson. 
Between 15/09/2014 and 30/10/2014 I visited the Department of Clinical Neurophysiology of the Linkoping University Hospital. It is a very big hospital responsible for approx. 1,300,000 people.
The Neurophysiological Department works differently here than it does in Moldova. It consists of doctors and biomedical analysts (BMA). The BMAs perform the nerve conduction studies (NCS), evoked potentials (EP), and place the electrodes for EEG recording. The doctors perform the EMG and analyse the results from NCS, EP and EEG. Also, the doctors are responsible for intraoperative monitoring.
I observed the BMA performing the NCS, repetitive nerve stimulation, and EP. Then I would discuss the results with the doctor and decide whenever it was necessary to perform an EMG. I learned a lot about the technique and interpretation of the results. Although I was not permitted to perform any examinations on patients myself, some doctors were kind enough to let me do NCS and EMG on themselves.
The department has Nexstim – a medical device that allows Navigated Brain Stimulation (NBS) – non-invasive, image-guided transcranial magnetic stimulation (TMS) – for brain diagnostics and therapy. It is one of the few NBS that can be used for clinical implications, as other types of NBS can only be used for scientific purpose. They used it for stroke rehabilitation and for mapping the brain in patients with tumours in eloquent areas such as the motor area and speech centres. It was an amazing experience to see this device in action.
During my stay I was able to attend several surgical interventions as a member of the intraoperative monitoring team. I attended an orthopaedic surgery on the spine, where the neurophysiologists examined the function and integrity of the spinal cord while the surgeons worked on a broken vertebra in the thoracic region. Another operation I attended was for epilepsy and it was done by neurosurgeons. The neurophysiology doctors had to make sure that the surgeons removed as much as possible of the brain tissue responsible for the epileptiform activity.
I feel like I have achieved the goals set for my visit here. Now I have a better understanding of the technique and interpretation of the results, as well as various disease affecting the peripheral and central nervous system. Looking forward to implement the knowledge gained in Sweden back home. Also, we discussed the possibility of some video-conferences for our neurology residents by the doctors working in the department.
It was a very good experience. I received a very warm welcome and the attitude of the personnel was very good throughout my stay in the department. I had no problems with understanding even though I did not speak the native language – everyone knew and spoke English around me.
I would like to thank everyone in the department and especially the head of the department, Greta Gustafsson, for the wonderful experience and understanding.
---
Report from Dr Marija Perovska from Macedonia visiting the Department of Neurophysiology, Yeditepe University Hospital, Istanbul, Turkey under the supervision of Prof Dr Berrin Aktekin. 
I am totally satisfied with the experience I gathered in Yeditepe University Hospital. In Macedonia, residents do not get as much practise, but learn more theory, so these kinds of programmes are extremely important for low and middle income countries. In the hospital, I learned the practical aspects of neurology, particularly the EEG readings. Prof Berrin Aktekin was very kind and patient, she explained everything I asked, gave me a great lecture about neurophysiology, and gave me some important literature about neurophysiology. Also, I was involved in the intraoperative monitoring, magnetic stimulation, EMG recordings, evoked potentials and the everyday clinic. The positive aspect was that I learned new skills that I couldn't obtain in my country. I obtained so much new experience and developed myself as a doctor. The negative aspect, if I may say, was that the hospital was private and there was not a lot of frequency of patients. Overall, it was amazing and as I said this kind of programme helps us to improve ourselves as doctors.
The general sum I spent for the whole stay was approximately 1500 Euro. The place where I stayed cost 550 Euro for 45 days and the rest of the money was for food, transport and other board expenses.