Monday, 22 June 2015, starting at 20.15 hrs
The Networking Event will be held at the famous Charlottenburg Palace.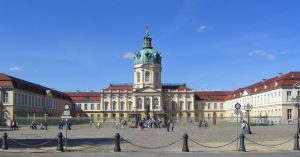 Charlottenburg Palace (German: Schloss Charlottenburg) is the largest palace in Berlin, and the only surviving royal residence in the city dating back to the time of the Hohenzollern family. It is located in the Charlottenburg district of the Charlottenburg-Wilmersdorf borough.
The palace was built at the end of the 17th century and was greatly expanded during the 18th century. It includes much exotic internal decoration in baroque and rococo styles. A large formal garden surrounded by woodland was added behind the palace, including a belvedere, a mausoleum, a theatre and a pavilion. During the Second World War, the palace was badly damaged but has since been reconstructed. The palace with its gardens is a major tourist attraction.
Join this exciting event and use the opportunity to network with your friends and colleagues in an absolute unique and historic surrounding.
Enjoy a phantastic evening with a lot of surprises and good food.
Further information will be available on the Congress website in due course.
Tickets are EUR 95 per person, EUR 60 for Middle/Low income, young neurologists and retired persons. Meal and drinks included. Registration: The number of tickets is limited. Tickets will be distributed on 'first come, first serve' basis, at the registration desk. In order to register for this fantastic networking event, please do so while registering for the congress.