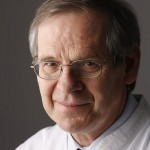 by Günther Deuschl
Treatment of stroke has made tremendous progress during the past 3 decades. This is an excellent example how the introduction of new concepts and translational research has contributed to our field. The introduction of stroke units and thrombolysis with rtPa have been the main drivers of this outstanding development. But one patient group has always been left out of this huge progress. These were patients with large vessel occlusion, preferentially internal carotid, proximal media and combined media and anterior occlusions. These patients were notoriously unresponsive to thrombolysis and often ended up in a malignant stroke leading to death or serious lifelong sequelae.
Mechanical thrombectomy with neuroradiological techniques seems to be a valid solution to this problem. After several smaller initial studies which failed to show a benefit for various and obvious reasons, there is now an armada of four overwhelmingly positive studies showing superiority of thrombectomy over medical thrombolysis alone (McClean,[1] ESCAPE,[2] EXTEND-IA,[3] and SWIFT-PRIME). The latter three studies were all published during the stroke conference in Nashville, USA, in February 2015. The data are indeed convincing. One of the key outcomes is independence of the patient at day 90 measured as a modified Rankin score of 0 to 2. A metanalysis these 4 trials covering 1081 patients showed that only 26% of the patients randomized to rtPa alone reached independence while 47% in the neurothrombectomy group reached this status.  This is a groundbreaking number given the usually very poor prognosis of these patients and the lack of convincing treatment options for them. The conclusion is that thrombectomy is the treatment of choice for such eligible patients within a time window of 6 hours, sometimes even later. This will quickly lead to a revision of the guidelines and introduce thrombectomy as a standard treatment for these patients.
We are standing now at a critical cross road. The treatment of stroke becomes more complicated and needs more specialization. The drivers of thrombectomy have been the neuroradiologists and they are the physicians who owe the merit for this new treatment. But without the neurologists and their long-term-commitment to stroke this important step would not have been possible. They are the ones who recognized that there is a small number of 5-10% of their large group of stroke patients who need new treatments, thereby starting this new development. The neurologists are selecting the patients and take care of them after this intervention.
Now as this is becoming a standard treatment many options are discussed. This is necessary because the number of available neuroradiologists is presently too small to take care of all the hospitals which treat the eligible patients: Should we aim at specialized stroke-only care units with a new type of stroke physicians doing conservative and invasive interventions and thereby separate stroke from the rest of neurology? Should neurologists liaise with cardiologists, the latter taking care for the invasive part and the neurologist for the intensive, intermediate and regular care of stroke? Should we adopt thrombectomy within Neurology as a new intervention and should we just subspecialize within our fields and do a few thrombectomies a year? Should we built up regional collaborations between smaller hospitals and larger ones which have all disciplines under one roof and can perform at a high level?
The answer to these questions will have a major impact on the development of our discipline, the development of research in the field of clinical neurosciences and finally for the quality of care and care structures for neurological patients. Dissociating stroke from neurology would deprive neurology from acute medicine and more importantly leave the many non-stroke neurological emergencies to become again subject of treatment by non-specialists. This would turn the time back to the 70-ies of the past century when primary care of seriously ill neurologic patients was in the hand of internal medicine. Thrombectomy needs skillful specialists who have daily or weekly experience with this kind of treatment and minimum units of treated patients.  Small units with few patients are a problem. Excellence is nowadays achieved with interdisciplinary collaborations which has been so successful in stroke therapy in the past and in many other disciplines like cancer or heart diseases. This may me be the way favored by most neurologists.
We need an open discussion within our Society on these issues because they are vital to the future development of our discipline. May be there is not only one solution but all solutions which are seriously considered should have the ultimate goal in mind of better treating neurological patients.