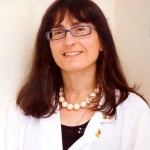 by Elena Moro
We are very excited to start The Paper of the Month new heading with this Neuropenews issue of April. The main purpose of this new column is to provide our readers with some hints about the most relevant papers published over the last months in the neurology field.
For March 2015 we have selected: Kuramatsu JB, Gerner ST, Schellinger PD, et al. Anticoagulant reversal, blood pressure levels, and anticoagulant resumption in patients with anticoagulation-related intracerebral hemorrhage. JAMA 2015;313:824-836.
The management of intracranial hemorrhages (ICH) in patients taking oral anticoagulation (OAC) can be challenging as well as the decision to restart OAC treatment afterwards. No clear guidelines are currently available.
This study (RETRACE) provides relevant data for optimizing the acute and long-term management of OAC-associated ICH. The authors conducted a retrospective analysis in a large cohort of patients with OAC-ICH admitted to 19 German hospitals.  Hematoma enlargement was defined as a relative hematoma increase of more than 33% on CT or MRI imaging between initial and follow-up assessment. In a group of 853 patients 36% had hematoma enlargement. Reduced rates of hematoma enlargement were associated with two factors: (1) reversal of the international normalized ratio (INR) below 1.3 within 4 hours and (2) systolic blood pressure levels below 160 mmHg within 4 hours after admission. "In the group with both, INR<1.3 and blood pressure <160 mmHg we observed a hematoma enlargement in only 19.8% compared to 41.5% in patients with higher INR-values and/or higher blood pressure", says the study leader Prof. H. Huttner from the Department of Neurology of the University of Erlangen-Nuremberg.
Another question addressed in this study was if oral anticoagulant treatment should be restarted in patients who recovered from the bleeding. In this cohort only 172 of 719 survivors were restarted with oral anticoagulants and the cohort was followed for 12 months. Those patients who were restarted with OAC treatment (vitamin K antagonists) 30 days (median) after the ICH event had fewer incidences of ischemic complications, no increased risk of new haemorrhages, and less functional disability at 1-year follow-up. Interestingly, patients with atrial fibrillation restarting OAC showed also decreased mortality.
There are obvious limitations of the study because it is retrospective, some data are missing or difficult to interpret, and several statistical analyses are potentially biased, but this is the largest retrospective analysis that clearly has practical implications. Prof. Valeria Caso, President-elect of the European Stroke Organization, says: "This study is an important step forward. Until we have a controlled prospective trial this study supports the use of an aggressive medical treatment to quickly reduce INR and blood pressure in the acute management of OAC-ICH. Secondly, for the chronic management of these patients findings from this study encourage to soon restart the OAC treatment to prevent new ischemic strokes and improve the clinical outcome." Prof. Didier Leys, Secretary General of the European Academy of Neurology agrees and adds: "The present data give an important hint how haemorrhages should be treated, but the result should not be uncritically adopted for the new anticoagulant drugs and further studies are needed specifically for the new anticoagulants. Until then this paper provides a rationale how to treat patients with bleedings."