by Hannah Cock
The hands-on neuro-otology course at the recent EAN meeting in Berlin, directed by Eleftherios Papathanasiou from Cyprus with assistance from several of the great and the good in the field was the first to be fully booked, and did not disappoint.
Whilst the formal feedback has not yet been analysed, and some organizational aspects (room size, acoustics, and screens for presenting) had room for improvement, at least one participant (me) learnt a huge amount and hopes this will be repeated in future years. Having world experts explain, demonstrate and then supervise participants doing head-thrust tests, Hallpike and Epley manoeuvres
(including as pictured a demonstration of the recently developed "take away Frenzel goggles" http://www.neurology.org/content/83/14/1241.full ) was invaluable, and will hopefully at go some way to correcting some bad habits I realise I'd slipped into.
Together with demonstrations of other bedside and neurophysiological tests, including some brilliant simulations by Adolfo Bronstein & Marianne Dieterich, and the opportunity in small groups those questions that had always bothered you, the room buzzed with enthusiasm for the full 90 minutes.
Educational strategy for the EAN includes an explicit intention to increase the range of educational activities offered at the congress and elsewhere, so look out for more hands-on and interactive sessions in the future, and a new format (case based facilitated workshops) which will be introduced in Copenhagen in 2016.
The only downside was I couldn't refuse to "volunteer" as the simulated patient in one session, nor to the inevitable photograph that ensued"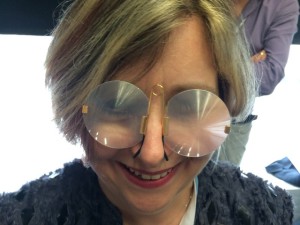 Photo caption. Dr Hannah Cock, Education Committee Chair, in "take-away Frenzel goggles" at the hands-on Neuro-otology course, Berlin EAN 2015.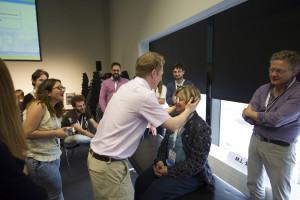 photo: © Jens Jeske/www.jens-jeske.de
Dr Hannah Cock is Reader in Clinical Neurology & Honorary Consultant Neurologist, St Georges, University of London, UK