On Saturday evening, June 20, Professor Wolfgang Oertel, Local Chairperson, opened the Congress with his welcoming address to all participants.
His speech was followed by Professor Raad Shakir, President of the World Federation of Neurology, who also had the most encouraging words for this new Academy.
The President of the European Academy of Neurology, Professor Günther Deuschl found the words to summarise the first year of the EAN in his Presidential address, but also announced future plans that lay ahead.
Together with Professor Paul Boon, Programme Committee chair, he had the great pleasure to honour the founder of the EFNS, Professor Franz Gerstenbrand, as well as the members of the Transition Task Force who worked together for the last 6 years to bring the EFNS and ENS together. They are now the first EAN Honorary members, together with P.K. Thomas, who received this title posthumously.
The Scientific part was enchantingly presented by Professor Eckart Altenmüller who talked in his opening lecture about "What can musicians teach neurologists?" while demonstrating several music pieces during his lecture.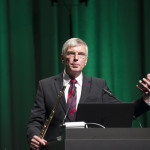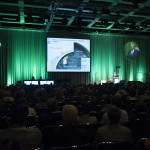 The final entertaining part was performed by the Berlin Comedian Harmonist, a group of sing young singers who met in 1997 to bring the legendary Comedian Harmonists back to life.
To close the eveing, all participants were most welcome to an informal get-together
photo: © Jens Jeske/www.jens-jeske.de