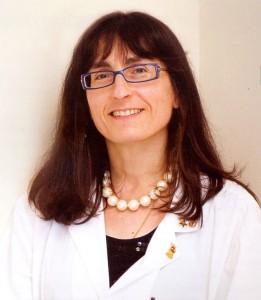 by Elena Moro
For July 2015, we have selected: Kazui H, Miyajima M, Mori E, Ishikawa M, for the SINPHONI-2 Investigators. Lumboperitoneal shunt surgery for idiopathic normal pressure hydrocephalus (SINPHONI-2): an open-label randomized trial. Lancet Neurology 2015;14:585-594.
The decision to refer patients with idiopathic normal pressure hydrocephalus (NPH) for surgery can be challenging for the neurologist, especially due to the lack of high-level evidence supporting the beneficial use of CSF shunts. To date, more data have been available concerning the results of ventriculoperitoenal (VP) shunt surgery rather than lumboperitoneal (LP) shunt surgery, although both approaches seem to be effective. However, LP shunt might be better tolerated by the patient and potentially safer than VP shunt.
In this multicenter randomised prospective study (SINPHONI-2) involving 20 Japanese neurological and neurosurgical centers, the efficacy of LP shunt surgery in idiopathic NPH was assessed using an initial 3-month randomised controlled phase, with a group undergoing surgery and the other keeping a conservative treatment, and a long-term phase in which all patients had surgery and were followed up to 12-month after surgery. Similar Japanese studies did not involve control groups. Primary outcome measure was the change in the modified Rankin Scale (mRS) for disability 3 months after randomisation.
Between the secondary outcomes there were changes in disability, iNPHGS, MMSE, Frontal Assessment Battery scores, and timed 3-m up-and-go test at 12 months. A total of 93 patients were enrolled and followed with an intention to treat analysis: 49 patients had surgery at time of randomisation (immediate surgery) and 44 patients (initially with conservative treatment) were operated on three months later (postponed surgery). At the 3-month endpoint, 65% of the immediate surgery patients had ≥1 point improvement on the mRS (favorable outcome) compared to 5% of the patients in the conservative group (difference 61%; 95% CI 42-68; p<0.0001). Most secondary outcomes also improved significantly. At the 12-month endpoint, the postponed surgery group reached overall the same benefits of the immediate surgery group.
"This study confirms that the LP shunt is an effective surgical approach," says Professor S Chabardes, Head of the Functional Stereotactic Unit at the Department of Neurosurgery of the Joseph Fourier University, Grenoble, France. "Most European neurosurgeons use the VP shunt technique to treat NPH. The LP shunt might be better accepted and tolerated by the patients. However, in this study several patients had complications related to the shunt placement (including subdural hematomas, shunt tube migration, cerebral infection, and postural headache). It needs to be assessed whether LP shunt has less complications and adverse events compared to the VL shunt."
"This paper adds further evidence to consider CSF shunt surgery in patients with idiopathic NPH. Indeed, patients who had surgery significantly improved motor and non-motor symptoms compared to the non surgical patients at 3 months, and this benefit was maintained up to one year," states Professor GL Lenzi, Past Editor in Chief of Neuropenews, from the Department of Neurology of La Sapienza, Rome, Italy. "However, patients who had postponed surgery had the same results at 12 months. These findings encourage neurologists to refer more patients to surgery. Nevertheless, raters (and patients) were not masked to the type of treatment, and the number of operated patients was relatively small, whereas the number of complications was relatively high. Additionally, the velocities of CSF flow in the Silvius' aqueduct were not measured. These results should be confirmed and validated by larger randomised and blinded studies."
The other nominees for the July's paper of the month are: