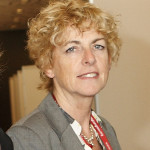 Elena Moro (EM): We would like to join the EFNA Board in congratulating you with your election as the President of EFNA. We look forward at collaborating with you! Could you share with us your plans for the EFNA?
Ann Little (AL): In recent years, EFNA has worked with great dedication on establishing a new strategic direction focussed on the four pillars of Advocacy, Awareness, Empowerment and Engagement. This is laid out in our Strategic Plan 2015-2020 document 'Stronger Connected'. As EFNA President, I see my role as supporting the work already started through initiatives such as the MEP Interest Group on Brain, Mind and Pain and the Training Initiatives for Neurology Advocates. Excellent progress has been made and I will be picking up the reins that are already steering EFNA in the right direction. EFNA is now a well-respected partner of scientific, political and academic organisations – including EAN – and part of my remit will be to maintain and future nurture these relationships.
EM: You have a long-standing experience in working with IBE and ILAE – International League Against Epilepsy. Can you briefly describe the collaborations between both these organisations? Is this a template of cooperation that you would like to see implemented in other societies?
AL: When I joined IBE in 1997, IBE and ILAE were already collaborating closely. Indeed, the two organisations have collaborated continuously since IBE was founded in 1961 – when ILAE was already approaching its first half-century. The officers of IBE and ILAE (President, Secretary General and Treasurer) are ex-officio members of each others Executive Committee and the two committees also meet together in full when initiatives organised jointly by both organisations are discussed and decided. This would include the international and regional congresses and the Global Campaign Against Epilepsy – which is a three-way partnership with WHO. Other joint initiatives are International Epilepsy Day (which superseded European Epilepsy Day) and Epilepsy Advocacy Europe (a joint IBE/ILAE task force focussed on Europe). A more recent collaboration resulted in a WHO Resolution on the global burden of epilepsy being approved at the World Health Assembly this May. For some time this partnership may have been unique in the social/medical NGO field but medical and patient groups are beginning to work much more closely, in particular in Europe, and this can only be a good thing for all concerned. It is certainly the direction that is encouraged by the EU.
EM: As you are certainly aware, the EFNA has a consolidated cooperation with the EAN. What would be your recommendations for improving this cooperation?
AL: The cooperation and, more importantly, the mutual respect between EFNA and the EAN is very encouraging – especially considering that the EAN is such a new organisation. EFNA's participation at the first EAN Congress gave us a platform on which to build in future years. However, I think there is also opportunity to partner outside of the Congress in areas of mutual interest. A next step might be to look at strengthening our cooperation through a strategy involving the broader aspects of our separate work plans in areas where partnering opportunities exist. This could focus on advocacy at the European Institutions, for example, or mutual learning dialogues between patients and physicians.
EM: Several EFNA members are involved in the EAN's Sub-Specialty Scientific Panels. How can this involvement positively influence the work of the different European patient associations?
AL: Coming from the IBE background, I have always been aware of how important the interaction between IBE and ILAE has been in terms of seeing the other side of the coin. So I can vouch for the importance of involving patients in the work of the relevant sub-specialty panel. It can only be a win-win situation. There are often gaps between what physicians want to treat or research, and what the patient would like to see treated or researched. By having the patient groups involved in the sub-specialty panels, these disconnects can be addressed through sharing of opinions with the ultimate possibility of reaching a consensus on what matters most to both parties.
EM: Neuropenews is the EAN's news blog and window on the world of neurology and related associations and societies. Would you share with our readers how do you think that Neuropenews can contribute to EFNA's work?
AL: Neuropenews is a great e-publication and one in which EFNA's work has been very nicely profiled in the past. This helps us to promote our work to one of our most important target audiences – the neurologists – in a very simple and cost-effective way. We value greatly the opportunity to continue to use Neuropenews as a communication channel as we prepare for the launch of an extensive pan-European campaign in 2016 called: 'Together Under the Umbrella'. Being able to announce and promote the initiative through Neuropenews will be hugely important in gathering the support of the neurology community.
Ann Little is President of the European Federation of Neurological Associations (EFNA) and Executive Director of International Bureau for Epilepsy (IBE).