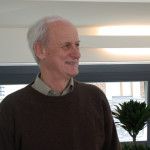 by Jes Olesen
For almost 100 years there have been Danish neurologists with a dedicated interest in migraine and other headache disorders. 50 years ago the champion was Dr. Dalsgaard-Nielsen and my mentor Erik Skinhøj got his interest in migraine during his clinical training with Dalsgaard-Nielsen. Some early studies of brain blood flow by Erik Skinhøj and Olaf Paulson were done while I did my doctoral thesis on the regulation and pharmacology of brain blood flow in humans in Skinhøj's department. The early studies seemed to confirm the then popular vasospastic theory of migraine because low blood flow was identified during or shortly after the aura. After clinical training at the National Hospital Queen Square and Cornell Medical Center, New York, I resumed my interest in brain blood flow and decided to focus on migraine and other headache disorders. We showed for the first time the spreading oligemia typical of the migraine aura and later worked out in great detail the sequence of blood flow changes during migraine with aura. The results linked the migraine aura strongly to cortical spreading depression and were later confirmed by others using PET and MR studies (fig 1).
This huge scientific breakthrough was possible in part because we had organised the Copenhagen Acute Migraine Clinic modelled after the Migraine Clinic in London. This led to extensive clinical studies of migraine including studies developing the methodology of drug trials for migraine and other headaches led by Dr. Peer Tfelt-Hansen. Experience with the brain blood flow results and the many acute patients seen at the acute headache clinic led to the formulation of novel diagnostic criteria for migraine and subsequently to the formation of the International Headache Classification Committee which I chaired for the first, second and now third edition during almost 30 years. This development took headache disorders from being the worst classified and defined neurological disorders to the best because all disorders were ordered in a hierarchy where explicit diagnostic criteria were provided for all entities. This led to much better epidemiological, genetic epidemiological and twin studies documenting the genetic component of migraine and in recent years to more advanced genetic studies searching for migraine relevant variants. Another line of research which has caused a quantum leap ahead in the understanding of migraine was the study of signaling molecules by provocation experiments in normal human volunteers and in migraine volunteers. Nitric oxide, calcitonin gene-related peptide, pituitary adenylate cyclase-activating peptide and some prostanoids were involved in migraine mechanisms. Our CGRP studies together with studies by Lars Edvinsson and Peter Goadsby led to the development of small molecule CGRP receptor antagonists with proven efficacy in migraine attacks and to the CGRP monoclonal antibodies that are presently in development for migraine prophylaxis. Provocation experiments combined with advanced neuroimaging is now a field vigorously pursued by professor Messoud Ashina. The Danish Headache Center was founded in 2001 and has since expanded several times under the leadership of professor Rigmor Jensen. There are now seven neurologists, three physiotherapists and three psychologists working full time with headache patients supported by secretaries and nurses (fig 2).
Rigmor Jensen also leads research groups on cluster headache, medication overuse headache and idiopathic intracranial hypertension, each combined with special care programmes. A combined research and care programme on trigeminal neuralgia is led by associate professor Lars Bendtsen who has also developed a national Danish care programme for headache involving general practice as a first tier, then non specialized neurologists and, as the third tier, the Danish Headache Center. In addition to extensive clinical research the center also has a strong arm of basic headache science focusing on signaling molecules and on the development of animal models of headache disorders. The center looks forward to a new building – probably the only one in the world that is specifically designed for a headache center .
Despite its diminutive size and population, Denmark has a major role in developing headache care and in headache research.
Jes Olesen is Professor of Neurology at the Glostrup Hospital, University of Copenhagen, Department of Neurology, honorary member of the EAN and chair of the International Headache Classification Committee of the International Headache Society (IHS).