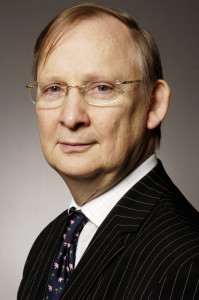 David Vodušek (DV): The International Association for the Study of Pain (IASP) declared at the last World Congress on Pain in Buenos Aires that the period, October 2014 to December 2015, would be the Global Year Against Neuropathic Pain. What do you consider the most important achievement of this action?
Chris Wells (CW): The Global Year Against Pain evolved from an idea of David Niv's, former European Pain Federation (EFIC) President and IASP Council member. He conceived the idea of a Day Against Pain in 2001 and this developed into first a Week and then a Year Against Pain, which IASP and EFIC now jointly sponsor and promote. The year-long initiative is designed to raise international awareness about pain and each year we focus on a different aspect of pain that has global implications. The focus for the year 2015, which actually started in October 2014, has been on neuropathic pain. The topic was suggested by myself, and endorsed by the IASP president and agreed by both councils. There have been many important initiatives during the year, including the initial press release and fact sheets, which are available on the European Pain Federation and IASP websites. However, to me, the most outstanding achievement during the year was the excellent meeting in Nice, France, of NeuPSIG, the neuropathic pain Special Interest Group of IASP. This took place from 14th to 17th of May, and over a thousand delegates from all around the world – and particularly from Europe – met for an interactive congress where over 90 speakers gave plenaries and ran workshops on all aspects of the subject, from research to treatment. I personally found the latest advances on neural molecular substrates of neuropathic pain most interesting, because that gives an opportunity for new targets for analgesic development. However, everything from the psychological aspects to genetics and neuromodulation was covered. As in previous meetings, the chance to meet with one's colleagues and have discussions in (on this occasion) the delightful background of Nice, was most welcome.
DV: Is it known whether there are significant differences in the approach to managing neuropathic pain, and in the availability of essential drugs in the management of neuropathic pain in different countries of (geographical) Europe?
CW: The information from around Europe suggests that the main drugs for managing neuropathic pain are available in most parts, even if access to Pain and Neurology clinics is not equal. It is an interesting reflection on differences that in the North and East of Europe, the Baltic States, the Ukraine and Russia, there is strong representation in the IASP Chapters from Neurologists. However, in the Mediterranean countries, pain services are more led by Anaesthetists. Guidelines produced by bodies such as NeuPSIG and EFNS (the old European Federation of Neurological Sciences) have meant that basic pathways of management of neuropathic pain are clearly understood. Funding of more expensive treatment, such as Capsaicin (Qutenza) patches and Lidocaine plasters can be a problem throughout Europe, because of the economic crises that are paramount.
DV: Can you clarify for our members the roles and interrelationships of NeuPSIG – Neuropathic Pain Special Interest Group, EFIC – European Pain Federation, PAE – Pain Alliance Europe and IASP – International Association for the Study of Pain?
CW: There are many worldwide bodies who are concerned with pain, and this can be a source of confusion! The International Association for the Study of Pain (IASP) is based in Washington, USA, although it began in Seattle as the brainchild of John Bonica, the Founding President. He convened an interdisciplinary group of pain researchers and clinicians in May 1973, and the organisation was formed and incorporated the following year. It now has more than 7000 members throughout the world, in 98 different country Chapters. These Chapters are independently operated by local associations, all sharing IASP's vision of working together for pain relief throughout the world. IASP also has 20 Special Interest Groups (SIGs), each focusing on one aspect of pain such as cancer pain, neuromodulation, pain and placebo and the largest group, which is the Neuropathic Pain SIG, known as NeuPSIG.
I was proud to be one of three Founder Members, and now an Honorary Member, of NeuPSIG. The group started in 1999, and is now the largest of all of the Special Interest Groups of IASP. Its goal is to advance the understanding of mechanisms, assessment, prevention and treatment of neuropathic pain by collaboration between basic and clinical research, the study of underlying mechanisms of neuropathic pain and the exchange of information and experience about its assessment and treatment. It has a newsletter, its own website and it runs a large biennial congress, of which the meeting in Nice was the fifth. The present Chair is Srinivasa Raja from the USA, and Andrew Rice from the UK is the Immediate Past Chair. Ralf Baron from Germany is the IASP Council Liaison Officer.
The European IASP Chapters banded together in 1993, led by Professor Ulf Lindblom, a previous President of IASP and the first President of EFIC, or European Pain Federation as it is now known. Initially it represented some 20 European Chapters but it has grown over the years and now represents twenty thousand healthcare professionals throughout 37 countries in Europe. This includes physicians, nurses, physio-therapists, psychologists and other healthcare workers, all studying and treating patients in pain. People can become members through their own individual Chapter and are then represented by a Councillor, or they can become individual contributing members by direct payment of €100 per year. The European Pain Federation has an Executive Board of 6 members, who carry out the day-to-day work of the organisation; its headquarters is our office in Diegem in Brussels, where we have a permanent Secretariat led by Christel Geevels. The name was altered to clarify its exact role in Europe, and is now a wholly autonomous organisation, although it continues to maintain close and warm links with IASP, its parent body.
The Pain Alliance Europe (PAE) was officially founded in the European Parliament on November 29th, 2011. It is a pan-European umbrella organisation of 33 national associations in 16 EU member states, representing over three hundred thousand individual chronic pain patients. It too has an office in Diegem in Brussels, and often works with the European Pain Federation in mutually beneficial interactions throughout the EU and in the Brussels Parliament. PAE has joined with the European Pain Federation in the latter's Societal Impact of Pain (SIP) initiative, the most recent meeting being in Brussels in November 2014. PAE also represents chronic pain patients in the Parliamentary Interest Group on Brain Mind and Pain in the European Commission.
DV: EAN is as a society active in general neurology and eager to cooperate with other scientific societies covering particular neurological subspecialty fields or fields overlapping with neurology. Can you share with us the EFIC perspective on potential cooperation?
CW: The European Pain Federation recognises the European Academy of Neurology as a potential partner in our mutual interest in mechanisms and management of neuropathic pain. We have already informally attended your annual congress in Berlin with an exhibition booth and will be attending the meeting in Copenhagen next year. Our next biennial congress is in Copenhagen in 2017, and we would be delighted to have links with you in topic suggestions in our congresses in the future. We think it important that, for any initiative aimed at the European Parliament, we work together with as many people and societies as possible, and so would like to involve you in our political initiatives, whenever there is overlap, and would also be delighted to become involved in any of yours, in the future, concerning pain.
One new initiative from the European Pain Federation, close to my heart, is the development of a pan-European curriculum for pain, leading to the emergence of pain medicine as a distinct academic discipline and a true supra-specialty. Our core curriculum will be finalised in January and we would be pleased if the EAN would review and critique the curriculum and perhaps even adopt it. In the future, we would offer this curriculum to the UEMS for consideration of a European-wide facility. We will be organising a multidisciplinary exam on Pain Medicine, awarding a Diploma to successful candidates.
DV: Dr Wells I thank you for this very informative interview and wish you and EFIC further success.
More on Dr Wells can be found here.
David Vodušek is Chair of the EAN Liaison Committee and Professor of Neurology at the Medical Faculty, University of Ljubljana and Medical Director of the Division of Neurology, University Medical Center Ljubljana, Slovenia.