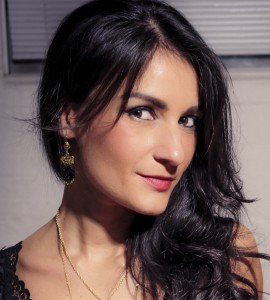 It has been a great honor for me to be awarded with the EAN scientific fellowship 2015. Thanks to the EAN, I had the chance to spend one year at the Sobell Department of Motor Neuroscience and Movement Disorders of the University College of London and to join the Movement Disorders Clinic under the supervision of Professor Kailash Bhatia.
During this precious year, I have carried on some interesting researches focused on the neurophysiology of Movement Disorders. Particularly, my main field of interest has been to study the mechanisms of inhibition and of neuroplasticity in patients with dystonia. Dystonia is the second most common movement disorder, but its neurophysiology is still unclear. I have always been fascinating by dystonia, as a part from the genetic make-up, environmental modifiers play such an important role. Therefore, the opportunity to study the neurophysiology of this interesting disorder has been motivating for me. In the laboratories of Professor John Rothwell, I carried on some experiments to define the neurophysiological correlates of impaired temporal discrimination in dystonia. Impaired somatosensory temporal discrimination threshold (STDT) indeed has been proposed as an endophenotype of dystonia, but its neurophysiological substrate are far to be completely elucidated. We therefore performed an extensive neurophysiological study by means of paired and double-pulse sensory Evoked Potentials (SSEP) and paired-pulse transcranial magnetic stimulation (TMS). Our findings showed several abnormalities in patients with dystonia, but only those evaluating cortical inhibitory mechanisms within the somatosensory cortex explained abnormal temporal processing of sensory inputs. Along with this study, we have also used a new paradigm of repetitive sensory stimulation in a group of patients affected with dystonia and in a group of healthy subjects and tested the results by evaluating measurements of motor inhibition (by means of paired-pulse TMS) and of sensory inhibition (by means of paired-pulse SSEP and other measurements) before and after the stimulation. We found that the stimulation improves spatial and temporal tactile abilities in healthy subjects by incrementing the effectiveness of inhibitory interactions in the somatosensory and motor systems, while we are still analyzing data in dystonic patients.
Along with these studies, I have also tried to understand something more about the neurophysiology of tremor in dystonia. Tremor indeed is frequently associated with dystonia, but its pathophysiology is still unclear. Dysfunctions of circuits involving the cerebellum are known to play a role in the pathophysiology of action-induced tremors. We found that functional cerebellar impairment segregates with the presence of tremor in patients with dystonia, implying that that cerebellum might have a role in the occurrence of tremor in dystonia.
I have been also interested in orthostatic tremor and in its neurophysiology.
Along with the time spent in the laboratories of neurophysiology, I had the honor and the pleasure to attend the outpatients' clinic of Professor Kailash Bhatia and to work with him as a research fellow and as an Honorary Clinical Assistant. The time spent in the clinic has be the most productive. For Professor Bhatia's fellows, the clinic represents a place where you can really learn every time something new, as every day we had the chance to deal with rare and unusual movement disorders. For each patient we took the opportunity to discuss on the possible differential diagnosis and on the best diagnostic approach. With his outstanding clinical skills, Professor Kailash Bhatia has been a great Mentor for me.
I would like to express my gratitude also to Professor John Rothwell for the opportunity to work in his laboratory and for being so meticulous and passionate in his supervision and to all the colleagues who introduced me in neurophysiological techniques.
This year in London gave me also the chance to meet many fellows from all over the world and to share with them knowledge, experiences but also "good time" out. I therefore thank all the Professor Bhatia's fellows for the great time that we spent together and, of course, all the "Queens Square" bunch.
Therefore, I cannot be more thankful to the EAN for this great chance.
Hereby, few pictures!
Dr. Elena Antelmi works at the Institute of Neurological Sciences IRCCS
DIBINEM in Bologna, Italy