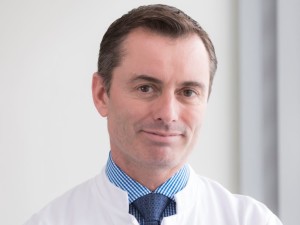 Elena Moro (EM): As incoming co-chair of the Scientific Panel "Neuro-traumatology" can you briefly introduce yourself and your specific field of expertise to the Neuropenews readers.
Oliver Kastrup (OK): I received my training in neurology and psychiatry at the University of Essen-Duisburg including a stint in neuroradiology. I have been holding the post of assistant professor in neurology and senior consultant for twelve years here in Essen. My special interest is rare and inflammatory diseases as well as neuro-traumatology.
EM: Can you outline the strategic work plan you foresee for the Scientific Panel that you
co-chair?
OK: Traumatic brain injury (TBI) is a major cause of death and disability in the population, adult and children. It is estimated that millions are evaluated in emergency departments for TBI annually, and millions more suffer mild TBI or concussions but don't immediately seek medical attention. Significant advances are being made in understanding the pathophysiology, diagnostic monitoring and evidence-based treatments across the spectrum of TBI. The scientific panel hopes to establish diagnostic algorithms and recommendations to prevent TBI, notably in younger people. A stress will lie on how to avoid sports related TBI.
The aim is to link clinical aspects with translational science across the spectrum of TBI severity, from basic science to the ICU and rehabilitation.
EM: What is the main "deliverable" that you want to achieve for the work the Scientific Panel will address during your term of office?
OK: Guidelines for the prevention of TBI. Guidelines for concussion assessment and management in young athletes focused on practical clinical management of concussions.