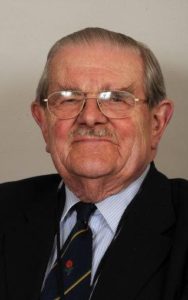 Lord Walton of Detchant sadly passed away at the age of 93 years. He was one of the leading figures of International and European Neurology and we will keep his memory. We have lost an important advisor and honorary member of our Society. Our thoughts are with the family. Prof. Hanna a close collaborator to him kindly agreed to write the following obituary.
Günther Deuschl
EAN-President
Lord John Walton of Detchant was a leading figure in world neurology whose professional career spanned some 71 years up to his death aged 93. His long and illustrious career was remarkable because he made major contributions in many different spheres of medicine and public life. He was an intelligent, determined, strategic, meticulous, witty, engaging and kind man.
He graduated in medicine in 1945 from Newcastle Medical School after completing a shortened wartime medical degree course.  He soon developed an interest in neurology and his initial research culminated in an MD thesis on subarachnoid haemorrhage. Subsequently, he came under the guidance of Professor Fred Nattrass. He studied patients with muscle wasting diseases in the North East of England and identified that many patients who were considered to have muscular dystrophy in fact had autoimmune muscle conditions including polymyositis and dermatomyositis. This detailed clinical and pathological work ultimately lead to a new classification of muscular dystrophies. This work was published in a landmark paper by Walton and Nattrass in Brain in 1954. It has stood the test of time and was the forerunner of the clinical and genetic classifications in use today.
From 1953 to 1954 he spent a year learning neuropathology with Raymond Adams at Massachusetts General Hospital and at Harvard University in Boston. He then spent a year at the Neurological Diseases Research Unit at the National Hospital for Neurology and Neurosurgery, Queen Square, London. He subsequently established successful muscular dystrophy research laboratories in Newcastle, which became a major centre attracting trainees from all over the world. Many new techniques and approaches to understand muscle disease were pioneered including neuropathology, histochemistry, electron microscopy, electrophysiology and biochemical analyses. He became Professor in Neurology in 1968 and served as Dean of Medicine in Newcastle from 1971-1981.
In addition to his important research contributions he took an increasing interest in administration and was a skilled chairman.  As Dean of Medicine he was on various hospital management committees and also served on Medical Research Council and BMA committees. He was president of the BMA from 1980 to 1982, President of the General Medical Council from 1982 to 1989 and President of the Royal Society of Medicine from 1984 to 1986. He was President of the World Federation of Neurology from 1989 to1997.
He left Newcastle and became warden of Green College Oxford in 1983 where he supported graduate medicine. His time at Oxford ended in 1989 when he was created a life peer and joined the cross-benches. Lord Walton was a very active member of the House of Lords. He served on the Science and Technology committee and was chairman of the Medical Ethics committee 1993-1994. In 2008 he called for an end to multiple reorganisations of the NHS. He argued effectively in favour of provisions to the Human Fertilization and Embryology Bill to allow experiments under licence on the human embryo up to 14 days after fertilisation. As recently as 2015 he was very actively involved in supporting the process that lead to the parliamentary decision to allow human mitochondrial donation under license. This technique will potentially prevent the transmission of disease causing mitochondrial DNA mutations.
Despite his active work in the House of Lords he always found time to support investigators leading neuromuscular research programmes. He was a great supporter of the MRC Centre of Neuromuscular disease and gave an inspiring speech at its inauguration in 2008. This MRC Centre links colleagues across Newcastle and UCL in a national experimental medicine platform for children and adults. He gave many memorable after dinner speeches at annual MRC Centre UK translational research conferences; always without notes, and always factually up to date and witty in equal measure. The MRC Centre steering committee were delighted to establish the John Walton lecture. This lecture continues in his memory. Until now it has been delivered on three occasions by world leading scientists; Professor Kay Davies in 2009, Professor Robert Griggs in 2012 and Professor Carsten Bonneman in 2015, and all were attended by John. He was also especially pleased when senior muscular dystrophy research colleagues in Newcastle recently named their centre the John Walton Muscular Dystrophy Research Centre.
He was a founder and a very strong supporter of Muscular Dystrophy UK (formerly the Muscular Dystrophy Campaign) and previously served as its chairman. Throughout his career he remained passionate and committed to supporting the fight against muscular dystrophy. He often spoke of the deep suffering endured by boys with Duchenne Muscular Dystrophy that he first witnessed when he visited them in their homes during his seminal studies with Fred Nattrass. It is therefore perhaps fitting that just in the last few weeks before he died, and some 60 years since he started his muscular dystrophy research, the first ever disease modifying drug (Translarna) has been recommended by England's National Institute for Clinical and Health Excellence for ambulant boys with Duchenne Muscular Dystrophy in the NHS.
He was very proud of his North East of England roots and was a lifelong supporter of Newcastle United football team. He became a Freeman of the City of Newcastle in 1990. He moved back to Northumberland in 2002 and Lady Walton died in 2003. He is survived by their son and two daughters.
Professor Michael G Hanna
Director, MRC Centre for Neuromuscular Diseases
Director, UCL Institute of Neurology, Queen Square, London