Brain health in an ageing population – One in three individuals over the age of 80 suffers from at least one neurological disease – Raising awareness for an underestimated problem – More prevention can mitigate human suffering and economic consequences – "Viewing advanced age as more than just a burden"
By staging World Brain Day on 22 July every year, the World Federation of Neurology and its 119 national member societies seek to raise awareness of the significance of brain health. This year the awareness campaign focuses on the ageing brain. Experts demand that more be invested in the expansion of prevention programs and in suitable healthcare structures instead of viewing an ageing population solely as a burden.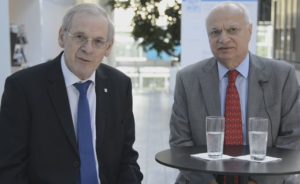 London, July 2016 – "It is becoming increasingly clear that neurological disorders, such as stroke and dementia but to name a few, are projected to rise at a rate that could overwhelm our healthcare systems," Prof Raad Shakir, London, President of the World Federation of Neurology (WFN) warned on the occasion of this year's World Brain Day on 22 July. Although experts have long been voicing this warning, the public is not sufficiently aware of the subject and healthcare policy in many places does not include it to a sufficient degree. Prof Shakir went on to say this: "The ageing population has major social, health, and economic consequences. Brain health will be among the most important determinants of social and economic well-being of older persons in the future."
For this reason, the World Federation of Neurology has decided to devote this year's Brain Day to the subject of "Brain Health and the Ageing Population – The Ageing Brain". According to Prof Shakir, the goal is "to increase global awareness on the management and prevention of all brain and neuromuscular diseases affecting the elderly and on concepts and means of promoting the prevention of brain diseases."
"It is time to act!" This is the appeal of the chairman of the WFN Public Awareness Committee, Prof Mohammad Wasay, Karachi. "Diseases affecting the brain are the most frequent causes of handicaps today throughout the world. A good share of the disease burden would be avoidable if we were more devoted to prevention."
WFN Secretary General Prof Wolfgang Grisold, Vienna, emphasized the significance of expanding suitable neurological healthcare structures. "Modern neurology can offer much for managing the consequences of demographic developments. Healthcare policymakers in all countries are therefore well-advised to invest in expanding neurological care instead of perceiving old age as only a burden."
Besides a sufficient level of acute neurological care, the aim for ageing societies must be to further expand rehabilitation capacities and the possibilities of long-term care according to Prof Grisold. Palliative care will also take on an increasingly important role: "Neurologically orientated palliative medicine can cushion the effects of an incurable disease for various lengths of time. This improves the quality of life a bit for severely ill people with no prospects for a cure."
Prof Gunhild Waldemar, Director of the Danish Dementia Research Centre, Copenhagen, makes the following demand: "All individuals with Alzheimer's Disease should have access to reliable and timely diagnosis and treatment, irrespective of social inequalities. This includes medication as well as the use of non-pharmacological interventions for which clear evidence of benefit already exists, such as psychosocial, behavioural, or environmental interventions."
Although biomedical research has provided insights into the fundamental causes and pathogenesis of Alzheimer's, Prof Waldemar noted that more is required for an actual breakthrough, namely: "We need an even better understanding of the neurodegenerative mechanisms of the disease." One thing is certain: dementia is not necessarily an age-related phenomenon. Half of all 90 year-olds have no memory impairments," Prof Waldemar said. Investments in the development of innovative, effective therapies would be essential. Prof Waldemar voiced this demand: "In view of the lack of progress in developing a cure for Alzheimer's Disease and the rapidly increasing costs of dementia, policymakers and governments have a powerful incentive to provide more resources for this important field. We clearly need breakthroughs concerning therapies that can halt or reverse the progress of AD; therapies tailored to the individual patient and approaches for a delay of the onset of dementia disorders."
"Our initiative to stage a World Brain Day is also a wakeup call for political and policy decision-makers the world over. Regardless of the enormous burden that they cause, neurological diseases are not included to an adequate degree on the health policy agenda – neither at national level nor at international level. The burden of neurological disorders continues to be underestimated, under-recognised and under-funded," WFN President Shakir remarked. "The message we are conveying with World Brain Day is clear: The priorities in policy and funding must change. Brain health should be treated as one of the highest-level healthcare priorities. Neurologists are the advocates of brain health and need to take the leading role in advancing new approaches in stemming the scourge of neurological disease."
World Brain Day was launched by the WFN in 2014 and is dedicated to a different neurological disease or topic every year. The date for this awareness day was not chosen at random: The WFN was founded on 22 July 1957 in Brussels.