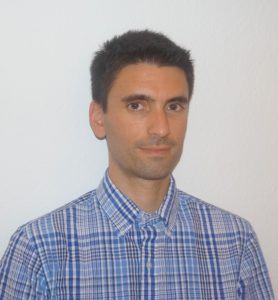 Report from Dr Riccardo Galbusera from Freiburg, Germany visiting the Ofxord University Department of Clinical Neurosciences, West Wing, John Radcliffe Hospital, OX3 9DU Oxford, UK under the supervision of Prof. Martin Turner.
(Term: 2.5.-10.6.2016)
First and foremost thank you for giving me the possibility to spend six weeks at the John Radcliffe Hospital in Oxford.
The purpose of my staying was to gather more experience in clinical neurology with a particular emphasis on motor neuron and neuromuscular disorders. Through guidance and close tutoring by Professor Martin Turner I could deepen my competence in diagnostic process and  therapeutic management of Amyotrophic Lateral Sclerosis (ALS). As of now ALS is an incurable disease and communication with patients plays an even more important role. Observing experienced and skilled experts at the Oxford Motor Neuron Disease Centre I could increase my theoretical knowledge but also get acquainted with the art of  best communicating with patients suffering from this disease.  Besides, during my stay I was invited by Professor Turner to grand rounds, journal clubs and also important meetings, one stands out above all "ALS genetics: getting from cause to cure" at King´s College in London.
During this period I also had the possibility to engage with several neuromuscular outpatient clinics, especially the Myasthenia Gravis Clinic.
Moreover, given my further interest in clinical neurophysiology I was also allowed to attend the laboratory of electromyography, where I could sharpen my understanding of this procedure. Here I could have very active discussions with the consultant in charge about similarities and differences in the electrophysiological diagnostic approach between Germany and the UK and this was very educational to me.
As well as being one of the most renowned universities in the world, Oxford is also well known for its college system. In the period of my clinical fellowship I was given the opportunity of staying in the Green Templeton College and this was for me a really good possibility of experiencing this fascinating academic community.
To be honest, I could not really find any negative aspects in this relatively short, but full of events experience. All in all, it was a very fruitful period and I will surely recommend this opportunity to colleagues and friends.
---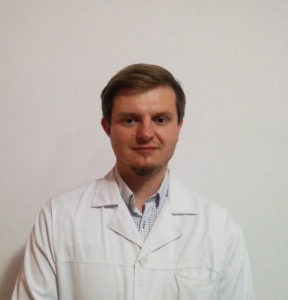 Report from Dr Vlad Cornea from Bucharest, Romania visiting the Department of Neurology, Chelsea and Westminster Hospital, 369 Fulham Road, London SW10 9NH, UK under the supervision of John C. Janssen, MD
(Term: 31.5.-11.7.2016)
During my visit at the Neurology Department at Chelsea and Westminster Hospital in London, I had the opportunity to observe and work with a highly specialized Neurology team from which I've learned a great deal.
My daily activities included going on ward rounds, seeing referrals with the on-call doctors and attending various clinics (TIA clinic, Neuro-HIV clinic and general neurology clinics). During these activities I was able to discuss diagnosis, treatment and different approaches to disease management. This helped me to clarify some details about certain neurological conditions and also to make useful comparisons between management techniques applied in Romania and in the UK. I've also learned some useful clinical "pearls" that the consultants have gathered during their long careers. This process was facilitated by the fact everybody discussed freely with me and encouraged me to share my opinion.
On more than a few occasions I attended multidisciplinary meetings, in which a diverse team of specialized healthcare professionals (nurses, physiotherapists, occupational therapists, speech and language therapists, social workers, and neurologists) planned in detail interventions for difficult cases, covering medical management for both during the hospital stay and after discharge, in the local community. The decisions taken in these meetings where then discussed with the patient and family to make sure that these where in accordance with their wishes. I observed how this process had an exceptional results in increasing quality of life for the patients. These cases made me reflect on the way I interact with my colleagues from other specialties and in ways I could improve on the care I provide for my patients.
Every Thursday afternoon I attended the local neuroradiology meetings in which cases with interesting radiological imaging findings were presented and debated. These meetings helped me broaden my knowledge of imaging results interpretation.
On Fridays I went to Imperial College's Charing Cross Hospital in which the local Neuroscience Centre resides. Here they organized clinical case presentations for educational purposes and on several occasions international speakers presented their latest research in neurology. For example I attended presentations on pain management in cancer patients, cognitive decline in patients with epilepsy and on the relationship between epilepsy and inflammation)
Dr. Janssen was kind enough to arrange a visit for me a neuroscience laboratory which is run by Dr. Paulo Muraro, Reader in Neurology, who is currently doing research in Multiple Sclerosis. Dr. Muraro and his colleagues gave me a tour of the laboratory. This incorporates a large tissue bank from donors who have had Parkinson's disease, Alzheimer's disease, multiple sclerosis and other neurological afflictions. The lab process these tissues for neuro-immunology, neuro-molecular and microscopy studies, to name just a few. After the tour I had a very informative and interesting talk with Dr. Muraro and his colleagues about their current research (Bone marrow auto-transplant as a possible cure for progressive types of MS) and about research in general.
As a bonus to the overall experience I believe I've enriched my English skills.
In conclusion, I consider that these 6 weeks of practice in the Neurology Department at Chelsea and Westminster Hospital in London, have taught me a great deal and that this experience will have a very positive impact on my medical career.
---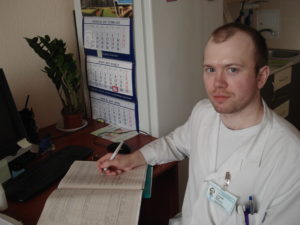 Report from Dr Ivan Goursky from Minsk, Belarus visiting the 2nd Department of Neurology,  Institute of Psychiatry and Neurology, 9 Sobieskiego Str., 02-957 Warsaw, Poland under the supervision of Prof. Anna Czlonkowska
(Term: 23.5.-2.7.2016)
Thank to EAN Clinical Fellowship program I was able to come to the Institute of Psychiatry and Neurology in Warsaw (Poland) for educational visit.
It is an institution in many ways very resembling that I'm working in Belarus, but with certain differences that were very interesting to learn. During my visit I was able to participate in rounds in the 2nd Department of Neurology, including Intensive Care ward, participate in morning briefings, and see patients in the Admission Department with doctor on duty. Also I attended some local conferences and teaching courses.
The great share of patients in the 2nd Department of Neurology has either acute stroke, or are being examined for suspected neurovascular disease. Also, there are many patients with demyelinating diseases, Wilson's disease, headache disorders, seizures, neurodegenerative disorders, tumors. In the morning briefings all the doctors from the Department take together, and discuss all new admissions and hard cases. In the certain days these briefings are also attended by specialists from the other Departments: rehabilitation specialists, radiologists.
Work in the Admission Department is very intensive with up to dozens of patients coming every day. Patient with or without referral may come here any time, or may be delivered by an ambulance. Doctor on duty must see every patient, and decide if there are indications for acute admission, for planned admission, or should the patient be referred to other institution (clinic with internal diseases department, neurologic or psychiatric outpatient clinic, and so on).
The Institute has CT and MRI operational 24h. So, not only CT, but also MRI is sometimes employed acutely in the patients with suspected stroke to verify diagnosis. Thrombolysis is perfomed here routinely, so I was able to see many patients after trombolysis, and even to track some patients from door to the Intensive Care ward and infusion of rtPA. For malignant strokes with severe edema and intracranial pressure elevation, decompressive craniectomy is often used here.
Work in the 2nd Department of Neurology is organized in such a way to perform the most critical examinations in a few days. For the patient with acute stroke it means that on admission he(she) undergoes CT/MRI, next day (usually) – precerebral arteries ultrasound and transcranial Doppler, and next few days – ambulatory ECG and blood pressure monitoring, heart ultrasound, if necessary – MRI, CT-angiography and/or conventional angiography, taking blood samples for genetic testing (MELAS, CADASIL). Treatment and examinations for acute stroke in the 2nd Department of Neurology is usually completed in 8-10 days, and then eligible patients are referred to further treatment in a rehabilitation department, if indicated – to surgical treatment for arterial stenosis (endarterectomy or stenting).
Besides stroke, the Department is also specialized on Wilson's disease, and accept such patients from all Poland. Here patients undergo initial diagnosis, and then come on regular basis for outpatient consultations and for copper metabolism assessment. Family members of the patients are screened for disease, so the disease is often revealed and treatment initiated in the presymptomatic stage. What was new to me it is radioactive copper investigation to measure its binding to ceruloplasmin.
Prof. Anna Czlonkowska and her Wilson's disease team expressed a great interest in the research on computer voice analysis in dysarthria, which is carried out in the Belarusian Republican Research and Clinical Center of Neurology and Neurosurgery. Together we recorded many specimens of speech from the patients with Wilson's disease, and we hope for further cooperation in this area.
I was able to attend following teaching courses and conferences in the Institute and Warsaw, that helped me very much to better understand state of art in neurology:
Course on precerebral artery USG and transcranial Doppler;
Hands-on course on botulinum toxin treatment for spasticity;
Conference of the Polish neurologic society with the focus on movement disorders;
Local briefing on the acute stroke management;
Annual meeting of the patients with Wilson's disease.
I want to acknowledge the whole team of the 2nd Department of Neurology for supporting me while the visit, and especially prof. Anna Czlonkowska, without whom my visit wouldn't be possible.
I'm sure that the gained experience will be undoubtedly beneficial for my further professional activity, and recommend all young neurologists to participate in the Clinical Fellowship program.
---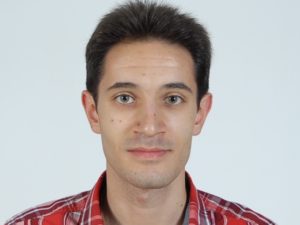 Report from Dr Levon Harutyunyan from Yerevan, Armenia visiting the Department of Neurology, Universitätsklinikum Erlangen, Schwabachanlage 6, 91054  Erlangen, Germany under the supervision of Prof. Max Hilz, MD
(Term: 1.6.-12.7.2016)
At first I want to express my gratitude to whole EAN team which has provided me such fantastic opportunity to have well-defined clinical observational experience in Neurological Clinic of Erlangen. During the first week of my visit I was involved in the work of department of Intensive Neurology. The experience which I gained in that department was really invaluable for me, because in Armenia we don't have Intensive Units that are specialized in the field of Neurology. There I saw many jugular and femoral cateterizations that were made under control of ultrasound, transesophageal sonography and many other things. During the second week I was in the department of general Neurology. There I saw modern care and treatment of patients with multiple sclerosis, meningitis, encephalitis and many other pathologies. I participated in every day patient visits by the head of department, also due to my knowledge of German I took anamnesis from patients, made first neurological examination and even  made some small procedures. During the third week I passed my observership in the department of Emergency Ambulance. There I saw how the patients were immediately carried by emergency doctors and how fast were organized all necessary investigations (CT, CT-angiography, digital subtraction angiography…). During the fourth week I was in the Epilepsy center. Besides of participating in taking anamnesis, inspecting EEGs of patients and making neurological examinations I also took part in two WADA tests, which was  really interesting and new experience for me. I also participated in the lecture about new strategies in treatment of epilepsy which was organized by the head of department. The fifth week of my visit I spent in the department of Neurophysiology, where I saw how the doctors were inspecting peripheral nerves and muscles with ultrasound, also I saw ENMG and NCV, evoked potentials, doppler and duplex of neck and head vessels. The sixth week of my visit I was in Neurological Policlinic (University Ambulance). There I saw patients with Parkinson's disease, Parkinson plus syndromes, ALS, Multiple sclerosis, Friedreich Ataxia, Faciohumeroscapular muscular atrophy, Epilepsy and many others. Last two days of my visit I spent in Stroke department, where I saw advanced algorithms for the management of the patients with different types of stroke.
I also want to mention that each week I took part in very interesting, master-class lectures which were organized by Neuroradiology department.
All in all I'm very thankful to all doctors and students of Neurological Clinic in Erlangen who somehow took part in my observership and made my stay and adaptation process more easy and brighter.