Annual Meeting of the German-Austrian-Swiss Epilepsy Working Group (DACH-AK)
October 20th – 22nd 2016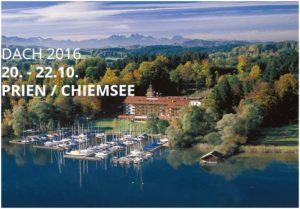 The German-Austrian-Swiss Epilepsy Working Group will hold its annual meeting "Clinical Epileptology and
Electrophysiology EEG/MEG" from October 20th to 22nd 2016.
The first part of the meeting is clinically oriented and focused on comprehensive aspects of diagnosis and treatment of adults and children with epilepsy, drug resistant epilepsy, difficult to treat epilepsies and latest research results.
Part two of the meeting is focused on electrophysiology EEG/MEG. This lecture part with case demonstration covers current aspects and newest analytical methods of EEG/MEG diagnostics.
The faculty consists of leading neurologists and epileptologists. The faculty members present lectures and conduct interactive case discussion on relevant current aspects of epilepsy.
Both parts of the meeting offer to participants a comprehensive update in the field of epilepsy and EEG/MEG and is dedicated to specialists in neurology, paediatric neurology, paediatrics, clinical neurophysiology.
The meeting also provides two sessions for industry exhibitors to present statements about current issues and information on newest and future developments.
More information can be found here .