By Jose E. Martínez-Rodríguez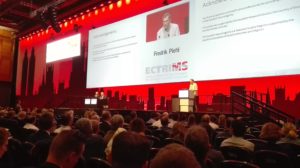 More than 9000 participants attended the 32nd Congress of the European Committee for the Treatment and Research in Multiple Sclerosis (ECTRIMS) and the 21st Annual Conference of Rehabilitation in MS in London from September 14th to17th. The congress highlighted the last updates and news in the MS field regarding scientific and clinical research through more than 1,500 presentations. Several parallel sessions described recent advances in neuroprotection, neurodegeneration and repair, remyelination, neuromyelitis optica, neuroimmunology, symptomatic therapies, new techniques in neuroimaging, CIS prognosis, MS cognition, comorbid diseases, and rehabilitation.
Several presentations were focused on the area of the innate immune system, where increasing prominent roles of myeloid cells as antigen-presenting cells and effector cells in neuroinflammation are being recognized. A beneficial effect of blocking the MAC-1 fibrin receptors was shown in experimental murine models as a further support of the involvement of innate immune system in MS, opening potential therapeutic pathways for the future. New advances were presented on the immunology of lymphocyte migration into the CNS and their participation in neuroinflammation regarding the involvement of integrin alpha-8, DICAM, ALCAM, and claudin-4. Further works assessed several aspects of cortical pathology in MS by studies based on intrathecal inflammation and new animal models of cortical lesions. The area of gut and food in MS was also extensively covered by studies supporting links between gut microbiota and immune regulation. Research on remyelination and oligodendrocytes is on-going, describing potential pathways to favor myelin repair and oligodendrocyte regeneration.
On the clinical side, ECTRIMS 2016 has provided additional evidences that disease-modifying drugs (DMD) should be started as early as possible once a confident diagnosis is made in order to delay irreversible disability, with different arguments supporting an escalation versus an induction therapy. Several studies were presented assessing conventional and new risk models to predict disease evolution. Innovative concepts such as "therapeutic inertia" were brilliantly introduced by Dr.G.Saposnik as the failure to escalate therapy when there is evidence of disease activity in a DMD-treated patient, compelling MS physicians to be assertive for the upcoming changes in the field of MS treatment. Research on environmental factors is being continually evaluated regarding the influence of herpesvirus, smoking, obesity, pregnancy and vitamin D on MS. The search of biomarkers for MS assessment and risk stratification is ongoing, highlighting the use of serum neurofilament-light chain levels as a promising biomarker in the assessment of disease activity and disability.
Results from several clinical trials on neuroprotection with amiloride, lipoid acid and fluoxetine were also presented with variable results. A special mention goes to the negative results of the phase 2b clinical trial presented by Dr.D.Cadavid, evaluating opicinumab (anti-LINGO-1) in relapsing MS, in which, even though the primary end-point of the study was not reached, the subanalysis results should encourage investigators to keep going in the area of remyelination.
Studies on the B-cell implications in MS were again a hot topic in ECTRIMS this year, with a very important number of presentations describing several aspects of B-cell biology in MS. The huge Swedish experience with the off-label use of rituximab was presented by Dr.F.Piehl, retrospectively comparing this anti-CD20 monoclonal antibody with fingolimod and natalizumab. While awaiting the final publications of the clinical trials performed with ocrelizumab in RRMS and PPMS, new data was presented in ECTRIMS describing the safety profile of this drug and supporting the positive clinical and radiological efficacy in MS patients. Meanwhile, studies with other anti-CD20 depleting therapies such as ofatumumab are moving forward to phase III. Dr.L.Kappos presented the much expected preliminary results on the phase III study with siponimod in secondary progressive MS, describing its effect on the risk reduction of three-month confirmed disability progression, with a further subanalysis evaluating results according to clinical activity, EDSS, and time of disease evolution. Moreover, further evidence was presented supporting the clinical and radiological efficacy of other upcoming new drugs such as cladribine and daclizumab.
Special attention deserves the first presentation of the ECTRIMS-EAN clinical practice guideline on pharmacological management of MS as a joint effort of both societies. The guideline, while awaiting publication, was introduced by Dr.Susana Otero-Romero. Using evidence-based recommendations following the GRADE methodology the guideline will establish recommendations and consensus statements concerning DMD management in MS patients. Some concerns were raised among the audience when the definition of qualified centers for MS treatment was presented as a general recommendation, which was based on the infrastructure available to assess treated patients and capability to deal with potential side effects, requiring further clarification in some aspects if the aims of these guidelines have to be fully implemented in the routine clinical MS practice in Europe.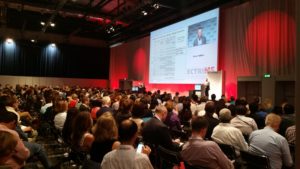 Never before the MS field has got so many different drugs available for clinical use, better measures and outcomes to predict and prevent the future of the disease and, although still far for a comprehensive view, a better understanding of how MS develops and progresses. Studies sponsored by pharmaceutical industries have been, and will be, paramount in the battle against MS. However, if we want to fully defeat the disease, future national and international collaborations will be additionally needed to answer questions that industry is never going to address, as Dr.M.Hutchinson remained us in his clinical highlights presentation. As results of clinical trials in MS have shown us in the last few years, not only we have to learn for our failures but, even more, we have to be able to properly manage our successes for the best of our MS community. Thanks to a collaborative effort of a huge amount of different professionals and specialties, ECTRIMS 2016 has been one of those events where you can feel that an inflection point in the understanding and management of MS is being reached.
Jose E.Martínez-Rodríguez, MD, PhD.
Associate Professor of Neurology, Universitat Autònoma de Barcelona
MS Unit, Neurology Department, Hospital del Mar, IMIM, Passeig Marítim 25-29, Barcelona
Email: JMartinezR@hospitaldelmar.cat
Disclosures: Jose E.Martínez-Rodríguez has received academic research grants from Merck-Serono and Biogen, and travel support and/or compensation for lectures and/or participation in advisory boards from Bayer, Roche and Merck-Serono.