11th ESO Karolinska Stroke Update Conference
The 11th ESO Karolinska Stroke Update Conference which will be held in Stockholm, Sweden from 13-15 November 2016.
This meeting marks our 20th anniversary, since the first one was held in Stockholm in 1996. Since 2014, this is a joint project for ESO and Karolinska.
The European Stroke Organisation (ESO) is a pan-European society of stroke researchers and physicians, national and regional stroke societies and lay organisations that was founded in December 2007.
The aim of the ESO is to reduce the incidence and impact of stroke by changing the ways that stroke is viewed and treated. This can only be achieved by professional and public education, and by making institutional changes. The ESO provides assistance in achieving this goal and in harmonising stroke management across the whole of Europe.
The aim of the Conference, since its start, is to provide updates on recent stroke therapy research and to give an opportunity to discuss how these results may be implemented into clinical routine. It is now also an opportunity for participants to discuss updates of ESO stroke guidelines and inspire to new guidelines when motivated.
Conference participants will have the chance to benefit from scientific exchange during either the formal activities or the more relaxed networking meetings with colleagues.
http://www.eso-karolinska.org/2016/
---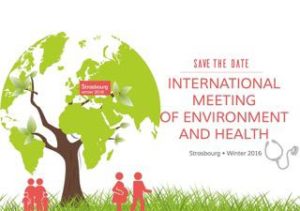 1st International Meeting of Environment and Health – Air pollution, health and emerging medical issues
November 30 – December 1, 2016, Strasbourg, France
Air pollution is an increasing concern for Humanity. The subject urgently needs more attention of medical scientists and society alike. Air pollution has been long recognized as a major health threat with multiple impacts, increasing mortality and morbidity. Pulmonary and cardio-vascular diseases are well known outcomes. Brain impacts are an emergent challenge as are epigenetic changes and developmental issues. This conference will tackle these issues for the first time in an interprofessional researchers, epidemiologists, public health specialists and neurologists to access current knowledge and identify key gaps that mandate further research.
http://n5qc035xkd63rx6th43zr5rf.wpengine.netdna-cdn.com/wp-content/uploads/2014/10/International-Meeting-of-Environment-and-Health-Air-Pollution-Health-and-Emerging-Medical-Issues.pdf