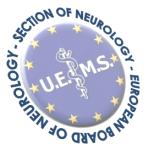 Early Registration Fee Deadline: March 23, 2017
The UEMS EBN Board examination will be held one day prior to the 3rd congress of the European Academy of Neurology.
Date: Friday, June 23, 2017
Venue: Europaplein 22, 1078 GZ Amsterdam, The Netherlands
Application: An application must be submitted by filling in the application form on the website: http://uems-neuroboard.org/ebn/.
Application Deadline: Wednesday, May 17th, 2017. Please take note of the reduced fee for candidates who follow the early bird registration procedure and for those from low- and lower middle-income countries.
For further information about the examination please refer to the UEMS SBN website: http://uems-neuroboard.org/ebn/.
If you feel the information is not complete, please do not hesitate to contact the UEMS EBN Examination Team at uems-sbn@medacad.org.