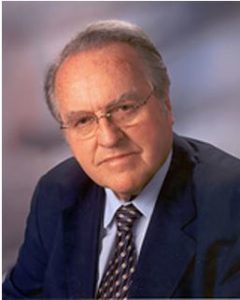 European Neurology has lost one of its great pioneers: Franz Gerstenbrand, emeritus Professor of Neurology at Innsbruck University, Past President of the EFNS and Honorary Member of the EAN passed away on June 30, 2017 at the age of 92.
Franz Gerstenbrand was born on September 6, 1924 in the small city of Hof in Northern Moravia (part of the Czech Republic) where his father practiced as a general physician. He finished his higher school education in the middle of World War II in 1942 and was immediately recruited into the German Airforce, where he served until May 1945.
Franz Gerstenbrand entered Vienna Medical School in difficult post-war times in 1946. He finished his medical training after an exceptionally short period of only 4 years and took an immediate dive into specialty training at the Psychiatric-Neurological University Department of Vienna University Hospital under the directorship of Hans Hoff. At a time, when neurological training in Austria and Germany took place in joint psychiatric and neurological institutions, Franz Gerstenbrand soon took to neurology where an eminent lady neurologist of the Vienna Department, Clara Weingarten, became his chief mentor. Franz Gerstenbrand was appointed Associate Professor of Neurology in 1972 and four years later, on February 1st, 1976, he took over the University Department of Neurology at Innsbruck University, where he stayed until his retirement in 1994. In the 18 years of his directorship, Franz Gerstenbrand transformed his Department of Neurology in Innsbruck into a hub of modern neurology in Austria – not least by his visionary grasp of the need to include autonomous neurocritical care units into modern neurology departments and to establish dedicated neuroimaging facilities. While this is obvious from today's perspective, it was not at all in the late 1970's when Franz Gerstenbrand set out his project.
Franz Gerstenbrand, although operating from a small base in one of Europe's smaller countries, was a profoundly international thinker and mover. He had a clear understanding of the urgent need to transcend the boundaries of the iron curtain which in his early professional times drew a painful divide across Europe – essentially cutting off those East of this curtain from many of the sources of information and progress in a rapidly developing neurological arena. As early as 1962, in the midst of the cold war era, Franz Gerstenbrand was one of the founders of the Danube Symposia, which he and his colleagues specifically designed to enable neurological exchange between Western and Eastern European countries. Franz Gerstenbrand took advantage of the unique position of Austria as a country of neutrality, which offered the possibility of establishing neurological congresses in Austria and Eastern Europe in an alternating fashion. The Danube Symposia thus developed into an important gateway for exchange of ideas and fostering of collaboration and collegial friendship across Europe.
After many years of this successful tradition it was a logical step for Franz Gerstenbrand, with the support of the then WFN President Lord Walton, to form an even bigger transeuropean forum for neurological scientific exchange – the European Federation of Neurological Societies (EFNS). Franz Gerstenbrand served as its founding President, and – from humble beginnings – the EFNS and its annual congress grew into a paneuropean success story. It was founded on one of Franz Gerstenbrand's eminent principles, which is that neurologists from whichever country in Europe were to meet on equal footing with equal access to the society and its workings. Nevertheless, he was also supporting the European Neurological Society, the European sister Society, being aware, that a unified European Neurological Society would be the ultimate aim of the history of neurology in Europe. As a question of consequence, he was one of the strong proponents for the merger of both Societies, which took place to his great satisfaction in 2014 within the European Academy of Neurology (EAN).  He became therefore the first honorary member of the EAN and until very recently he was an important advisor for the board of Neurology.
Franz Gerstenbrand's intellectual scope and neuropolitical interests were global in the modern sense and reached far beyond Europe. Up to his very last months of life he was in active exchange with neurological leaders in Africa and Asia. Myanmar had almost developed into a second home for him – not least because of his white elephant which he had been awarded by his friends from Myanmar many years ago and which he was about to visit before being halted by his deteriorating health.
It is no surprise that a man of Franz Gerstenbrand's stature would have received numerous awards and only some of these are to be mentioned here -including honorary doctorates of the Charles University in Prague and the Aristoteles University in Thessaloniki, the Silver Medal for Achievements for the Republic of Austria, the Honorary Cross for Science and Arts of the Austrian Republic, the Honorary Medals of the Country of Tyrol and the Medical University of Innsbruck, the Valeriy-Gagarin-Medal of the Russian Space Organization, as well as the Honorary Membership of the European Academy of Neurology.
Our thoughts and feelings of compassion are with his wife Gudrun and his family. The EAN will always remember Franz Gerstenbrand as one of the great leaders of European Neurology.
Prof. Dr. Dr. h.c. Günther Deuschl                       o.Univ.-Prof. Werner Poewe, MD
President of the                                                        Head of the Department of
European Academy of Neurology, Vienna          Neurology, Medical University, Innsbruck