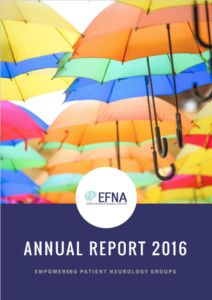 2016 was a busy year for the European Federation of Neurological Associations [EFNA], with the launch of some of the organisation's biggest-ever independent projects.
These included their Training Initiatives for Neurology Advocates and the Together Under the Umbrella awareness campaign. Existing central activities such as the MEP Interest Group on Brain, Mind and Pain (organised in association with Pain Alliance Europe [PAE]) have been further developed and so the EFNA programme of activities continues to grow.
Click here to download the 2016 Annual Report.
By Elizabeth Cunningham, Communications Coordinator
European Federation of Neurological Associations