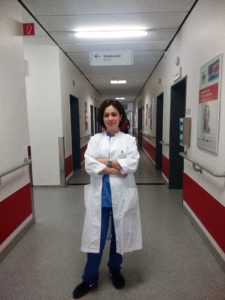 Report from Dr Sopiko Chkhaidze, from Tbilisi, Georgia visiting the Department of Neurology,  Evangelical Hospital Unna, Germany under the supervision of Prof. Zaza Katsarava.
The chief of the neurology department at Unna Evangelical Hospital, Prof. Zaza Katsarava ( Professor of Neurology at the University of Essen) kindly accepted my attendance  at his department. The Evangelical Hospital in Unna is a multiprofile hospital, with a 75 bed inpatient department of Neurology. It comprises a stroke unit, a poststroke unit, a pain unit,  and units  for epilepsy and geriatric medicine. Prof. Zaza Katsarava leads the upper mentioned department approximately for 5 years, with a distinguishable, professional, team working and diligent members of his stuff. I consider I  had a big luck to feel myself as a part of this team for proper time.
Prof. Dr. Katsarava is board certified neurologist, currently   president of the European Headache Federation, accordingly a lot of patients has asked for help to him at the hospital. I had an opportunity to attend Prof. Dr. Katsarava's ambulatory consultations and examinations. I had an active discussions about current patients conditions, diagnostic methods and treatment.
Future goals/Hoy does the EAN fellowship helps my professional carrier:
Primary headaches such as migraine, tension-type headache and the trigeminal autonomic Cephalalgias are very common all over the world and in my Country as well. In Georgia, the prevalence especially of chronic headaches and medication overuse headache is very high, about 9% as demonstrated by Katsarava et al, 2009. The number is twice of those known in  Europe and US. This high prevalence was explained by a lack appropriate medical service for people with headache to that time. Since then Prof. Katsarava and several dedicated Georgian neurologists supported by the International Headache Society and the European Headache Federation has been working in our Country. Currently several headache clinics according to the "state of the art" have been established. However much more has to be done.
I became interested in the field of headache after attending the Headache School in Tbilisi organized by Prof. Katsarava and the European Headache Federation in 2014. Since then I have been working clinically in Tbilisi and reading the international literature.
Mentioned grant (scholarship) helped me to improve my clinical skills about primary and secondary headache diagnostic and management; I would like to open specialized centres in my country, where we could have an opportunity to help professionaly to the patients based on the gained experience and skills which I've got from clinic Unna; With professional experienced team it is essential, primary headache patients to be fully funded, which is achieved by the cooperation between government and insurance companies. Even though my scholarship included to improve my clinical skills about headache diagnostic and management, but also I had an opportunity by having clinical fellowship programme for two months to deepen my knowledge in general Neurology, Epilepsy and management of Insults (thrombolysis) too.
I want to thank you for your support and the perfect opportunity to help me gain the qualified training course for the future development and career growth.
Sincerely,
Sopiko Chkhaidze, MD
---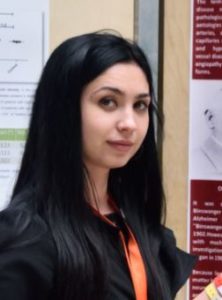 Report from Dr Elvina Giyazitdinova, from Tashkent, Uzbekistan visiting the Unit of Clinical Neurology and Neurometabolic Diseases, Medical School, University of Siena, Italy under the supervision of Prof. Antonio Federico.
Dear European Academy of Neurology,
I am very grateful to the European Academy of Neurology and especially to Professor Federico Antonio and his team (particularly, Dr. Battisti) for giving me the opportunity to participate in 2 months clinical fellowship deeply in the Hospital of Siena University in Siena, Italy and whose hospitality impressed me. I attended ward rounds in Neurometabolic Unit, outpatient and inpatient patients track, Neurophysiology section and Neuroophtalomology, genetics laboratories of the department. It was interesting and very helpful to see how the department is organized. I participated in morning ward rounds and discussions of the possible rare diseases, in diagnostic procedures, treatment options and secondary prophylaxis. It was my pleasure to observe the close cooperation between doctors of different specialties in the clinic, especially on the stage of the search of the most appropriate method of treatment. It was interestingly to compare Uzbekistan and Italian Medical systems for the benefit of the patient. I was interested to see with the wide rang way in which the care of the patient with different diseases was performed and variety of diagnostic approach, especially the devices which detect the small saccade and gaze changes during movement the eyes. There were a wide variety of cases and very regular teaching on the rounds. I particularly enjoyed the outpatient clinics with Professor Antonio Federico and Professor Dotti. They showed and explained the diagnostic approach and possible treatment on patients with rare diseases like Krabbie disease, Leber`s hereditary optic atrophy, Tarlov cyst and many other rare diseases. This visit was very fruitful for me not only in clinical, but also in scientific aspects. I was acquainted with the research projects that are performed now in the Neurometabolic Department, we discussed some future joint projects and collaboration.
Nonetheless, thanks to the kindness and enormous hospitality of Prof. Antonio Federico I was able to take part in Neurology Congress of Italian Society of Neurology, which was in Naples. Thanks to professor all costs of registration and accommodation during congress was met by him and I have learnt a lot about the Italian neurology, which is, in my humble opinion, one of the best. During this journey I have been acquainted with new biomarkers of CADASIL on MRI which impressed me the most and also I studied different aspects of neurology with the brand new approaches and guidelines.
This visit gave me a fantastic opportunity to learn about cerebral small vessel disease from the one of the biggest world experts in this area and to apply what I have learned to my research project.I firmly believe this departmental visit was a vital step in this endeavor. I must give particular thanks to Prof. Antonio Federico and his team for their hospitality in hosting me during my visit. Every member of the team was professional and enthusiastic, and their dedication to providing an excellent service for their patients shone through.Wide implementation of instrumental diagnostic, laboratory findings, rehabilitation medicine will help to achieve better results in the better diagnosis of the lesion, functional self-service of the patients and, I hope, it will improve their quality of life.
Elvina Giyazitdinova
---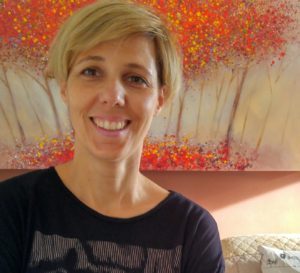 Report from Dr Vana Košta, from Split, Croatia visiting the Department of Neurology, Bispebjerg Hospital, Copenhagen, Denmark under the supervision of Dr. Karen Lehrmann Aegidus.
During my neurological residency I was always wondering how are things organized and done in some other neurological departments. Thanks to EAN (European Academy of Neurology) and its Clinical Fellowship Programme, my wish come true. I have visited a Department of Neurology at the Bispebjerg hospital in Copenhagen this year from October 23th till November the first.
When I was planning my visit I was not thinking that a language would be a big problem but it was. Though everyone was very kind to me and they were translating me shortly patients' history, discussing the results of investigations and plans for patients in English; morning meetings (that included discussions about admitted patients and short lectures), all patients' data and conversations with patients were normally in Danish. So, most of my time I was just an observer. Despite that I got a lot from this fellowship professionally and privately. I figured out how some things could be improved at my department and in my own daily practice. For example I realized that our stroke unit could be much better just with some organizational changes. Exchange of knowledge between us could be better just with some will. We have to do more educational work in public, we have to improve our rehabilitation programs and fight for more time with our patients. I really feel privileged that after this fellowship I have some very experienced colleagues on disposition for clinical or research advices.
At Bispebjerg Neurology Department daily routine is starting with morning meeting at 8:00 AM. I really enjoyed the atmosphere and their discussions; great thing is that you always start your day with some small piece of new knowledge.
My visiting department is dealing mostly with stroke and extrapyramidal disorders. On their departments they do not have morning rounds, they are divided in teams – doctor, nurse, ergo and physiotherapist (if it is necessary speech therapist, psychologist and social worker) that are taking care about patients. The approach is very individualized; team members are communicating on daily basis and the patient is really in the center of everything. Weekly they have special meetings with patient and his relatives when everyone from team is presenting a plan for future improvement in the part of patient care for which they are in charged for. They have great rehabilitation program and lot of space for socialization so most of their patients are spending very active time during their hospital stay. They pay great attention on early rehabilitation and secondary prevention and they have very good results. In Split the vital importance of rehabilitation is underestimated, we have only one physiotherapist for thirty stroke patients, and we do not have ergo nor speech therapists. Now I know that good treatment and outcome for stroke patient without them is impossible.
I have spent some time with their doctors that were responsible for thrombolysis; the organization is great, door to needle time is very short and the results are very good. I get a completely new perspective about the stroke patient care. They really love doing their jobs; they are always trying to find out the cause of the problem and they present the situation to the patients in the simple, understandable way. They are paying great attention to their further education, some of neurologists have finished stroke master (I did not know that it exists), some are more interested in big and some in small vessels diseases and they are doing stroke researches. I learned some new things about neck vessels ultrasound and wider possibilities of trans – cranial Doppler use.
I also enjoyed being in their dystonias outpatient clinic where they apply EMG guided Botox. I participated in examinations of patients with dystonias and atypical parkinsonism. Together with some younger colleagues we conducted apomorphine and duo dopa challenge tests.
Working together with their students I was surprised with the amount of their neurological and general medical knowledge. They explained me that the most of students are working (for few hours per week) in hospitals from the first year of university. They can start with helping nurses, and then with each year there are more possibilities – blood sampling, reanimations, administrative work, general examinations, of course always under supervision. I really liked the way that senior colleagues are counseling younger and how independent are the young ones.
Beside my time in hospital I enjoyed getting to know the beautiful city of Copenhagen and interesting Danish culture.
At the end I have to point out that clinical fellowship is really great experience that I would recommend to every neurologist especially the young ones. I thank EAN once more for this valuable experience. Of course, I must not forget the head of my visiting department Lise Korbo and my mentor Karen AEgidius, without them my fellowship would not be possible.
Vana Košta
p.s. Just an observation; from this point of view I think that the fellowship maybe a little bit shorter (3-4 weeks) if you are not there for some specific education (diagnostic or therapeutic procedure). That way it would be less demanding both for the department that you are visiting and for department that you are leaving.
---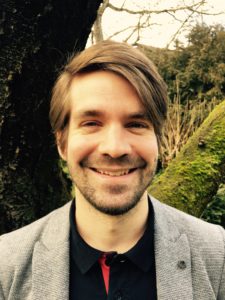 Report from Daniel Milanovich, from Budapest, Hungary visiting the Centre Hospitalier Universitaire Vaudois (CHUV), Service de Neurologie, Lausanne, Switzerland under the supervision of Prof. Andrea O. Rossetti.
Learning opportunities, specific activities
I took part in the everyday work of the Epileptology/EEG work group for 6 weeks, 10 hours a day. It is a busy center, producing 10-12 awake/sleep EEG recordings daily and following 1-3 continuous (among them ICU) EEG monitorings at a time. I took part in the EEG reading work: I pre-viewed all the recordings and then took part in the reading group sessions on the side of an EEG specialist and and another Neurology resident, during which tracings were analyzed in a team set-up. I read more then 200 hundred EEGs, from the newborn to the elderly, from ambulatory to comatose patients. I also took part once a week in the work of the Epileptology Clinic, where I got in touch with patients and took part in the decision making process for everyday clinical problems. The EEG work group is not only a lab but also a whole school, with regular small seminars, short presentations in relevant topics, which helped me to gain more theoretic knowledge besides my practical experiences. I also took part in the regular interdisciplinar (video)consultations with other specialties like pediatric neurology, neurosurgery and sleep medicine. I also got a brief exposure to vagus nerve stimulator installation and programming. Apart from the above, I took part in the regular meeting of the Neurology Department, namely the weekly "Ground Rounds" (case presentations and discussion of the relevant theory), "Neuroscience Seminars", and the regular teaching sessions for neurology residents.
To sum up: I gained a robust basic knowledge in EEG reading, while my theoretic knowledge in Epileptology also grew, and my spectrum of neurology knowledge widened towards other subspecialities.
Community
Professor Rossetti is a very enthusiastic, dynamic type of person who is the soul and leader of the work group. He has an incredible knowledge in the field and he is great in motivating his colleagues in improving their skills as well. He was personally welcoming me at the beginning and never let me out of his sight. He even provided me with freetime activity and sightseeing tips besides formal tutoring. We had great conversations about novels and poetry. Furthermore, the whole EEG work group was very welcoming, they always counted with me, always approached me in the nicest way, and handled me as one of their own colleagues. I became friends with and are still in contact with some of the resident colleagues.
To sum up: very welcoming and enthusiastic crew, great personal experiences.
Language
CHUV welcomes fellows with either French or English language skills. I can speak English besides the very little French knowledge I specifically gained just before the fellowship. The EEG group was always very generous in using English, the formal talks, group EEG readings and also the informal chat (during meals, etc.) were mostly in English. I learned most of the basic EEG vocabulary in French in my first couple days so I was able to understand and discuss the formal written results and request sheets. Learning sessions of the Neurology Department were mostly in French. When slides were used for the presentations, I could follow quite easily, but when the discussions were purely oral I had some difficult times. All of the bureaucratic services were in French. Sometimes colleagues helped me out, otherwise I had to improvise, which caused some awkward moments, but sooner or later everything became sorted out.
To sum up: I think I was lucky with the flexibility of my team, others may experience some hard times if they join some other team. There was some language burden outside the lab (on a departmental level and with bureaucracy).
Accommodation, expenses
I stayed in an apartment that was handled by the hospital and was maintained for employees and fellows. The first time I approached the accommodation office (in e-mail), they refused my request, only after I articulated to them one more time the motivation and circumstances of my stay they provided me an apartment. The apartment itself was just fine. I chose the car for travelling to be able to discover the area in my spare time as much as possible, which worked out fine, of course, these activities sometimes required extra funds.
To sum up: the grant covered the everyday and accommodation expenses sufficiently.
Summary
Overall, it was a rather fruitful stay as a learning opportunity, and an amazing experience from a personal point of view. I would gladly recommend this host site for future fellows.