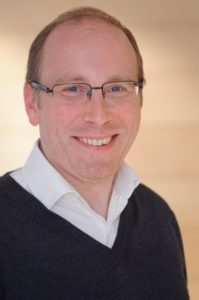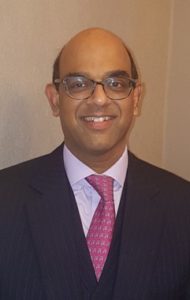 Professor Mark Edwards
St George's University Hospital NHS Foundation Trust
Dr Anthony Pereira
St George's University Hospital NHS Foundation Trust
Eveline Sipido: Thank you for hosting applicants of the EAN Clinical Fellowship. How would you evaluate this EAN educational opportunity?
Mark Edwards (ME)/Anthony Pereira (AP): St George's runs one of the largest Neurology & Stroke training schemes in the UK.  We cover the UK curriculum on site and so can provide a comprehensive clinical training in neurology and stroke medicine. We set very high standards but try to provide a friendly, supportive and informal atmosphere so our residents can learn to develop independently rather than simply being taught.  With Professor Cock, Professor Edwards and Dr Pereira we try to combine educational flair with excellence in academic and clinical development. We also foster a team ethic where the residents are mutually supportive. Therefore, we hope we can provide a flexible and supportive setting where the EAN Fellows achieve their goals and enjoy their time in London. For us the EAN Fellowship Scheme is an opportunity to showcase our services, learn about challenges in other countries and build new relationships across Europe.
ES: From among the long list of possible candidates you chose Dr. Kosyan Kristine (Armenia) who worked under your supervision. What has been the tipping factor for your choice?
ME/AP: Which applicants for fellowships are ultimately successful is handled by EAN head office and it would be inappropriate for us to comment on individuals.  However, in essence we either look for evidence of talent that we can nurture or evidence that the applicant has done their homework and has formulated a plan outlining what they would like to achieve in the time available. As long as we think we can deliver the educational experience they desire and their past attainment suggests a high calibre candidate, we would support their application to EAN.
ES: The resident of your choice had specific objectives and gains in mind for the training period in your department. Do you retain these were met? If not, what would you suggest that could improve obtaining these goals?
ME/AP: The whole ethos at St. George's is about supporting trainees and allowing them to flourish. It is about encouraging self-directed learning rather than didactic teaching. We give the trainees a lot of freedom but provide educational oversight. Therefore, we would normally start with gaining an understanding of what the EAN Fellow wishes to achieve and then tailor the fellowship to their needs through regular meetings with Dr Pereira or other supervisors. Sometimes trainees have more experience than we expected and sometimes less so we have to modify the plan once we meet them in person. Given the lag time between being allocated to St. George's and actually taking up the Fellowship, there can sometimes be changes in service structures or even personnel we had not anticipated, which makes our job much more "exciting". We are fortunate in having a large pool of excellent clinicians and teams to draw from, and a working culture that supports flexibility.
ES: Do you have suggestions in order to improve the programme?
ME/AP: If we had more information than available about each candidate before they arrived, we would be in a better position to help. We recognize this would make the application process more onerous. We do encourage Fellows to communicate with their supervisor not just about logistics and to discuss in more detail what we can/can't deliver before they arrive. However, the best laid plans are subject to change and so we try to sort out everything quickly and efficiently when we meet our EAN Fellows in person. Ultimately the EAN applicants who have visited St. George's have all been of a high standard and we have a dedicated and adaptable team who can help make the Fellowship exciting, educational and fun for both sides.
ES: Thank you for your time!
Interview by Eveline Sipido