This year, the "History of Neuroscience Visit" will be at the Egas Moniz Museum: (€30 fee/€ 20 reduced fee)
The participants of the History of Neuroscience Visit will be picked up by bus at 13.00h on Monday, June 18. All participants will arrive at the museum between 13.15 and 13.20. Between 14:45 and 15:00 the bus will take the participants back to the CCL.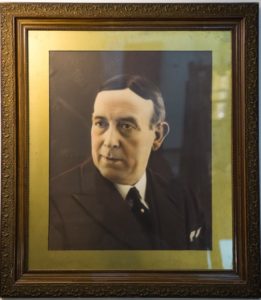 The Museum Egas Moniz is located at the Department of Neurology – Hospital Santa Maria (6th floor) in Lisbon. The Hospital Santa Maria is the largest hospital in Portugal, inaugurated in 1953, it received the heritage of the Department of Neurology of the old School Hospital of Santa Marta where Egas Moniz developed his activity as investigator, Head of Department and Chair of Neurology until his retirement in 1945.
As a tribute to the founder of the first department of Neurology and Neurosurgery in Portugal and his pioneer work in angiography and psychosurgery, an area of the department was dedicated to preserve and display the original instruments created by him to perform the first angiograms and surgical interventions in psychiatric patients, together with a photo collection, books written by him, and diplomas from numerous international scientific societies.
A very important part of the exhibition is a sequence of x rays performed during the process to obtain the first angiograms in humans and another sequence displaying the use of angiography in various pathologies from different types of tumors to several vascular abnormalities.
The original furniture of his office was brought from the old hospital and is also displayed reconstructing its Spartan ambiance.
The visit is divided in two parts:
A visit to the library of the Department (coffee will be served)
A slide presentation about the life and work of Egas Moniz
A visit to the Museum
Due to the limited capacity of the areas to be visited, the maximum capacity will be 40 persons (divided into 2 groups of 20 visitors).
Save your tickets now – you can get them while registering to the congress!