The European Academy of Neurology provides access to ebrain for all its members entirely free of charge and it is a highly valuable part of your EAN membership. We strongly encourage you to engage with the ebrain programme. Ebrain is fully intergrated via a seamless link on the EAN website. To get access go to www.ean.org, log in via my EAN, rest your mouse over learn and click on ebrain.
Ebrain represents the world's largest, most comprehensive web-based training resource in clinical neuroscience and is targeted at both trainees and trainers in all the clinical neurosciences. There are, for example well over 500 elearning sessions, all of which have questions and certificates associated with them. Ebrain is an accredited CPD provider and can award up to nine external CPD points per annum.
In the last few months, the ebrain team has grown. Adrian Wills has been appointed as a Clinical Lead. Adrian is a Consultant Neurologist in Nottingham, UK and an Honorary Associate Professor at Nottingham University. Adrian joins three other clinical leads including two that have been appointed to represent the EAN. Donna Cole has joined as Marketing and Publicity Lead. Donna has 20 years of experience in academic publishing, mainly in medical journals. The other team members include Elinor Pritchard (Senior Administrator), who is responsible for managing the ebrain office, Jo Pugh (Content Editor), who works with authors to manage the ebrain content, and Danielle Green (Technical Lead), who is responsible for design and development of the ebrain elearning sessions. These sessions are currently being updated, and this is progressing well. New content is added continuously.
Ebrain also hosts the Association of British Neurologists (ABN) Annual Formative Test Questions, now in their second year. In 2018, this self-assessment test ran from 16 April to 20 May. The 100 questions in the test were developed by the ABN, in association with ebrain and the EAN, and are set at the standard required for completion of specialist training. This is a great and free opportunity for all neurologists Europe-wide (trainees and consultants) to assess their knowledge. The two sets of question, one from last year and one this year, are now available for practice.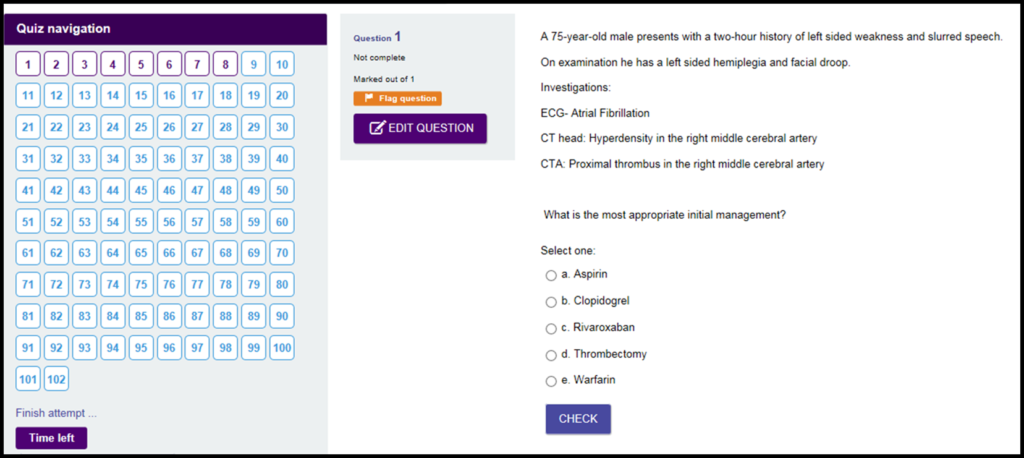 This exercise is strictly for self-assessment. Results are not shared with anyone else but allow participants to see their strengths and weakness. This year the structure changed, and participants could work through some of the test questions then come back later – there was no time limit apart from the 20 May deadline and retakes were allowed. On completion, scores were available immediately, and feedback and correct answers were given during progression through the questions. An analysis of the scores has been published, allowing clinicians to assess where they are in relation to peers.
Over the 5-week period when the formative questions were open, ebrain was used by 281 people who had never visited the site before. These new users were from 37 countries, 13% from Germany alone. Site users from Malta spent the longest on ebrain. In the Neurology Formative Test, the number of participating non-UK neurologists doubled in 2018 compared to 2017. The median grade for a first attempt was 80% (mean 77.9%) and the maximum score was 97%. Feedback included, "This is of great value," "A very educational experience – I am looking forward to the 2019 exam," and "Was a nice digestive revision, to the point, so informative questions."
We are delighted that EAN members continue to support ebrain and the annual formative questions. Look out for ebrain sessions in the Scientific Theatre at the 2018 EAN Congress in Lisbon (16–19 June).
Please follow us on Twitter (@ebrainnet) for updates. We always welcome new ideas and suggestions.