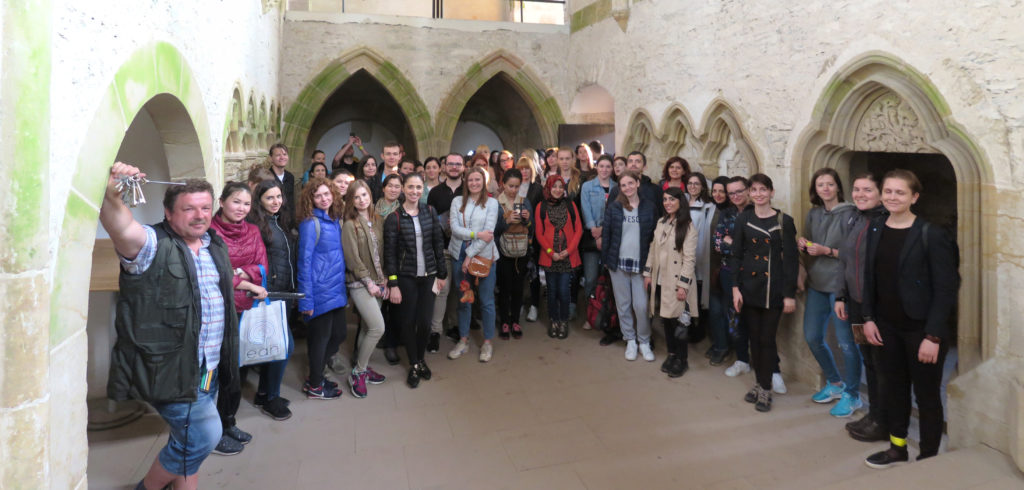 Staré Splavy, Hotel Bezděz, Czech Republic
May, 10-13, 2018
The European Academy of Neurology held the traditional educational 4-day course in May – the EAN Spring School.
Like in the previous years the interest for attendance was higher than the capacity of our course.
This year we received 134 entries from 39 countries. We were forced to refuse some applications and in the end 106 participants participated from 36 countries (Albania, Algeria, Armenia, Austria, Belgium, Bosnia and Herzegovina, Croatia, Denmark, Egypt, Estonia, Finland, France, Georgia, Germany, Greece, Hungary, Iceland, Ireland, Italy, Kyrgyzstan, Latvia, Lithuania, Macedonia, Moldova, Montenegro, Morocco, Norway, Poland, Portugal, Romania, Russia, Serbia, Turkey, Ukraine and Uzbekistan). The highest number of participants was from Russia – 12, Moldova – 10 and Portugal – 8.
The following topics were selected for this year's course:
1 / Idiopathic inflammatory myopathies
2 / Movement disorders (handled by the Movement Disorders Society)
3 / Neuroophthalmology / Neurootology
In the morning, lectures were held for all participants. In afternoon workshops, doctors were divided into smaller groups and had the opportunity to discuss with lecturers about individual case reports and auxilliary methods.
Our lecturers came from 5 countries – Czech Republic, Germany, The Netherlands, Slovakia and Switzerland.
We were delighted that the member of EAN Board, Prof. Marianne de Visser,  was among our lecturers.
The fourth day of the course was traditionally devoted to topics on neurology in the world and the possibilities of further neurological education. An important guest was Dr. Alena Šteflová, Deputy Minister of Health, former director of WHO Prague office. She has contributed "WHO priorities in brain and nerve diseases". Pharm.Dr. Helena Rösslerová, Lundbeck Foundation, introduced the "Lundbeck Institute's neurological education system". Member of the EAN Teaching Course Sub-Committee, Dr. Milija Mijajlovic, talked about the possibility of passing the "European Board Examination in Neurology". Dr. Giovanni di Liberto, EAN Resident and Research Fellows Section, presented the possibilities of EAN educational programmes and grants.
All participants voted in favour of organizing their own case reports in a competitive manner in front of the jury in the future spring schools.
As a part of the cultural program some of the participants climbed up the hill of Bezděz (638 m a.s.l.) to visite the ruin of an ancient castle. All of them visited the Mělník Castle and Prague.
We were happy, that all participants as well as lecturers expressed their satisfaction. The course was evaluated from the educational and organization point of view very positively.
Magda Dohnalová & Milija Mijajlovic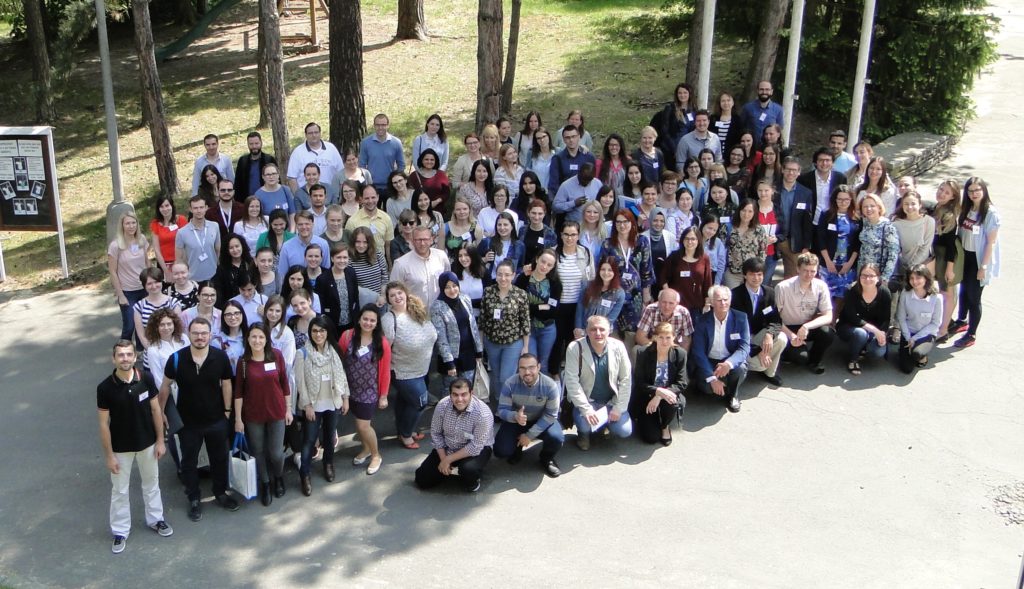 Participants and lecturers comments:
Thanks a lot for the EAN Spring School participation opportunity!. I am still very impressed! It was great and useful experience for me. The organization of the event was excellent! The atmosphere was very friendly lectures were fascinating and we had a wonderful time after lectures. I made friends, built the new professional links and got new opportunities for my work at EAN Spring School.
Dekujeme!
Kind Regards, Yuliia Bukreieva
Excellent day, thanks.
Taha Omer, Iceland
Add a day or certain session for personal cases of some of the participants: either rare cases or cases that really need discussion.
Ahmed Dahshan, Egypt
Prof. Evžen Růžička had a great lecture with a practice cases which is important for our practice. The same for Matej Škorvánek.
Marija Perovska, Skopje, Macedonia
This course was really helpful for me. The academic programme was excellent and updated according to new diagnostic criteria. I would really love to participate next years in this school or another EAN live meeting. First time in EAN live meeting.
Oneda Cibuku, Tirana, Abania
I was very much impressed by the splendid organization of the Spring School.
It was fun participating in the teaching course.
Marianne de Visser
It was really a pleasure to be in Staré Splavy and to share the participants' enthusiasm.
Let me thank the organizers for the invitation and for a perfect organisation.
Evžen Růžička
Thank you for your invitation to this great course!
Konrad Weber
EAN SPRING SCHOOL 2018
May 10 – May 13, 2018
Hotel Bezděz, Staré Splavy, Czech Republic
PROGRAMME
DAY 1: Thursday, May 10 – IDIOPATHIC INFLAMMATORY MYOPATHIES
Morning
 
Marianne de Visser, The Netherlands
Idiopathic inflammatory myopathies excluding
 
inclusion body myositis
Benedikt Schoser, Germany
Inclusion body myositis
Jiří Vencovský, Czech Republic
Extramuscular manifestations of idiopathic
 
inflammatory myopathies
Afternoon
 
Marianne de Visser, The Netherlands
Clinical case discussions
 
Management of idiopathic inflammatory
Benedikt Schoser, Germany
myopathies excluding inclusion body myositis
Jiří Vencovský, Czech Republic
Significance of antibody testing in idiopathic
 
inflammatory myopathies
DAY 2: Friday, May 11 – MOVEMENT DISORDERS
Morning
 
Evžen Růžička, Czech Republic
Functional movement disorders – diagnosis and management
Matej Škorvánek, Slovakia
Diagnostic and therapeutic approach to dystonia
Lucia Muntean, Germany
Sleep disorders in patients with Parkinson's disease
Afternoon
 
Evžen Růžička, Czech Republic
Gait disorders in clinical practice
Matej Škorvánek, Slovakia
How to examine a patient with parkinsonism –
 
tips and tricks
Lucia Muntean, Germany
How to evaluate patients with sleep disorders in
a neurological setting
DAY 3: Saturday, May 12 – NEUROOPHTHALMOLOGY/NEUROOTOLOGY
Morning
 
Konrad Weber, Switzerland
Update on vestibular disorders
Alexander Tarnutzer, Switzerland
Acute vestibular syndrome: stroke vs. neuritis
Konrad Weber, Switzerland
A clinical approach to diplopia
Afternoon
 
Alexander Tarnutzer, Switzerland
Episodic vestibular syndrome: vestibular
 
migraine vs. Menière's disease (Lecture
Konrad Weber, Switzerland
Ocular motor and vestibular bedside testing
Alexander Tarnutzer, Switzerland
Benign paroxysmal positional vertigo
DAY 4: Sunday, May 13 – NEUROLOGY IN THE WORLD
Giovanni Di Liberto, Switzerland
EAN RESIDENT & RESEARCH FELLOW SECTION REPRESENTATIVE
Postgraduate education in neurology, opportunities and organizations for neurologists in training
 
Milija Mijajlovic
TEACHING COURSE SUB COMMITTEE:
European Board Examination in Neurology
 
Alena Šteflová
WHO PRAGUE, CZECH REPUBLIC
WHO priorities in brain and nerve diseases
 
Helena Rösslerová
LUNDBECK, CZECH REPUBLIC
Lundbeck Institute – educational system in neurosciences