The symposium was chaired by Prof. Per Soelberg Sörensen from Copenhagen, Denmark, and Prof. David Miller from London, United Kingdom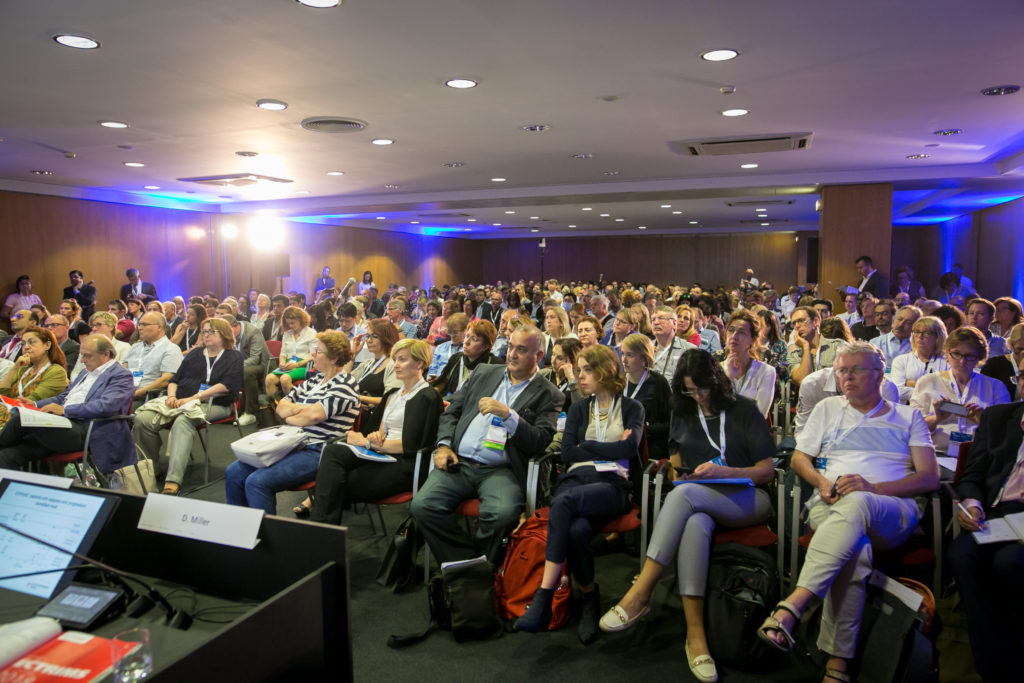 In recent years, much progress was made in understanding progressive MS bringing therapeutic options within sight. In this plenary symposium, the most important insights were highlighted.
Pathological concepts of progressive MS.
Prof. Christine Stadelmann from Göttingen, Germany, talked about pathological concepts in progressive MS. Pathologically, some phenomena are more frequent in progressive MS. For example, smouldering lesions become more abundant. This lesion type is characterized by microglial activation and slow expansion of a pre-existing plaque. Furthermore, the presence of cortical demyelinated lesions emphasized the importance of grey matter demyelination. Intriguingly, synaptic loss in progressive MS patients is not restricted to the demyelinated lesions but also present in non-demyelinated areas. Regarding remyelination, the most important question to be solved on a pathological level is when remyelination takes place during the disease course.
Understanding progression: the contribution of clinical trials and natural history studies.
Prof. Jaume Sastre-Garriga from Barcelona, Spain, elaborated on the contribution of clinical trials and natural history studies in understanding progressive MS. Similar to relapsing MS, trials that included secondary and primary progressive MS patients showed consistently that anti-inflammatory treatments target T2 lesions. Apart from siponimod and ocrelizumab, these anti-inflammatory treatments had only little effect on brain volumetric parameters. This disparity between lesional and volume measures illustrates that progressive MS cannot be monitored in the same way as relapsing MS. New MRI markers will need to be defined to monitor progressive MS in clinical trials. Good candidates for inclusion in future MRI protocols are grey matter and/or thalamic atrophy.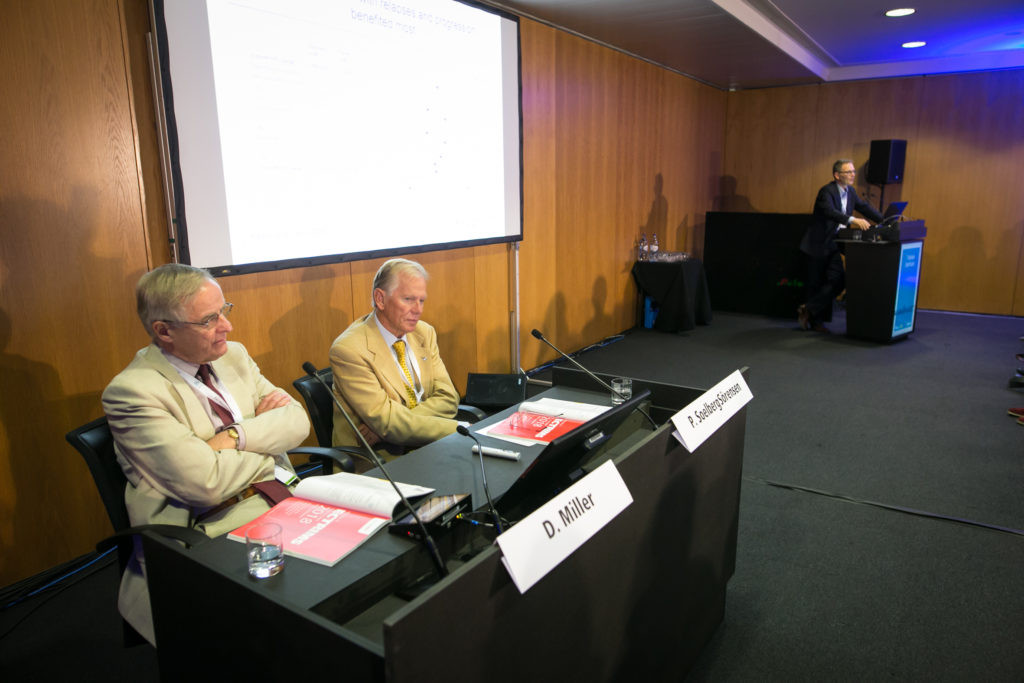 Present and future treatment options in progressive MS.
Prof. Tobias Derfuss from Basel, Switzerland, focused on present and future treatment options in progressive MS. Likely, the window of opportunity to treat progressive MS lies early in the disease course when there is still inflammatory activity. There are arguments to use gadolinium enhancement on MRI as a response marker. Furthermore, drugs with central CNS effects harbour potential in progressive MS. The receptor targeting profile of siponimod compared to fingolimod for example might contribute to its beneficial effects in progressive MS. In addition, studies evaluating biotin, simvastatin and ion channel blockers are promising. Moreover, an in vitro screening model pointed to clemastin as a drug with a lot of potential regarding remyelination in MS. Further studies are needed to confirm the effect of these compounds.
Who and how to treat progressive MS.
Prof.  Giancarlo Comi from Milan, Italy, explained which progressive patients are eligible for treatment and how to approach this. He emphasizes that persistent demyelination is a very important underlying mechanism. To avoid axons becoming demyelinated, early treatment is essential. Similar to patients in the relapsing disease phase, patients with progressive MS can evolve at a very different pace. Unfortunately, we do not understand the variables determining differences in progression speed and these are essential to guide treatment. Furthermore, we need to critically reassess the outcome measures in MS as EDSS is not detailed enough. Clinical sales such as the 9-hole-peg test are promising as they allow distinguishing between upper and lower limb function. Moreover, it is important to think about new treatment approaches that go beyond inflammatory treatments such as for example the application of mesenchymal stem cells.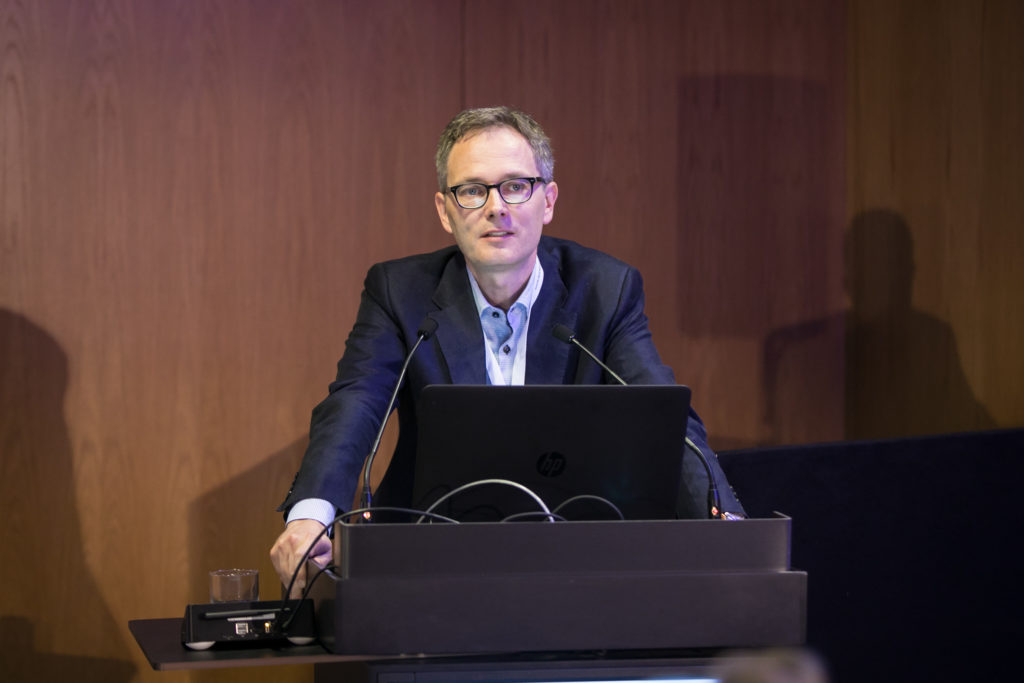 Overall, the new developments in progressive MS highlight that this disease phenotype might be more modifiable than thought before. Especially, when patients are selected early in their disease course. All speakers emphasized the integral importance of appropriate MRI and clinical outcome measures to evaluate therapeutic efficacy. Luckily, we are reassured that the progressive MS alliance continuously works on further improvements in the field.
by Ide Smets