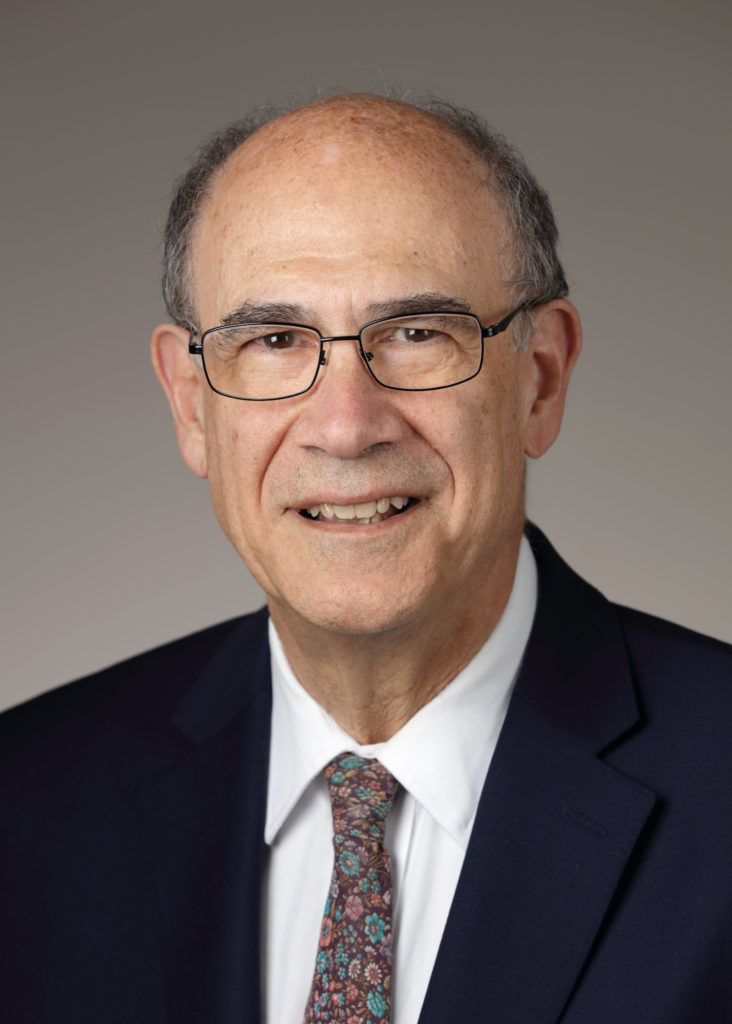 Prof. Mark Hallett
Chief, Medical Neurology Branch, Human Motor Control Section, National Institute of Neurological Disorders and Stroke, NIH
Past-President of the IFCN – International Federation of Clinical Neurophysiology
(Remote) Past-President of the International Parkinson and Movement Disorder Society
Honorary Member to EAN
Prof. Elena Moro (EM): Dear Prof. Hallett, it is a great honor for me, as movement disorders specialist, to ask you few questions on behalf of the EAN members and for all EAN pages readers. In light of your Honorary Membership to the EAN, can you tell us what did make you choose "neurology" as the specialty to pursue?
Prof. Mark Hallett (MH): I have been interested in the brain since I took a psychology course in high school.  I pursued neuroscience studies in college, but only decided to go into medicine about half way through college.  Then I had to choose among neurology, neurosurgery and psychiatry.  At the time I was in medical school, there did not seem to be much science in psychiatry so I dropped that idea.  And neurosurgeons seemed to spend too much time in the operating room.  So I decided to do neurology.  There were, however, also neurologists who inspired me and convinced me that this was the best path for me.  These neurologists included Norman Geschwind, H. Richard Tyler, Raymond Adams, and C. Miller Fisher.
EM: You have spent your brilliant career in studying neurophysiology, especially related to motion. Can you illustrate to the EANpages readers what is the role of the NINDS – National Institute of Neurological Disorders and Stroke, – "Human Motor Control Section" of which you are the principal investigator?
MH: In pursuing neurology and the study of the brain, I became interested in motor control and its pathology, that is, movement disorders.  I got some training in this area when a neurology resident, but then spent a year as a fellow with C. David Marsden focusing more on that topic.  I continued working in that area after fellowship at Harvard Medical School.  When I came to NINDS and had the opportunity to have more time for research, I set up my Section to focus on those topics.  We have explored a whole variety of topics of normal motor control over the years, and many different movement disorders.  Being at NIH, we were able to adopt new technologies as they became available, such as functional MRI and transcranial magnetic stimulation (TMS).  The role of my Section has not only been the research, but also, and, perhaps more important, training of new investigators, mainly neurologists who also wanted to study the physiology of motor control and the pathophysiology of movement disorders.
EM: What would be your advice and suggestions to those who decide to become neurologists nowadays?
MH: My general advice to the students I see is to do what excites you.  Do something that is fun so that you enjoy going to work.  Neurology has many different opportunities, so that if someone is planning to be a Neurologist, it is possible to do full time patient care, full time research, or anything in between.  Patient care is challenging due to the complexity of our patients, and research in neuroscience is at the cutting edge of science in general.  Of course, there are the hot areas at any one time, and right now it looks like genetics, the biology of neurodegeneration, and neuroimmunology are moving faster than other fields, and they might have more money for research, but still, a neurologist should do what excites them.  Physiology still excites me!
EM: The EAN has established a Memorandum of Understanding (MOU) with the International Federation of Clinical Neurophysiology – European Chapter. What do you think of this agreement?
MH: This should be a valuable collaboration.  Clinical Neurophysiology is one of the major techniques that many neurologists practice.  The number of individual methods is expanding rapidly these days.  Intraoperative monitoring is proving valuable.  Neuromuscular ultrasound is becoming more widely used in Electrodiagnostic Laboratories.  Working together with the IFCN should be a good synergy, allowing the EAN to have access to the expertise of IFCN members internationally.  Having subspeciality groups cooperate with the large general societies, like the EAN, keeps everyone friendly and makes sure that everyone is working together toward a common educational goal.
Mark Hallett, M.D.
Senior Investigator
Human Motor Control Section
NINDS https://irp.nih.gov/pi/mark-hallett
Building 10, Room 7D37
10 Center Drive
Bethesda, MD 20892-1428
301-496-9526
hallettm@ninds.nih.gov