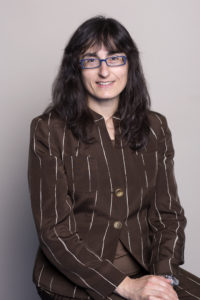 by Elena Moro
For December 2018, we have selected: Reuter U, Goadsby PJ, Lanteri-Minet M, et al. Efficacy and tolerability of erenumab in patients with episodic migraine in whom two-to-four previous preventive treatments were unsuccessful: a randomized, double-blind, placebo-controlled, phase 3b study. Lancet Neurol 22 October, 2018.
Recent insights support the role of calcitonin-gene-related peptide (CGRP) on migraine pathogenesis. Previous clinical trials have shown the efficacy and safety of CGRP-receptor antibodies in patients with episodic and chronic migraine. In this study (LIBERTY), the authors investigated the effects of erenumab, a fully human monoclonal CGRP-receptor antibody, in patients with episodic migraine resistant to two up to four previously used preventive drugs.
This 12-week study was conceived as a randomized, double-blind, placebo-controlled, phase 3b study, and involved 59 centers in 16 countries. To be included, patients were aged 18-65 years, with episodic migraine with or without aura for at least one year (4-14 days per month during 3 months before the screening), and treated unsuccessfully with at least two (up to four) preventive medication (propranolol, metoprolol, topiramate, flunarizine, valproate, amitriptyline, venlafaxine, lisinopril, candesartan). Patients were asked to complete an electronic diary (eDiary) by recording any headache event and medication used.
There is currently an ongoing open-label phase of the study (156 weeks), that started at the end of the 12-week double-blind phase.
Between March and October 2017, 246 patients were randomized to receive subcutaneous treatment injections (placebo or 140 mg erenumab) on day 1 and then every 4 weeks for the 12-week duration of the study. Randomization was stratified by monthly frequency of migraine (4-7 vs 8-14 migraine days per month). About 39% of participants had previously tried two preventive drugs, 38% had tried three, and 23% four drugs. The main outcome of the study was the proportion of patients with at least 50% reduction in the number of monthly migraine days within the third month of the study (weeks 9-12) compare to baseline. Secondary outcomes were changes in monthly migraine days, proportion of patients with >75% improvement, changes in everyday activities and physical activity subdomains of the Migraine Physical Function Impact Diary.
At 12 weeks, 30% (36 out of 119) of the erenumab patients presented with ≥50% decrease of monthly migraine days compared to 14% (17 out of 124) of the placebo patients (OR 2.7, 95% CI 1.4-5.2); p=0.002). All secondary endpoints significantly improved in the active treatment group. There was no difference in number and type of adverse events between groups.
"This study further expands on the utility and safety of CGRP-directed therapy for migraine, supporting its use in patients with episodic migraine previously resistant to several preventive treatments", says Prof. Jera Kruja, Department of Neurology, University of Tirana, Albania. "Erenumab is a specific migraine preventive drug compared to the other available treatments, and thus it is a very interesting treatment for patients with episodic and chronic migraine. The results of this study are encouraging but remain to be proved in the long-term follow-up".
Prof. Elena Moro is Editor in Chief of EANPages and Treasurer of EAN as well as  Director of the Movement Disorders Center at the Centre Hopitaler Universitaire (CHU) of Grenoble (France), and the Associate Director of the CHU Department of Psychiatry, Neurology and Rehabilitation.