by Giovanni di Liberto, Anna Sauerbier, Vanessa Carvalho, Lisa Klingelhoefer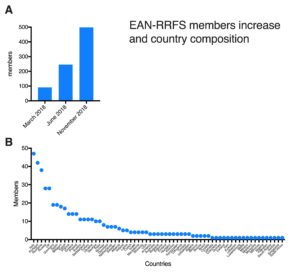 EAN-RRFS was founded in 2016 and we are delighted to report an impressive increase of colleagues who joined the European Academy of Neurology – Residents and research fellow section (EAN-RRFS)!
The number of RRFS members has steadily increased reaching almost 500 members (Figure A) from numerous different European and non-European countries (B). This five fold increase encourages the work of this neurology resident and research fellow network and underlines the growing interest in the European Academy of Neurology which has promoted academic and professional growth of colleagues across Europe with several dedicated fellowships, courses and grants.
We strongly believe that the EAN-RRFS will continue to provide unique opportunities for junior doctors and researchers in order to shape together the future of Neurology in Europe!
Please join EAN-RRFS and become part of this exciting development!
Dr Lisa Klingelhöfer is Chair of the EAN-RRFS and Neurologist at Universitätsklinikum Carl Gustav Carus an der Technischen Universität Dresden, Germany
Dr Giovanni Di Liberto is Secretary of the EAN- RRFS 
Vanessa Carvalho is Treasurer of the EAN-RRFS
Anna Sauerbier is Past President of the EAN-RRFS