Since our 2019 Oslo congress will be in summer, let us introduce the colder season to you!
In the end of November, the city of Oslo is decorated for Christmas: Christmas trees are lit, streets decorated, and the Christmas markets are opened. It is common for companies, organizations and groups of friends to have pre-Christmas parties, called julebord.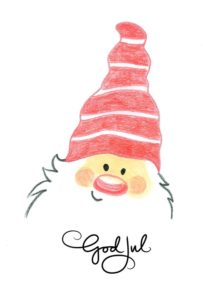 It is a common misconception that Santa Clause's "home" is in Norway, when in fact, he comes from Finland. Despite the geographical proximity, Santa is not the most common Christmas icon in Norway. Julenisse takes first rank. Julenisse is a short creature with a long white beard and a red head, rooted in Scandinavian folklore.
Little Christmas Eve, 23rd of December: many families have their own traditions on this day, like for example decorating the Christmas tree, making a gingerbread house or eating the traditional risengrynsgrøt, a hot rice pudding served with cinnamon, sugar and butter. An almond is hidden in the pudding and whoever finds it in their portion wins a marzipan pig!
Like in many other European countries, Christmas Eve is the main event of the holiday. At five pm the bells ring out for Christmas and most people go home to spend Christmas eve with their families. Most restaurants and pubs are closed, and the streets are quiet.
The most popular Christmas Eve dinner are pork ribs or belly, but boiled cod, ham roast and turkey are also common. There is a special Christmas beer, juleøl, that is available from November, that many like to drink with their dinner. Another popular drink is gløgg, a warm, spicy drink. Papperkake, similar to gingerbread cookies, are a popular snack to eat with it. Marzipan is hugely popular during Christmas season: according to the marzipan manufacturer Nidar, Norway's 5 million people manage to eat 40 million marzipan figures.
Between Christmas and New Year's Eve, the days are typically spent going to brunches and dinners with friends and family. From the 27th, the shops are open again Most people go out in the evening, so the city centres get quite busy.
What are your favourite Christmas traditions? Use our comment section to introduce other readers to your country and customs.
Experience the Norwegian summer at the EAN Oslo Congress in June 2019! Use code XMAS10 at checkout for a 10% discount off the registration fee! (valid until 24.12.2018)