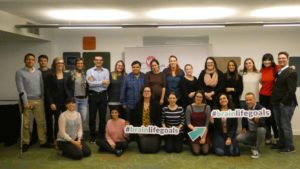 EFNA is focusing attention on young neurology patients during 2018. Their goal is to create a programme that assists young people in becoming advocates for their own disease areas.
The 'Patient Advocacy in the Digital World' workshop took place in Brussels from Monday, November 19 – Wednesday, November 21, as part of EFNA's Training Initiatives for Neurology Advocates [TINA] programme. This workshop was open to 18 – 35 year olds from around Europe who are affected by brain disorder.
The group heard from some inspiring young patient advocates. Emma Lawton (UK), digital designer, writer and speaker, emphasized the importance of storytelling. She explained how she strives to find a balance between expressing the reality of an often dark and difficult situation with positivity and humour. She calls this 'positive realism'. Visit Emma's YouTube channel here.
George Pepper (UK) is co-founder and CEO of Shift.ms – a social network for people with multiple sclerosis. The site is a social network for young people with MS run by its users, where people can meet, share experiences and support each other. George presented the concept of Shift.ms, focusing on how an online community can provide a platform for many people to share their stories and why this is important.
Louis Gustin (France) was just 24 years old when he experienced a stroke. Louis told the group us about his work to raise awareness of stroke and aphasia through a road trip with his girlfriend in 2019. The project, called S'Adapter.eu will involve visiting 20 cities, across 9 countries, during August and September of 2019, in a specially adapted vehicle. You can find out more about the planned project here.
The group also learned about advocacy at the EU-level and the EU's position on digital health technologies.
Participants in the Patient Advocacy in the Digital World programme have been asked to develop a small digital media project that will support EFNA's upcoming #BrainLifeGoals campaign. Projects will be shared as part of the campaign during Brain Awareness Week 2019, March 11 – 17.
You can read the full workshop report here.