Norwegian team takes on rest of world in exciting battle of the brains!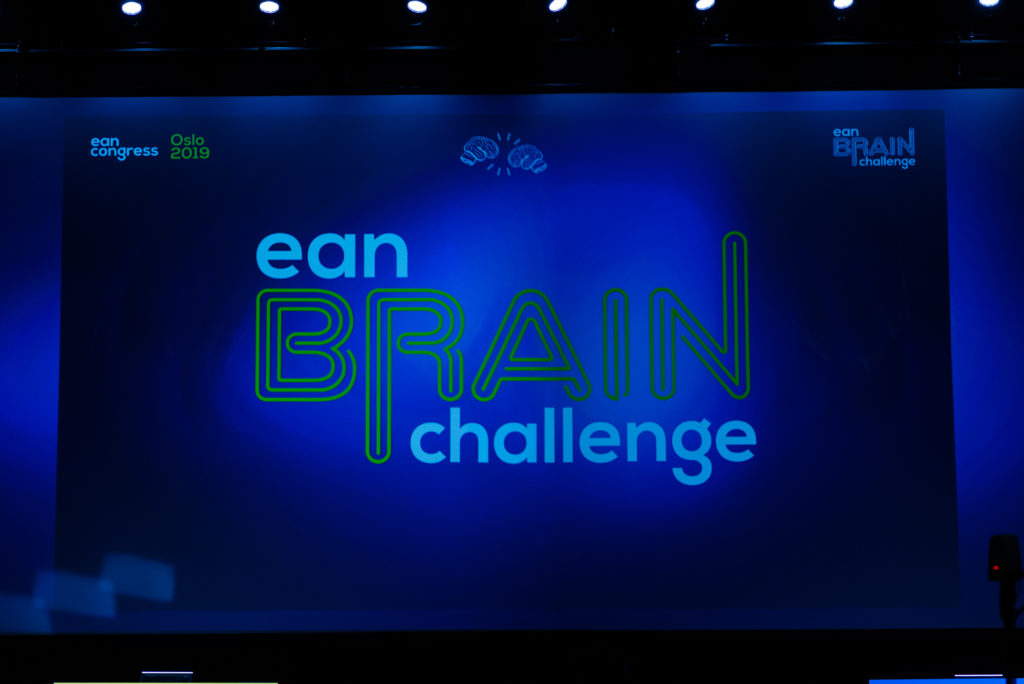 The BrainChallenge took place today at EAN 2019, for the second time following the success of its introduction in Lisbon at last year's congress.  It proved to be even more popular the second-time round, and every bit as much fun.  The tension and excitement could be felt in the room as the local team from Norway had to face a formidable international team made up of delegates from several countries.
Local Team (Norway)
International
Øyvind  Torkildsen

Jeanette Koht

Ole-Bjørn Tysnes

Åse Hagen Morsund

Joakim Goberg Jørgensen

Iselin M. Wedding

Eduardo Freitas  – Portugal

Anna Stefansdottir – Denmark

Ismaíl IbrahimMoustafa – Kuwait

Koldo Berganzo – Spain

Sabina Munasipova – Russia

Fabiola  de Marchi –  Italy
This year, the BrainChallenge was an even more thrilling experience for the audience and participants alike.  Professors Marie Vidailhet and Angelo Antonini once again hosted the challenge, which this time had an improved format as the feedback from last year's BrainChallenge was implemented. The contestants eagerly competed in a battle of the brains across the 10 multiple-choice questions and a further 10 open questions relating to a range of highly challenging cases selected by EAN's Scientific Panels. Of course, just like last year, the audience were also able to take part by submitting their own answers via the Congress App.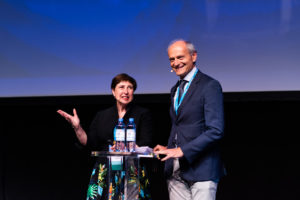 In the end, one team had to win and it finally went to the locals, with Norway taking the victory.  Following this highly successful second edition, the BrainChallenge is already becoming an entertaining and popular feature of the EAN Congress, and is sure to return next year and beyond.
Of course, all this fun would not be possible without the hard work and contribution from the Scientific Panels and Individual Member show contributed the cases and deserve many thanks for their efforts:
Scientific Panels
BrainChallenge Taskforce
ANS Panel – Mario Habek & Ivan Adamec

Coma Panel – Rita Formisano

Dementia Panel – Philip Scheltens & Flavio Nobili

Epilepsy Panel – Tim von Oertzen

Headache Panel – Stefan Evers

Higher Cortical Functions Panel – Noa Bregman

Neurogenetics Panel – Alessandro Filla & Maria Lieto

Neuroimaging – Roland Wiest

Neuroimmunology Panel – Domizia Vecchio

Neuro-oncology Panel – Riccardo Soffietti

Neuro-ophthalmology    Michael Strupp & Alessandra Rufa

Neurophysiology Panel  – Josep Valls-Solé

Sleep Panel – Rolf Fronczek

Stroke Panel – Simona Sacco & Charlotte Cordonnier

Aurelie Meneret

Dan Healy

Tim Sinnecker & Tobias Derfuss

Viktoria Papp

Claudia Sommer

David Garcia Azorin

Marie Vidailhet

Angelo Antonini

Theodor Landis

Local organisers:
Geir Bråthen

Erik Taubøll
By Mike Crean