Biomarkers in degenerative dementia: news and views from the European Dementia with Lewy Body (DLB) Consortium
By Miguel Pereira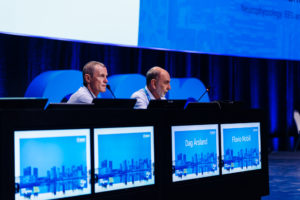 This symposium was co-chaired by Flavio Nobilli, from Genova, and Dag Aarsland, from London.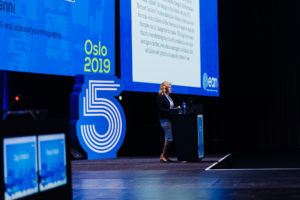 Laura Bonanni, from Chieti, thoroughly discussed the evidence supporting EEG, video.-EEG and video-polysomnography. Posterior changes have the highest diagnostic accuracy for DLB, but some anterior changes may have some interest in monitoring progression. Video-polysomnography remains central in diagnosing REM sleep behaviour disorders, a core feature of DLB and an early manifestation of the disease.
Zuzana Walker, from London, discussed the evidence behind the use of DaTSCAN, amyloid and tau PET-imaging and FDG-imaging. Amyloid PET is not very good to differentiate Alzheimer's disease (AD) and DLB, as DLB patients often have other pathological changes, namely amyloid deposition. DaTSCAN is an excellent biomarker for DLB, even outperforming clinical diagnosis in some pathological studies. Interestingly, tau deposition's location is correlated to cognitive changes in DLB as in AD and it may appear in DLB patients without evidence of amyloid deposition.
Flavio Nobilli commented on the importance of MIBG-scintigraphy, especially in patients that already have parkinsonism, in which DaTSCAN may be redundant.
Irena Rektorova, from Brno, discussed MRI. Relative sparing of hippocampus in atrophy is currently a supportive feature of DLB diagnosis. Some techniques may add insight into DLB, namely fMRI resting state studies, and DTI early changes. Neuromelanin sensitive MRI, 3-Tesla SWI MRI and quantitative susceptibility mapping may be future markers.
Evelien Lemstra, from Amsterdam, discussed CSF-markers. CSF alpha-synuclein has been disappointing. RT quic may significantly increase diagnostic yield in the near future for alpha-synuclein polymers. Some other markers, like low Abeta-38 and Abeta -42/Abeta-38 may add some information when distinguishing AD from DLB.