This symposium focused on presenting the essential elements of clinical and imaging diagnosis, the diagnostic difficulties and the therapeutic possibilities on progressive supranuclear palsy (PSP).
Prof.  Klauss Seppi from Medizinische Universitat Innsbruck, Austria presented the talk on ''Clinical findings and diagnostic criteria for the progressive  supranuclear palsy (PSP)''. In his presentation Prof. Seppi has showed multiple case presentation of patients that had variants of PSP.  PSP variants have been presented alongside the main clinicopathological elements that may help in establishing clinical phenotypes associated with PSP-tau pathology. These clinical phenotypes showed the symptomatology polymorphism encountered in the initial stages of the disease, which can cause difficulties in the initial diagnosis of this condition.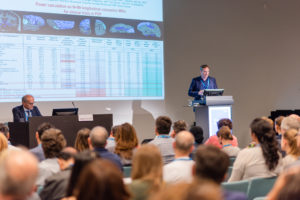 Prof. Angelo Antonini from University of Padua, Italy presented the ''Cognitive and Imaging Biomarkers'' encountered in the progressive supranuclear palsy. In this presentation it was discussed about the main imaging methods used in PSP diagnosis, about the sensitivity and specificity of these methods. Currently available neuroimaging biomarkers for PSP were presented, highlighting that FDG and Structural MRI are good diagnostic biomarkers. Cognitive impairment and dementia are common in PSP with executive function deficits frequent in the first year.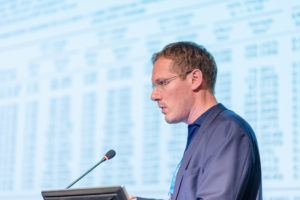 Prof. Gunter Hoglinger  from Technischen Universitat Munchen, Germany  presented the current and future treatments in PSP. This presentation approached the differential diagnosis and treatment in atypical parkinsonism and presented the current therapeutic options available for PSP. Coenzyme Q10 has been shown to be beneficial for PSP patients because of the significant improvement of cerebral energy metabolism, but clinical trials showed that high doses of CoQ10 did not significantly improve PSP symptoms or disease progression. In the last years anti-tau antibodies have been tested with encouraging results, most of them are currently in different stages of clinical trials.
The latest studies in the diagnosis of this disease but also the therapeutic opportunities that will appear seem to give hope that they will improve the management of the progressive supranuclar palsy.
by Bogdan Ciopleias, County Emergency Clinic Hospital, Transilvania University Brasov, Romania